Important Dates
Wednesday 31 March – Learning Conversations Y9-13. 

Thursday 1 April – Teacher-Only Day: Capital City Kāhui Ako.

School closed.

Friday 2 April – Tuesday 6 April: Easter Break.

Monday 12 April – Board meeting (6pm)

Friday 16 April – End of Term 1
---
Important Information 
Learning Conversations – 31 March
The Learning Conversation takes place between your student, the student's rōpū teacher and parent(s) / caregiver(s).  Each learning conversation will take 20 minutes at the most. Students will only be at school on Wednesday 31 March for their learning conversation. Please make the effort to support this event. Students should make an appointment to attend even if you are unavailable.
This learning conversation is an opportunity for students, with the help of you and their rōpū teacher, to reflect on learning and engagement so far this year, and look ahead to plans for 2021.
Bookings for learning conversations can be made at

https://www.schoolinterviews.co.nz/

using code

xx2zs

Bookings are made by choosing

the year level

then the

rōpū teacher.

Please note that we can only make one booking per student.

Please note that Gavin Hockly (11HYG) and Ainhoa Ortego (13OOA) are not available for Learning Conversations. Whakamarurangi Chadwick (11CKW) and Natalie Bell (11BLN) are running conversations jointly.
---
What's happening?
Neurodiversity week
This week we celebrated Neurodiversity Celebration Week! The aim of the week is to acknowledge and celebrate the strengths of Neurodivergent students. The week included many highlights. Dr Shannon Hennig's talk to students about the gifts of Neurodiversity was well attended and inspiring. Posters around the school have prompted positive conversation. Teacher's dogs were part of our quiet sensory room and students enjoyed this interaction. Student-led fundraising efforts to raise money for sensory resources for the school have thus far been very successful. We enjoyed traditional Italian pizza which raised $104. At the time of writing we are in the middle of our Bake Sale with some delicious looking treats on offer. Thank you Hannah and Lucia.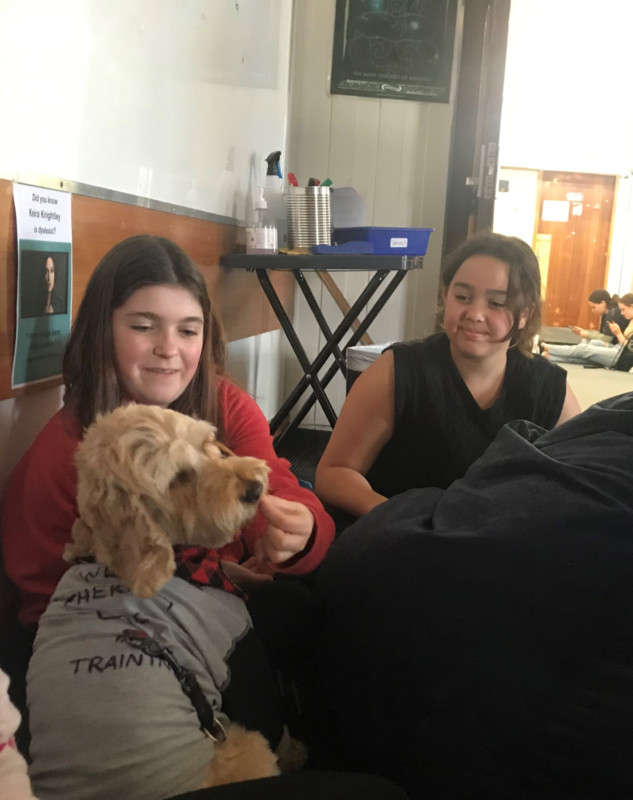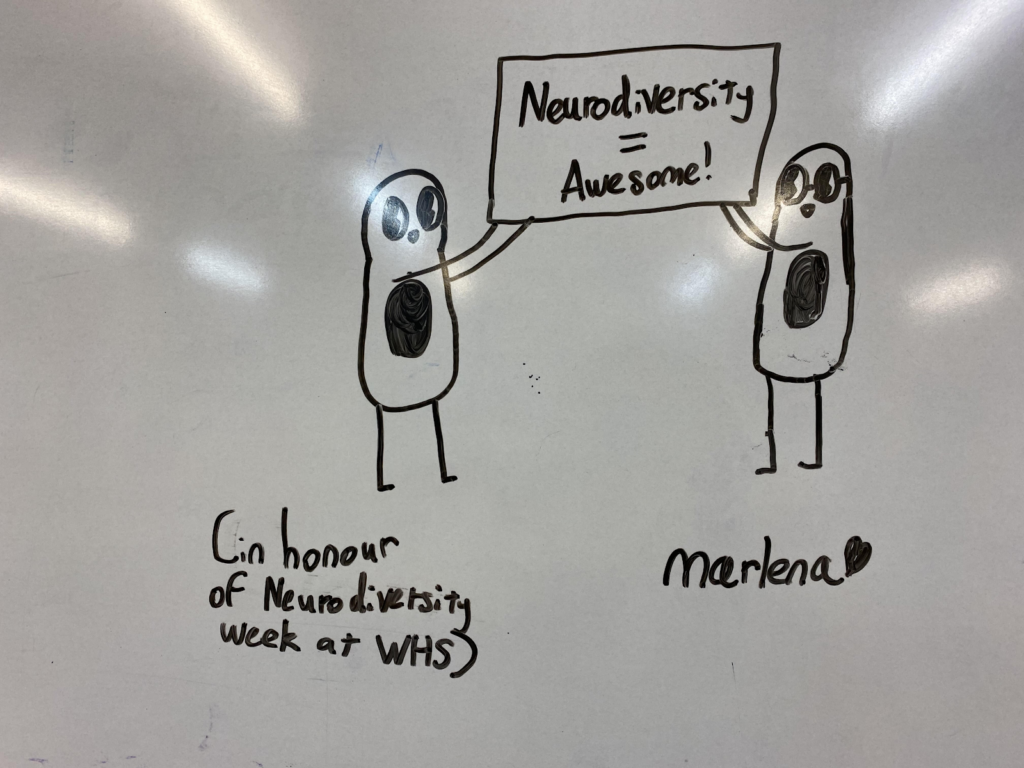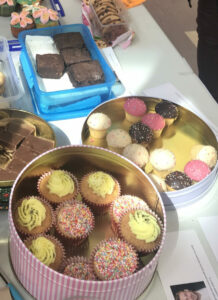 ---
He Kākano
It is Neurodiversity Celebration Week and the students did a fantastic job creating a large banner to display in the school foyer. This promotes an inclusive educational environment at school, embracing learning differences. In other news, we now have an active aquarium with 6 White Cloud Mountain Minnows! The students will learn tank maintenance and cleaning, as well as correct feeding. As usual, students are busy in classes around school in their chosen classes.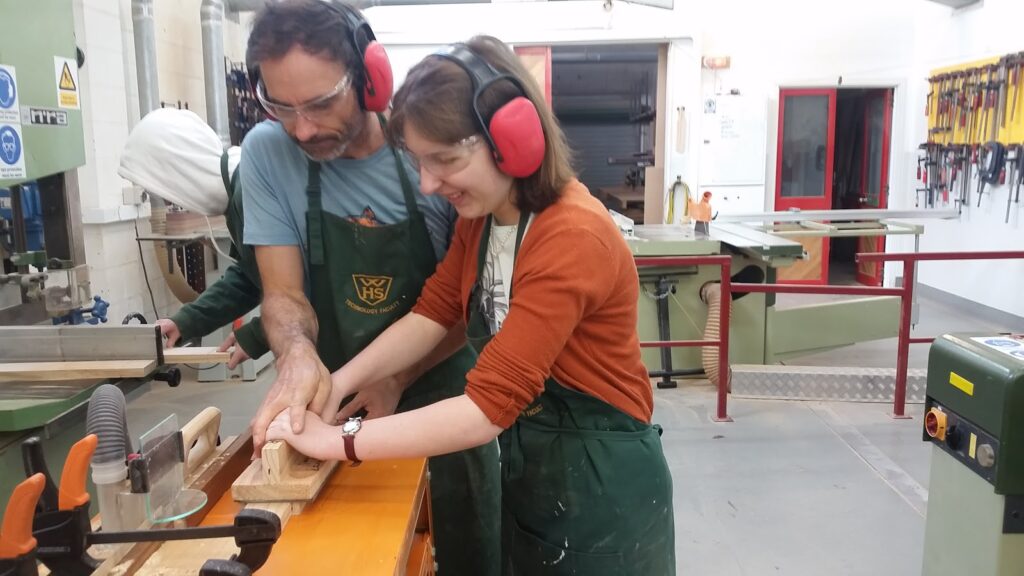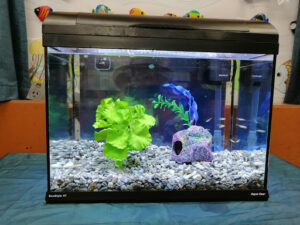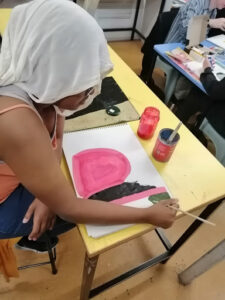 ---
Seatoun Arts Society
Tara Stockwell Williams, was invited to the Seatoun Arts Society meeting on Wednesday. Tara gave a talk about her art practice and the challenges she met in her art last year. Tara, who was awarded the Seatoun Arts Society prize at the 2020 Senior Prizegiving was warmly received by the audience.
---
48Hour Film Festival
Over the weekend of 5-7 March four WHS teams took part in the 48Hour Film Festival. It was a great weekend of furious filmmaking with each team given a genre, something invisible, a heartbeat, a reaction shot and an anti-hero to include in their story. We entered three Year 13 and a very courageous Year 10 team.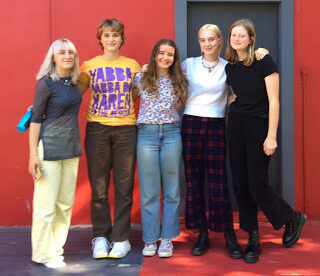 ---
Painted Word 335
Students in PWD335 had a great time this week learning about Jackson Pollock's artistic processes.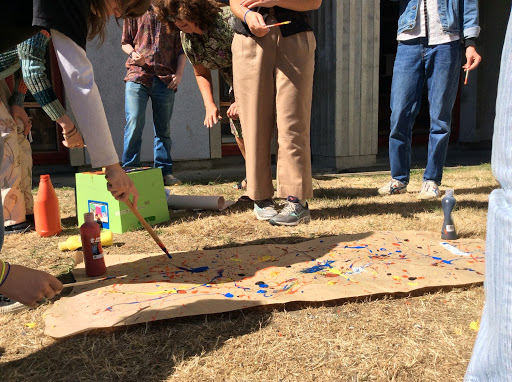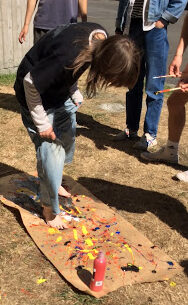 ---
Library
We have a team for the Readers' Cup! The Readers' Cup Challenge is a nationwide event  for Year 9 students.  We have some fine readers who have committed to reading set texts for our internal WHS challenge. From there we will take on Wellington secondary schools to represent the region in the national competition later in the year.
Our librarian training is going well. We have lots of volunteers this year and we are making sure we will get the best out of them and that they will enjoy this role. 
---
Achievements
NZ National Lead Climbing championship success
Congratulations to Fynn Marno-Simpson (Year 10) who came first in the Youth B grade (under 16s) in the Climbing New Zealand, National Lead Climbing championships. Congratulations also go to Jasmine Arnold-Clark (Year 9) who was first in the Youth C Female. Fynn and Jasmine are both members of Dynomites Wellington.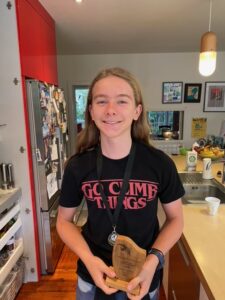 ---
Sports
WHS Dragon Boating 2021
Our staff and student teams had two great days on the water last weekend. The staff team won bronze in the Corporate B finals while our wonderful students' team took silver in the mixed-A secondary schools final. Both are fantastic results testament to the teams' commitment to training for the competition. Bring on 2022!
Ngā mihi, Whaea Char and Joe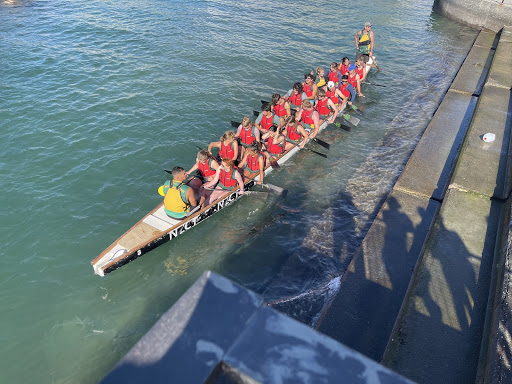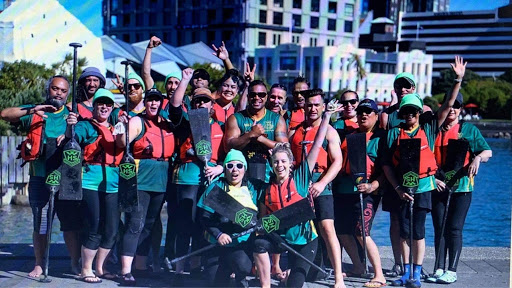 ---
Western Zone Athletics success
Congratulations to all our athletes who competed in this week's Western Zone Athletics competition. Our teams placed 7 in their respective competitions, with the following stand out performances:
Field:
| | | | |
| --- | --- | --- | --- |
| Student | Event | Distance | Place |
| Terina Tipene | Shot Put – girls junior | 9.12m | 2nd |
| Aalia Ali | Javelin – girls junior | 25.38m | 1st |
| Iris Boswell | Javelin – girls junior | 21.43m | 2nd |
| Frankie Coup | Javelin – girls intermediate | 28.93m | 1st |
| Ari Koed Chang | Long jump – boys senior | 6.03m | 1st |
| Henry Chapman | Javelin – boys senior | 49.54m | 1st |
| Harry Alexander | High Jump – boys junior | 1.5m | 3= |
Track:
| | | | |
| --- | --- | --- | --- |
| Student | Event | Time | Place |
| Dung Le | 100m – boys junior | 13.23s | 3rd |
| Ivan Purdy | 300m – boys junior | 46.45s | 2nd |
| Ivan Purdy | 1500m – boys junior | 5:22.44m | 3rd |
| Theo Wilkinson | 800m – boys intermediate | 2:23.45m | 3rd |
| Lee Stanton-Barnett | 1500m – boys senior | 4:31.23m | 3rd |
---
Waka Ama 
Our paddlers were out in force last weekend with Waka Ama regionals on the water at Titahi Bay on Saturday. Their next stop is the nationals in Rotorua next week.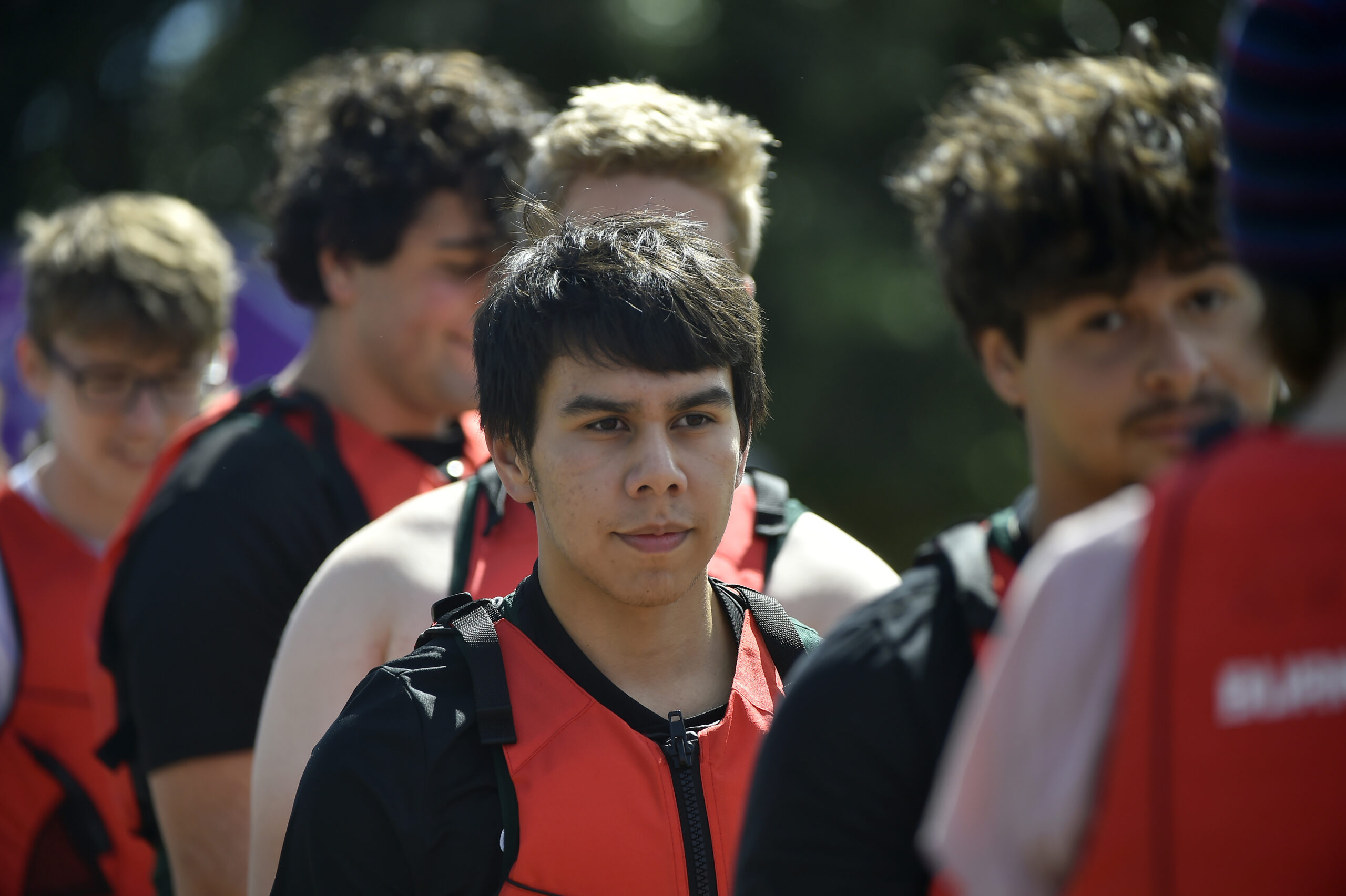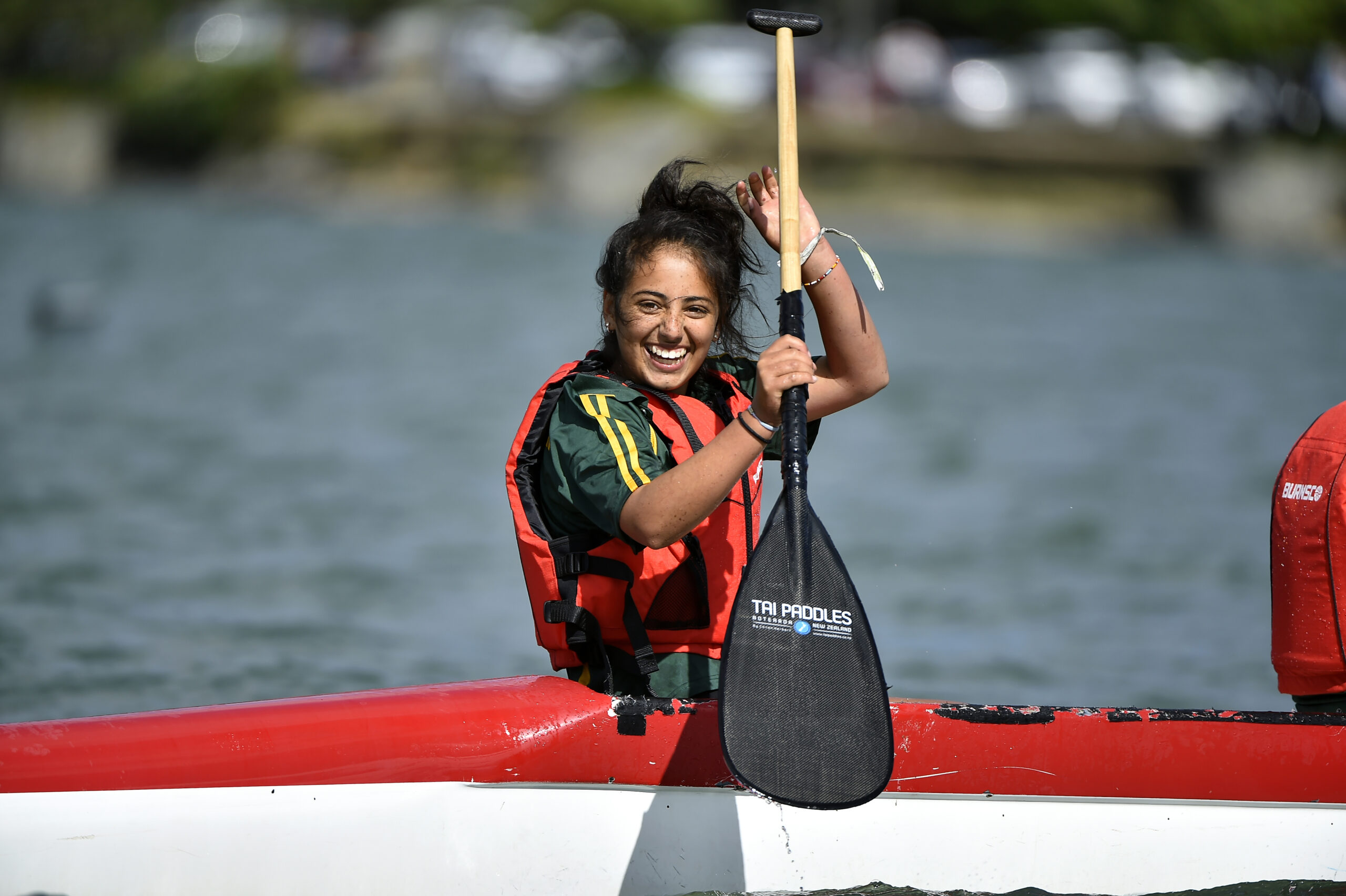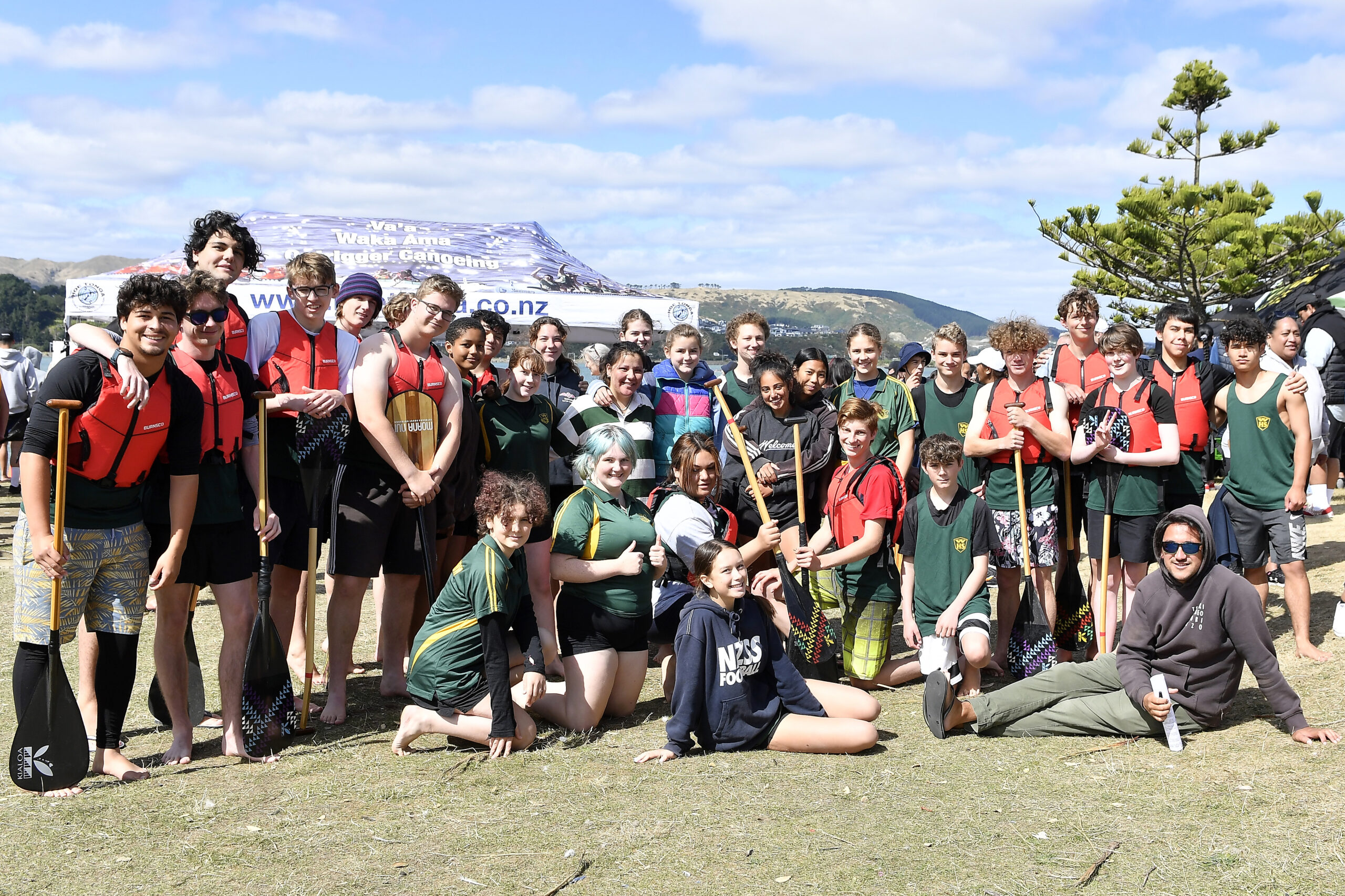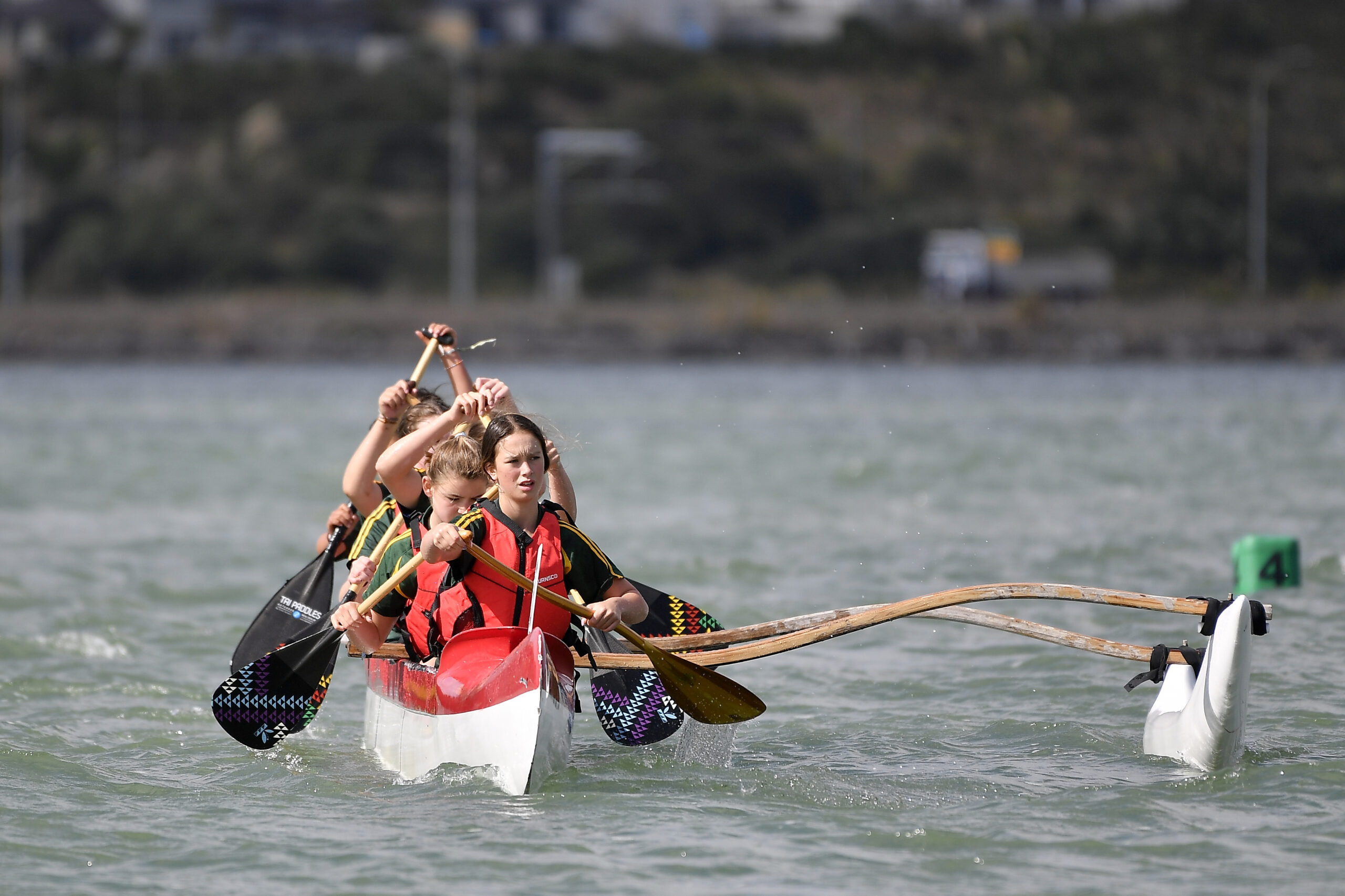 ---
Special Olympics qualification success
On the weekend of 6-7 March, neurodiverse student Dominique Gilling qualified for this year's quadrennial Special Olympics National Summer Games in the top category, Division A. Out of three events, he placed second in the dressage and equitation (missing out on first by just one point) and first in the working trail. As his competition was a 29 year old rider from Canterbury who is a current member of the New Zealand SO Equestrian squad, this is quite an achievement. The overall competition featured 21 riders from the lower North Island and Canterbury. Congratulations Dominique!