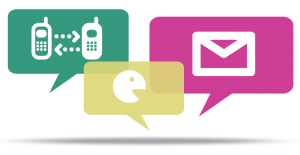 At Wellington High School, we value open and clear communication between home and school. We continue to make improvements in response to your feedback.
How we communicate with our families / whānau
The 'must read' channels we use
Direct Email: All 'must know/do' information is emailed to you directly. This includes emails from your student's teachers.
Parent Portal: On the portal, you can find information on your student's attendance, timetable, achievement, progress and reports. You are assigned a login when your child joins the school. To reset your information, contact admin@whs.school.nz.
WHS website: All important information can be accessed via our website. In an emergency, we will post updates on the front page of our site and use text message / WHS app.
The 'useful/nice to read' channels we use
WHS App: The WHS app is free to download to your phone.  Important alerts and updates to the site are notified via the app. It also contains useful information, links to our weekly newsletter, and can be used to notify us of absence.
Facebook/Twitter: The WHSWellington Facebook page and the @WellyHigh Twitter feed are used to share stories about the great work our students do, as it happens.
Google Classroom: Classes use Google Classroom to manage learning information for their subjects. You can join your student's classrooms if you wish to be able to see the activities/resources they are using. Ask your student to show you the classrooms or request access from their teachers.
Weekly newsletter  |  The 'Weekly Wrap-Up'
Each week on a Friday, the Weekly Wrap-Up is posted online, and shared via Facebook, Twitter and the WHS app.
Your communication with us
All our contact information is on this page on our site: http://www.whs.school.nz/contact/
If you have any general concerns or queries regarding your student, please contact their rōpū teacher or Dean first to raise your concern.
Matters related to specific subjects should first be raised with the subject teacher and the Head of Faculty.