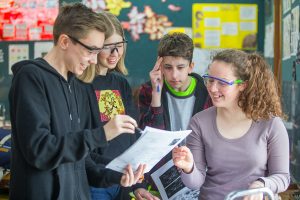 Thinking of joining us? We think you should give it serious thought…
There is something special and exciting about our lively, co-ed school in the heart of New Zealand's capital city.
We are a community school — whanaungatanga is at the heart of our culture
Students join us from Year 9 through to Year 13, and we actively engage with our families/whānau throughout the year.

Our marae and Te Whānau a Taraika are central to our school

We have a high needs unit, an international department, and Community Education programmes and creche on site.

We connect to Wellington's diverse arts, science and cultural scenes.
We push for excellence
We commit to helping you achieve the qualifications you need for your chosen pathway, be it to university, into a trade or further study.

Course options are rich and varied – and we are renowned for our Arts, Science and Technology programmes.

We offer all sporting codes and cultural activities – and some interesting 'niche' activities too.

All students study te reo Māori and tikanga in Year 9 – and can pursue this through all years, including through immersion courses in the senior school.
We foster respectful relationships
Relational practice and restorative conversation lie at the heart of how we work with young people.

From Amnesty Club to our UV club, social action and community service are vital themes for our students.
We celebrate diversity
We welcome students of all cultures, backgrounds, genders and sexualities.

Your physical and mental wellbeing is actively supported.

You can express your individuality through what you choose to wear.
We are innovative
Wellington High is an early adopter of 'BYOD' digital technology and we use it to support all learning.

We offer collaborative, combined courses from Herengatahi classes in Years 9-10 to Sonic Arts and Painted Word in the senior years.
We are co-educational
Co-ed schools set students up for confident social and emotional relationships in life.

Students in co-ed schools are more likely to develop healthy self-esteem, respect for others' perspectives and challenge social stereotypes.

Brothers and sisters can attend.