The National Certificate of Educational Achievement (NCEA) is the main national qualification for secondary school students in New Zealand. NCEAs are recognised by employers, and used for selection by universities and polytechnics, both in New Zealand and overseas.
January 2022 — Update on external exam results
There has been an issue with errors occurring from some students' results. Students should call NZQA's 0800 697296 call centre number, and tell them the details.
The errors that have resulted in 'missing results' are not localised to any particular school, region, or subject area. Neither are they consistent within schools. NZQA's primary means of identifying genuine missing results at this point is hearing from individual students, as they are able to directly confirm that they sat or did not sit the examination.
More information will be available in the coming days and weeks. At this stage, please assure students that NZQA is making progress in resolving each individual issue, and that by ringing NZQA directly they will ensure that they have their correct contact details, accurate information, and can check with them individually what the current impact is on their qualification.
NCEA General Information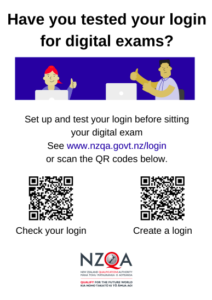 Digital Exams
Make sure you have practised logging in before you sit a digital exam.
COVID 19 – Temporary NCEA Changes & Learning Recognition credits
We know some of our students – and their whānau – are worried that they might not be able to attain NCEA or UE this year, because of the disruption caused by COVID- 19. To help address this and support students, the following changes are being made to NCEA and University Entrance (UE) requirements for this year:
Students working towards an NCEA can gain additional credits, based on the number of credits they achieve during the 2021 school year. These additional credits will be known as Learning Recognition credits.
Students are entitled to 1 LRC for every 5 credits earned through assessment, up to a maximum of:

8 at Level 1
6 at Levels 2 and 3.
LR credits are linked to the level at which the credits are achieved
Students who are who are multi-levelling and want to use LR credits, will need to ensure these are achieved at the level of the NCEA they are aiming for (or higher)
Where students earn LR credits at a higher level than the NCEA they attain in 2021, those LR credits will continue to count towards the higher NCEA level in future years.
Frequently Asked Questions
Where can I find a calendar of assessments?
On this website, go to Students > Calendars > NCEA Level 1/2 or 3
Students are invited to NCEA assessment events through their school Google calendar. When they choose to accept the invitation, the assessment event will stay in their Google calendar. This means that their Google calendar should contain all the assessment information related to them for all internal assessments throughout the year.
Additionally, course information is published on the WHS student hub at Course Information 2020.
What do I do if I need an extension for an assessment?
If you missed / will miss an assessment due to illness, family trauma or a school sporting/cultural activity you will need to apply for an extension. Please follow the NCEA Internal Assessment Guidelines (updated March 2021) for the correct forms and a further clarification of your rights and responsibilities.
What do I do if I want to appeal my grade?
If you wish to appeal a grade that you have received, fill out the form below and hand in to your Teacher/HOF within 24 hours of receiving your assessment back. Please follow the NCEA Internal Assessment Guidelines for the correct forms and a further clarification of your rights and responsibilities.
University Entrance
University Entrance (UE) is the minimum requirement to go to a New Zealand university.
NCEA Level 3
Three subjects – at Level 3, made up of:
Literacy – 10 credits at Level 2 or above, made up of:

5 credits in reading
5 credits in writing

Numeracy – 10 credits at Level 1 or above, made up of:

achievement standards – specified achievement standards available through a range of subjects, or
unit standards – package of three numeracy unit standards (26623, 26626, 26627- all three required).
Once you have met the requirements for University Entrance it will appear on your Record of Achievement.
More Information about University Entrance can be found here
Information On Guaranteed Entry Scores
University Entrance will entitle you to entry to university but it may not immediately get you into the course you wish to study. In addition to the university entrance requirement, some universities work on a GES (Guaranteed Entry Score) for different degrees. For example, at Victoria University the GES from NCEA is 150 points for all degrees except the Bachelor of Architectural Studies and Bachelor of Building Science which requires a Guaranteed Entry Score of 180 points.
The GES is based on the 80 best credits in university-approved subjects and is calculated by awarding points as follows:
Excellence = 4 points
Merit = 3 points
Achieved = 2 points
If you achieve university entrance but not the required GES, the university will most likely waitlist you.
A quick calculation – If you 'achieve' 60 credits at level 3, you will get a GES of 120 – not enough. If you 'achieve' 30 credits at level 3 and get 30 'merit' credits, you will get a GES of 150 – just enough.
For more information click on the university links below.
Scholarship Information
Scholarships provide significant recognition and financial support to students who are striving for academic success in the tertiary environment. Click the link below to find out the range of scholarships available.
Generosity is a government funded site that offers access to more than 4,000 scholarships and grants for individuals. Click here to learn more
Useful Learning Resources