Once each term a group of parents and school staff meet whose main aim is to support and lift achievement of Māori students.
We try to do this by supporting whānau, students and the school. For example, we hold information evenings about NCEA to help parents, and students, understand NCEA. We seek views of whānau and students about school, their needs and future goals and work through ideas to address these.  We support the kapa haka and te reo teachers, support school Matariki activities and the student end of year prize giving events.  And we are currently working on an online te reo resource for WHS students and whānau.
We would like to invite all whānau to come along, meet other parents and members of the school staff. Everyone is welcome. The meetings are interesting and organised, but there is no obligation to take part, or to put your hand up for activities. We try to identify and carry out activities that will be valuable to whānau, students and the school to raise student achievement.
In any one year, around 17% of the Wellington High School roll is Māori. In addition, both Māori and non-Māori students take part in activities such as kapa haka and learning te reo. We are very keen to do our best to support these students and these activities.
Whānau Hui dates 2020
Whānau Hui dates in 2020 will be as follows:
Term 1: Monday 17 February
Term 2: TBC
Term 3: Monday 3 August
Term 4: Tuesday 3 November
Whakanuia Prizegiving 2019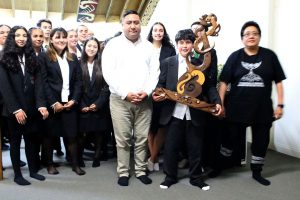 Ka pai to all our Māori students who received awards in our Whakanuia celebrations this year. Photos from the event and a full list of prizewinners can be accessed below:
Latest Whānau Hui Minutes
Wellington High School
Te Kura Tuarua o Taraika ki Pukeahu
Whānau Hui : Term 4 2019
29 October 2019
Kapa Haka:

Upcoming trip Rotorua March 2020 for Waka Ama national competitions.
Kapa haka competitions 2021.
Current kapa haka leaders are leaving end of 2019 so need to bring new leaders up.

Te Wiki O Te Reo Maori 2019 at WHS:

Whakamarurangi outlined some of this year's te wiki o te reo Maori activities.
Whakamarurangi and Anna are keen to increase teacher participation across school in 2020, and invite participation from whanau/community in school's activities. Catherine will consider inviting Paul Diamond (historian) and Clive Aspin (Maori health policy).
Discussion explored alternatives such as stretching to Mahuru Maori or perhaps an action/event every month of 2020/year.

Discussion about parent/whanau participation in Whanau group. Megan Southwell suggested surveying parents to explore ways to encourage involvement.
Whakanuia (celebration of outstanding Maori achievement and achievement in te ao Maori):
Wellington High School rebranding:

Group discussed style of art for school's visual branding (modern vs traditional). Group keen to establish link to mana whenua, before considering the art itself.  Matua Ben, acting kaumatua, has been consulted.  Whanau generally agreed that school should commit to artist who shares school's vision, and connects to school, in first instance.

Election of Te Whanau a Taraika Board of Trustees representative:

Currently no nominees.
Current Whanau rep is Annette Atkins who will continue as rep until further notice.
Annette gave a broad outline of responsibilities of Whanau board rep position.
Interested parents may contact Whanau group chair for more information: Tim POI Poi@whs.school.nz or discuss at whanau hui.

Group discussed idea of providing support to parents/whanau who are struggling in some way. This needs further thought.  Follow up at next hui in 2020.
2020 whanau hui:

Suggested learning waiata and telling stories of Taraika at first hui of 2020.
Hui calendar for 2020 will be confirmed at first 2020 hui. Possibility that more hui will be added (on top of usual four per year).  Date for first hui will be published to school website on the Te Whanau a Taraika page.

Everyone is welcome to attend whanau hui, students, whanau members and staff.  If you have any questions about Te Whanau a Taraika, please contact the school office in the first instance.
Whānau Hui Minutes
Contact
Te Tumatakuru O'Connell, Te Whānau a Taraika chair