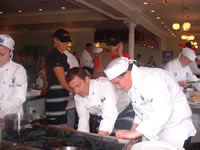 All students at Wellington High School have access to a range of qualifications available on the National Qualifications Framework. These include NCEA Levels 1, 2 and 3 and many National Certificates.
High achieving students studying at NCEA Level 3 are encouraged to sit Scholarship.
Results attained on assessment, both at school and at the end of the year, earn credits towards national qualifications.
The students recieve Student Guidelines for Assessment at the beginning of the year or when they join the school
For more information on assessment go to www.nzqa.govt.nz.