Lockdown and Evacuation Procedures
Wellington High has developed an Emergency Management Plan so we can respond safely and quickly to a range of circumstances. The evacuation of the building and lockdown within the building are a part of our emergency procedures.  We conduct practice exercises to make sure all staff and students remain familiar with our processes.
In an emergency, how we will communicate with you
Make sure we have your MOBILE PHONE number and download the WHS App.
In an emergency, we send a TEXT first and any information pertaining to an emergency occurring at the school will be updated on our website as regularly as possible
Should you hear of a lock down or evacuation at the school, please do not attend the school or phone, as we will not be able to respond.  Your presence or contact may make it more difficult for us or the emergency services to manage a situation.
Below are the processes that we use. These are on display around the school: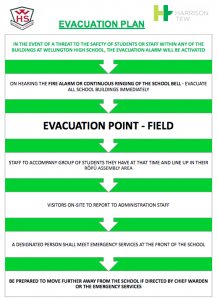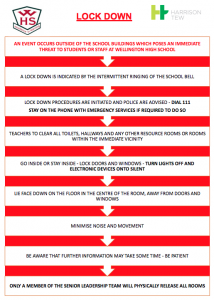 ---
Earthquake Preparation
Wellington High School has had a full engineering assessment and we are confident that our buildings are strong and perform well during earthquakes. We have a good plan for managing safety during and after any earthquakes.

Our plan
Emergency advice
We strongly encourage our families to make a good, flexible and clear emergency plan for what happens in the event of a big earthquake or something similar. Everyone in your family should know where to meet up in the event of a large earthquake during school hours, and who will pick up Year 9 and 10 students from the school. In the event of school closure following a serious earthquake, we will:
Contact families via TEXT and the WHS App and update the front of the website.
Keep Year 9 and 10 students at school until a named family member can collect them. Please ensure that you have filled out and returned the Emergency Contact List to your Year 9 and 10 student's rōpū teacher. Juniors can leave with an older sibling.
Dismiss Year 11—13 students if it is safe to do so.
You should also ensure that your home is adequately supplied with food, water and other supplies, just in case.
If you have any questions, comments or concerns about any issues to do with emergency preparedness at WHS, please get in touch with Megan Southwell (megan.southwell@whs.school.nz) or the Principal.