Herenga (noun) — to connect, tie, weave together. 
In Year 9 and 10, you will belong to a Herengatahi whānau of up to 60 students. Each whānau belongs to one of the six WHS houses (Kelly, Riley, Howell, Royal, McKelvey or Bradwell) named after former principals of the school.
Your most important connection will be with a rōpū (group) of about 15 students, and you will be working closely with a teacher who will support you, coach you to improve your learning performance and really get to know you as a person. For example, you might be in 9Kelly1, or 10Royal2.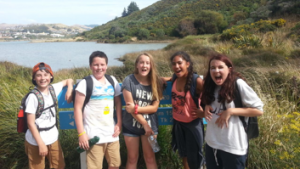 Why is this important?
As a successful learner, you will be working with other young people and your teacher, while you will cooperate with them to discuss important ideas and develop new learning targets.  You will be able to negotiate some of what you want to learn and select from a full range of learning tools to do the work. Herengatahi will encourage you to be an active learner, to question and inquire and have your ideas supported and challenged by others.
How does Herengatahi work?
Connected students
You are a member of a Herengatahi group (50-60 students) and a small rōpū (12-15 students) for two years (Years 9-10).
At least four core subject teachers share the teaching across rōpū.
A Dean oversees the year level and works with rōpū teachers to ensure academic and pastoral care.
The key competencies outlined in the New Zealand curriculum are at the centre of your learning.
You are encouraged to reflect on your learning through rōpū and subject programmes. Your ideas about how we design the learning with you are encouraged.
Learning Services work closely with Herengatahi teams to support learners and assist with scaffolding learning.
Connected curriculum
Herengatahi teaching teams meet weekly to discuss the learning needs of their students
Teachers plan collaborative units of work connected by an issue, problem, question or universal theme, where possible.
Connected community
Students and their whānau share a school tikanga
Face-to-face, as well as online relationships with parents and caregivers are encouraged.
'Learning conversations' are held twice a year, as well as Parent-Teacher interviews
Whānau can access the school website and the online parent portal to see daily notices, your student's timetable and attendance data, assessment results, reports, and donation payments.
Keep up-to-date with school events via Facebook, Twitter, the school website and the school app.