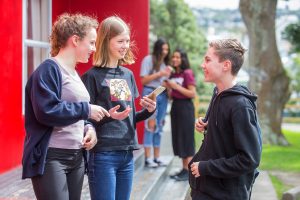 As a restorative and relational school, Wellington High School prioritises working together to ensure a safe and respectful environment.
Our WERO values underpin how we aim to prevent and respond to issues around wellbeing and negative behaviours such as bullying. 
Below we have provided advice in case bullying occurs:
What you can expect from WHS
to be heard and responded to sensitively and with respect

to be assured that the incident will be investigated and that there will be a response

to receive feedback on the situation

to be assured that the school will support targets, initiators and bystanders to resolve

to be offered help from external agencies, as appropriate
Who to contact about an incidence of bullying involving your child
---
What is bullying?
WHS follows the Ministry of Education's definition of bullying behaviour that emphasise the following four characteristics.
Bullying is deliberate

Bullying involves a power imbalance

Bullying is repetitive

Bullying is harmful
Read more on the Ministry's site: What is bullying?
What you can do if your child reports they are being bullied
try to stay calm so that they feel calm to talk about it

work out how to deal with the situation together

reassure your child that they have done the right thing in talking about it, that the bullying is not their fault, and that you will work with the school to make things better

agree on a plan of support for your child

regularly check with your child to see how they are doing.
What to do if you suspect or know your child is bullying others
talk to your child to get the full story and their point of view

be clear about what is and is not acceptable behaviour at school and at home

explain how bullying affects the targets, the bystanders and the school environment

discuss better ways to handle situations where your child may act aggressively

regularly check with your child to see how they are doing

recognise and praise appropriate behaviour

talk to your child's dean or teacher about how they can help.
What to do if you suspect your child is a victim of cyberbullying
ask questions about how digital technology is being used

take an active approach to discussing digital issues with your child

do not use access to technology as a sanction in response to cyberbullying / being cyberbullied

save all bullying messages and images for use in reporting the bullying to the school or the police

contacting the police if the cyberbullying involves physical threats or could put your child or any other child in danger

lodge a complaint with the mobile phone or social networking site provider

contact NetSafe to report the issue if it is online
Further information and support