Important Dates
24 June – Board of Trustees meeting, 6.15pm

1 July – Year 9 Options begin (third rotation)

2 July – Music Evening, 7pm in the Riley Centre

5 July – End of Term 2

22 July – Term 3 begins

23 July – Parents Evening for Seniors (and Juniors as requested). Information to come.
Note from the PPTA:  The rolling regional strikes planned for week beginning Monday 17 June are no longer happening. There will not be a strike in Wellington on Friday 21 June.
Important Information
Sports and Cultural Photos
On Tuesday 18 June we have our Sports and Cultural photos.  These will be held in the Riley Centre. All sports players are to bring their playing uniform (except boots/shoes) for their team photo.  A timetable of when the sports photos will be taken will be shared in each rōpū.
---
What's happening?
The WHS brand refresh – Part 2
Our design team of staff, students and whānau met again with Chrometoaster this week to refine the way we describe our school and explore moodboards. Lively discussion ensured about fonts, colour palettes and whether we liked curves or lines! Next step will be to share the next phase
Year 9 Future Cities Conference

For three hours this Wednesday, all year 9 students were involved in the 'Future Cities' conference, kicking off a four-week integrated project in which students create conceptual sustainable cities (which will be exhibited in Week 10). Students were able to attend two workshops from the ten on offer, with presenters from the Wellington City Council, G.W.R.C, Infometrics, Enviroschools, First Retail, Wellington Water and Papa Taiao, and listened to a 'keynote address' from Deputy Mayor Jill Day. https://www.futurecities.whs.school.nz/
We are very grateful to all of these presenters for giving up their time, and to the students for their engagement and energy!
Lunch for Kaibosh
Our Year 12 and 13 Hospitality students collaborated on our first Wāhi kai lunch to raise funds for Kaibosh this week.
They prepared and served kai to 30 staff and can be proud of the mahi that they put in. Tino pai!
Papa Taiao Young Enterprise Pitch
On Thursday last week students from the Papa Taiao business, Mātaki Whenua, presented their enterprise, selling tracking tunnels out of recycled plastic to a panel of Young Enterprise Scheme (YES) judges. This puts them in the running for the regional YES awards. Today they secured an agreement with Onslow College to get all their laser cutting done for free. Soon they will start selling their product that takes landfill and uses it for conservation! Ka rawe!
WHS Migrant & Refugee Background Family Dinner                                                  
A shared dinner for refugee background students and migrants doing English Language, as well as their families was held on Wednesday evening. There was a good attendance by mostly students and staff members. Students had worked hard to make colourful decorations and bring tasty food. The band 'Two and a half Asians' played and were fantastic. It was a great evening.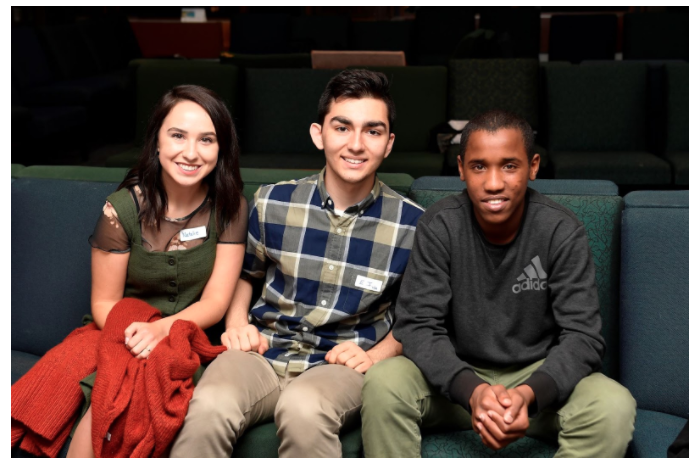 The English Language Department is lucky to have two interns from the United States, Edward and Natalie, helping out in classes over the next few weeks.
---
Achievements
Sports
Diving
Congratulations to Liberty McIntyre-Reet, so has won Bronze in the 1 and 3 metre Springboard and silver in the Synchro at the Singapore National Diving Championships from 7-9 June