Important Dates
7 June:

 Board of Trustees Election Day

10 June:

 Open Evening, 6pm – 8pm –

School closes 3pm

24 June:

 Board of Trustees meeting, 6.15pm

5 July:

 End of Term 2
Please note: we have been notified that further action will take place over the last five weeks of term. The action is a mix of rostering home and rolling strikes (different regions striking on different days of the week).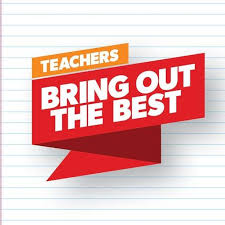 Tuesday 4 June: Year 9 rostered home
Tuesday 11 June: Year 10 rostered home
Friday 21 June: Wellington region strike day
Tuesday 25 June: Year 11 rostered home
Tuesday 2 July: Year 12 rostered home
---
 Message from the Principal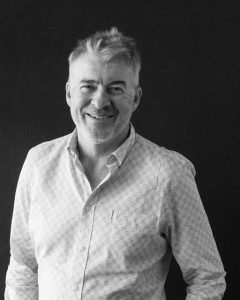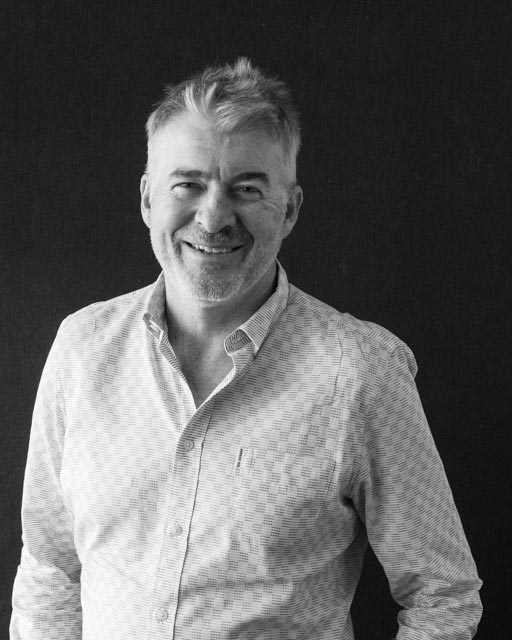 "It was the best of times, it was the worst of times, it was the age of wisdom, it was the age of foolishness, it was the epoch of belief, it was the epoch of incredulity, it was the season of Light, it was the season of Darkness, it was the spring of hope, it was the winter of despair, we had everything before us, we had nothing before us, we were all going direct to Heaven, we were all going direct the other way …"
I'm sure many of you will recognise these beautiful words from "A Tale of Two Cities" by Charles Dickens and you will probably know why I am starting my message with this quote. We are in uncertain times, there is hope and there is despair and the despair seems to be outweighing the hope at the moment. Unfortunately, negotiations with the government are not going well and disruption is occurring in our schools. This is not what any of us want but these are the times we are living in. The current government has inherited 9 years of neglect and they obviously cannot rectify this immediately but their intransigence on various aspects of the negotiations is reprehensible.
Education is a fundamental right and governments should be nurturing and cultivating the best teaching workforce so that we can have the best education system. The government should be leading the conversations about the best ways to do this but they are not. The key ingredient here, as I'm sure you know, are the teachers who are in front of our young people every day. We, as a society, have to decide whether we value those people or not. We have to decide whether we want the best people caring, supporting and inspiring our young people or not.
Thank you for your support during these times and we will need it in the weeks ahead.
I am sad to announce that Eric Tan has left us today to return to his home country of Singapore. Eric worked with us for 3 years in the Science department and made quite an impression with his calm, relational manner, his thorough planning and the cleanest Science labs you will ever see! We have already welcomed Dylan Weatherley-Libeau into the Science department this week as Eric's replacement and we will also be welcoming Shaun Tavernor next week as a new Deputy Principal, and a Science teacher. Staffing changes inevitably cause more disruption and I thank the students for their patience in these times.
You should have received information and brief biographies of persons standing for election in the upcoming Board of Trustees elections. Please read these carefully and make sure your voice is a part of this process by voting by 12.00pm on 7 June. It is also important to recognise the service of outgoing members, particularly Deanne Daysh who has served on our board for over 6 years with the last three spent as board chair. Deanne has donated a huge amount of her time to the school and I am forever in debt for her inspirational leadership and support in this forum.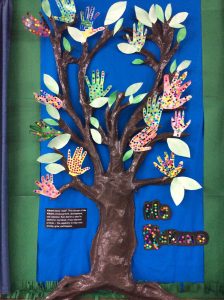 We have recently renamed our special needs unit from base 1 to He Kākano. He Kākano means 'seed' and conveys growth, development and expansion. Even before a seed is planted or nourished, it has inherent promise – the capability to take root, develop, grow and blossom. He Kākano reminds us of the opportunity we have in schools to make new beginnings, to plant, to nurture, to cherish, to realise potential, to grow and enhance that which is. He Kākano is a symbol of productivity and the promise of success through learning and achievement.
Finally, this is the time of year when we market ourselves to our community. We have had feeder school visits and we are about to run our annual Open evening on Monday 10 June. We always look forward to this opportunity to showcase the work that we do at our great school. My speech to the feeder school students was about opportunity and the words above which He Kākano embodies, explain this perfectly: opportunity "to make new beginnings, to plant, to nurture, to cherish, to realise potential, to grow and enhance that which is".
Ngā mihi nui
Dominic Killalea
---
Important Information
Monday 10 June: Open Evening
Normal day with no rōpū, finish at 3pm.

8.45am – Period 1

9.40am – Period 2

10.40am – interval

11.00am – Period 3

12.00pm – Period 4

1.00pm – Lunch

2.00pm – Period 5
---
Board of Trustees elections – important information for postal voters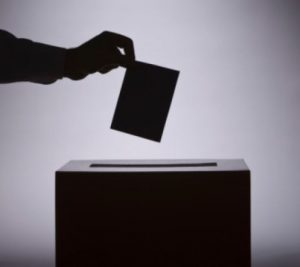 We have been advised by the NZSTA that NZ Post cannot guarantee that envelopes are postmarked. To ensure your vote is counted please return it to reception by noon on 7 June, or ensure that it is posted at least five days beforehand so that it reaches us by the close of voting.
---
What's happening?
Papa Taiao predator control camp
Students taking the Papa Taiao sustainability and enterprise course camped deep in the stunning Orongorongo valley to learn about protecting our threatened natural taonga (treasures) through predator control. They learnt about the positive impact trapping pest predators has had on increasing bird, lizard and plant numbers in Aotearoa. The students completed unit standards that covered the theory and practical knowledge of trapping over the two day camp. The two hour hike to the DOC hut showed off the abundance of wildlife due to predator control, but also the significant damage pests, namely possums, can have on an old growth forest.
Students finished their write up on the day's learnings at night by candlelight, and after being asked if they want to have a well deserved break from an hour of focused work, most wanted to carry on and finish the work – to quote a student: "I feel really focused and keen to work after the hike today". 
---
Tramping Club Jumbo Hut tramp
The Tararua Tramping Club is helping the school tramping club by hosting a few tramps this year. This trip was to Jumbo Hut, taking fourteen year 9-14 students from Wellington High School and a couple of students from other schools.  On Sunday, we returned via Pinnacle ridge.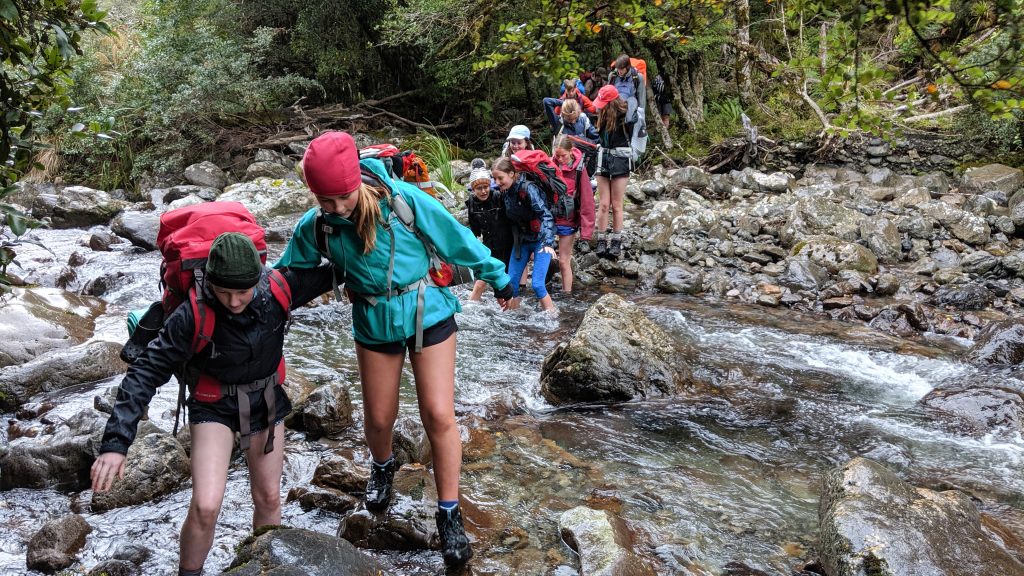 ---
We know what they look like when we pick them up at markets and from the supermarket, but have you ever seen kumara flower? They're flowering in the garden at the moment.
This week the horticulture students also dug up the kumara harvest, including this outsize whopper and enjoyed their produce for afternoon tea.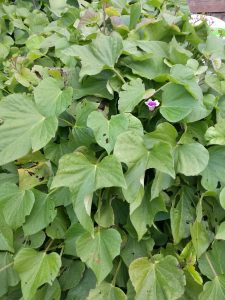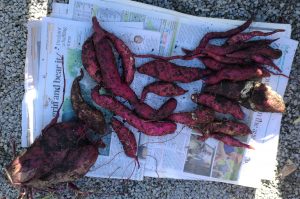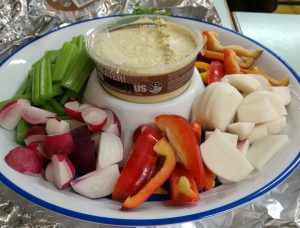 ---
Achievements
NZ Schools Debating
Congratulations to Amelia Mance (Y13) for representing Wellington, alongside students from St Oran's and Wellington College, in last weekend's National NZ Schools Debating competition, hosted in our wonderful library. Although their team, Wellington Gold, did not take home the silverware, it is wonderful to see WHS students debating at such a high level.
---
Roxy5 film finalists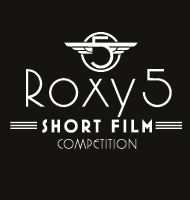 WHS has three teams in the final of the Roxy5 film competition this year, including one team from Year 9! Congratulations to all for their achievements so far. The final screening will take place at the Roxy Cinema on Wednesday 5 June and we wait with baited breath to see if any of our teams will take the crown.
---
Sports
CSW Cross Country Championships
Well done to the following athletes who competed at the College Sports Wellington Cross Country Championships held on Wednesday 29 May at Harcourt Park in Upper Hutt.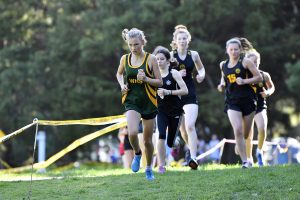 Junior Girls: Niamh Fyfe

Junior Boys: Sky Gobbi

Intermediate Boys: Henry Murdoch

Intermediate Boys: Carlos Relph

Senior Boys: Oskar Ehrhardt
Queen's Birthday Weekend
The following sports have no games this weekend
Senior Basketball

Senior Badminton

Netball
Sports Photos
I would welcome any sports photos that you take when at any Wellington High School games.  If you want to share please send them to sport@whs.school.nz.  These are always good to have for our School Open Evening and End of Year Sports Prizegiving.