Important Dates
Monday 1 March – Year 9 Noho Marae begin

Wednesday 31 March – Learning Conversations Y9-13

Thursday 1 April – Teacher-Only Day: Capital City Kāhui Ako.

School closed.

Friday 2 April -Tuesday 6 April: Easter Break

Friday 16 April – End of Term 1
---
Important Information
Introducing our new Board Chair
Kia ora te whanau o Te Kura Tuarua o Taraika ki Pukeahu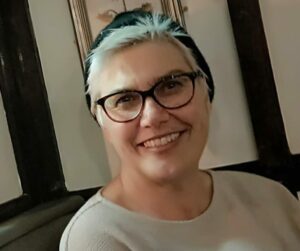 On behalf of the Board of Trustees at Wellington High School we welcome new students and families to our school, as well as welcoming back our current students and families.
Our board is made up of elected parent, student and teacher representatives whose
contact details
are available on the school website. Please feel free to get in touch with any of us if you would like to raise something about our school. And of course, board meetings are public and parents and community are welcome to come along.
This year we are hoping to encourage more parents to get involved in events at school – keep an eye out on the Weekly Wrap-up for invitations to come along (or help out!)
Finally, we want to say a big thank you to all our dedicated staff who have been busy over the past few weeks preparing for a great year.
Ngā mihi
Belinda Rynhart
Snapper shout out
Thank you to Isabella Morrison and Team Snapper for their support for WHS. Snapper recently donated a smartphone so that we can continue to top up Snapper cards and provide transport for students who face challenges affording travel to and from school.
---
What's happening?
Breakfast with the Deputy PM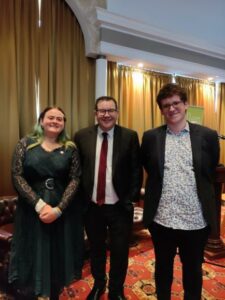 Year 13 students Iris Broadley and Zachary Taylor attended the Cullen Breakfast Club this Thursday with other senior leaders from the Wellington Region, to hear Wellington Central MP & Deputy Prime Minister, Grant Roberston speak. It was an early 6.30am start, but well worth it.
---
Food Technology Hāngi
In year 10 Food Technology we have been exploring a variety of cuisines to broaden our cultural knowledge and skills. We have had lots of fun learning about Hāngi and making an oven version of a Hāngi last week.
This week we made Sapa Sui a Pacific version of Chop suey. We are working towards individually choosing a cuisine of interest and integrating some traditional Māori ingredients to give an Aotearoa twist! Watch this space for exciting updates!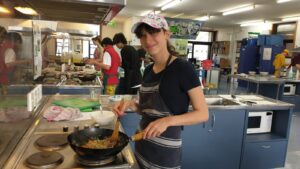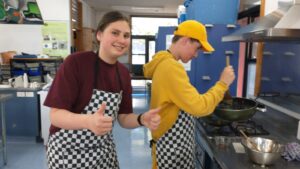 ---
Business Studies Kickstart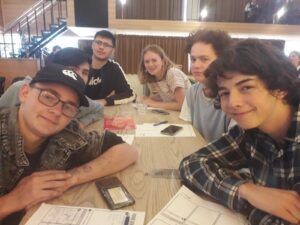 Friday last week Year 12 Business Studies students attended the first of many events organised for Young Enterprise Scheme students in the city.  The day was called Kickstart/Timata and provided an opportunity for students to form companies, brainstorm business ideas and start to network with local business people and business mentors.
---
Upcycling for Fashion
Thank you to the WHS community who have donated their My Food Bag wool packaging insulation. We have been cutting it up for the inner stuffing and making pin cushions, so everyone has their own. Fabric scraps have been devoured from garment offcuts and combined for everyone's individual tastes.   My Food Bag is going to feature student work in their blogs, instagrams and promotional materials to celebrate the sustainability and going commitment for upcycling.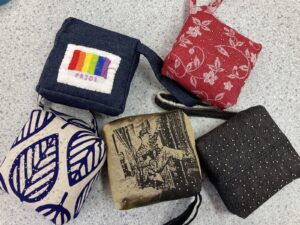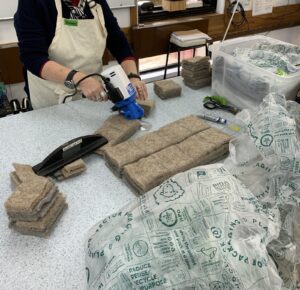 ---
Psychology – models of memory
The Year 13 Psychology classes have been learning about different theories and models of memory to help us better understand what it is, how it works, and the different kinds of memory. The classes have been participating in several memory game experiments and last week students had to work together to create a model of the brain using playdoh.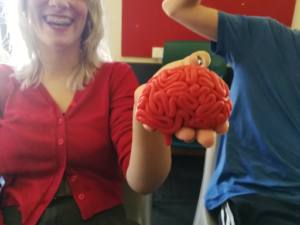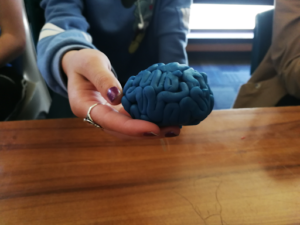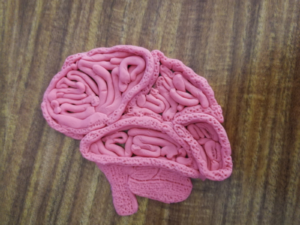 ---
Senior Painting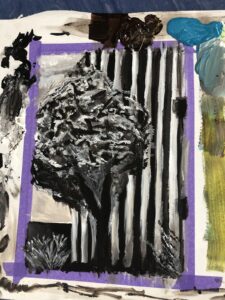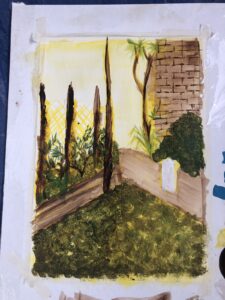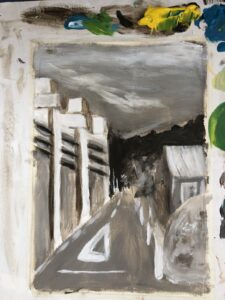 Year 12 Painting  took advantage of the summery weather this week and painted outdoors using only limited palettes.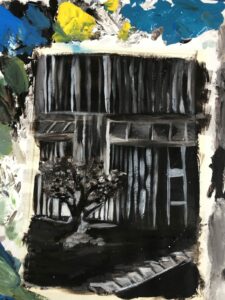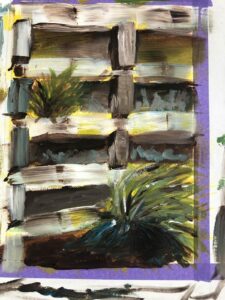 Year 13 painters tried their hand at oil painting this week. We had some pleasing results besides the smell of oil and turps making the classrooms reek for a bit…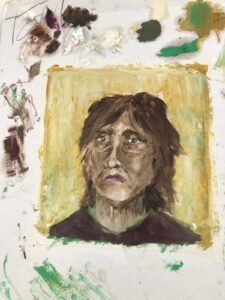 ---
He Kākano
Our students were busy in class this week, learning carpentry skills and how to make 'perfect' scones. A new addition to our department this year is a room designed for relaxation and quiet activities. We let natural light flow in from outside and provide a range of bean bags for the students to relax on.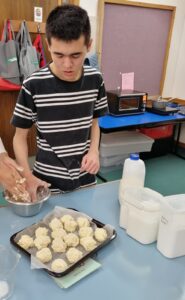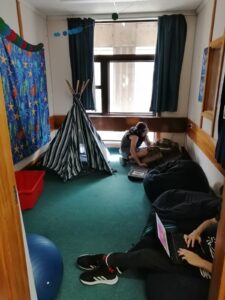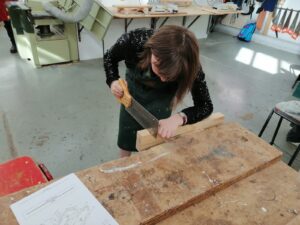 ---
Library
Thank you Alex, Pelagia and Bria for your sterling work on our Aroha Day stand! Loads of students have signed up to be librarians so we'll be very busy rostering and training them up.
This week we had our first Lunchtime Speaker for the year. Anna Ruben from the Centre for Applied Cross-Cultural Research spoke about benevolent racism and stereotyping. The talk was enthusiastically attended with students asking many pertinent questions both about the research and about the channels of learning that sociology offers.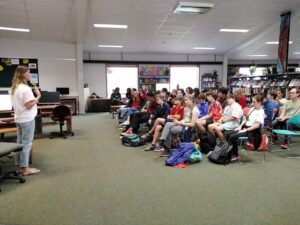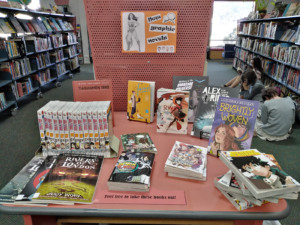 Photos: Anna Ruben speaking in the Library (left) and our new super popular manga and graphic novels (right).
---
February cycle challenge
A good number of teachers have signed up for the Aotearoa Bike Challenge. One of our caretaking staff, Stephen Bell, cycles 68 kilometres to and from work three days a week!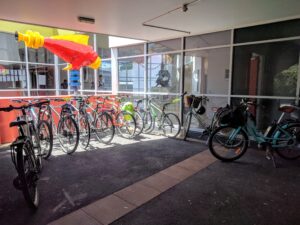 ---
Achievements
PACANZ nomination for WHS students
The tap troupe that WHS students, Julien Feist, Catelin Peach, Emma Thirkell and Inese Velde are part of, won a PACANZ (Performing Arts Competitions Association of NZ) nomination for the National Young Performers Awards (NYPA). They will be off to Nationals in October. The troupe's achievement is made even more remarkable as injury to one of their members in the lead up to the competition, meant that roles had to be relearned. Congratulations to the troupe, we will follow your progress with interest!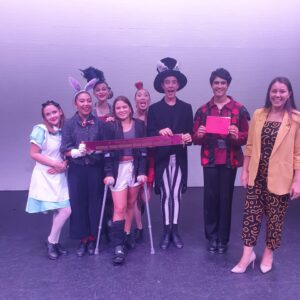 ---
Sports
He Kākano compete at AWD
A group of He Kākano junior and senior students competed in the annual AWD Athletics this week. It was fantastic to see everyone participate in a range of sports, representing WHS. We have some very fast runners this year!