Important Dates
Monday 22 February – Te Whānau a Taraika (6pm)

Tuesday 23 February – Aroha Day

Friday 26 February – Athletics Carnival

Monday 1 March – Year 9 Noho Marae begin
---
Important Information 
Covid-19 Update
Kia ora koutou
I am sure that we all have welcomed the news of the move back to alert level 1. In making this decision, the government has now mandated the use of face coverings on public transport across New Zealand at Alert Level 1. This means that face coverings are now required on public transport at all alert levels. There is no change to the application of face coverings for schools.
Cabinet will review the decision on face coverings for public transport and our alert levels on Monday 22 February.
At Alert Level 1, as with Alert Level 2, face coverings must therefore be worn:
on all public transport, including on long-distance bus and train journeys and most ferries

on domestic flights throughout New Zealand

by taxi and ride-share drivers — while it's not compulsory for passengers to wear them, they are strongly encouraged to.
Face coverings are not required at school or on any school transport. But they must be worn on all public transport, including by any school children aged 12 and over.
At any alert level, children, young people or teachers and other staff who want to wear face coverings at schools may do so. They are entitled to make this decision and we will support them with that decision.
More information about face coverings is available on the COVID-19 website:
In my previous communication, I indicated that the cafeteria would be cashless under alert level 2. We realise that this can be difficult for many families and therefore if we move to alert level 2 again, cash can be used at the cafeteria, although cashless is preferred.
Sports have started, some of them in the level 2 environment early in the week. Under alert level 2, sports should be competitors only and spectator free. Hence we welcome the move back to level 1. If we need to return to a higher level we will publish more information about sports at the higher alert levels.
Please continue to encourage good hygiene practices at home so that we are all able to keep each other safe. It has been a lovely start to the year; let's hope it's not quite so turbulent as the preceding one.
Mauri Ora!
Dominic Killalea
Principal
---
Achievements
Outlook for Someday competition winner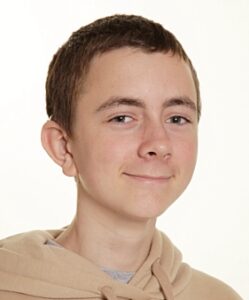 Congratulations to Year 11 Oscar Lynch for his winning entry in the Outlook for Someday film competition.
Oscar's film 'Being Deaf' which provides a perspective on the benefits of being deaf, was one of ten winning films. The Someday Challenge is to make a short film (under 5 minutes), related to a theme of sustainability that could be tackled from a person, family or whānau perspective or related to the environment. It is open to any NZ under 25.
You can view Oscar's film here
---
What's happening?
English Language students' lunch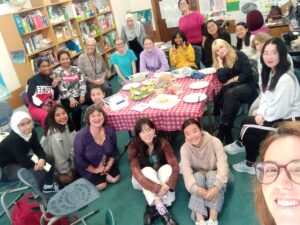 On Thursday a shared lunch was held for female English Language students. This included former refugees and any of their friends who wanted to come along. A lovely range of food was shared and it was a great opportunity for some of our students to get together and make friends.
---
Chinese and Lunar New Year celebrations
International students celebrated the start of the Chinese and Lunar new year with a fabulous lunch hosted by the International Department. Wontons, dumplings, spring rolls and the very special New Year roast pork from Yan's Supermarket were on offer. Red envelopes and fortune cookies finished off the lunch. Happy New Year to all of our International students who have now been in New Zealand for more than a year without seeing their whanau. We are really proud of your resilience and hope that 2021 is a more positive year.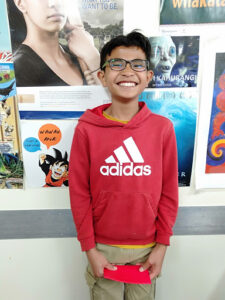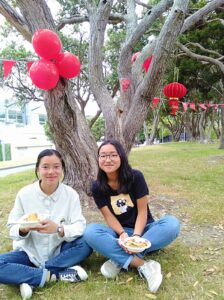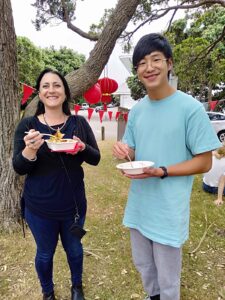 ---
He Kākano
Our students are engaged in a diverse range of classes throughout the school. We are using our purpose-built trike for cycle safety lessons which is a fantastic resource. Our senior students are learning fashion illustration in fabrics class, addition exercises in numeracy and exploring Asian desserts in cooking class.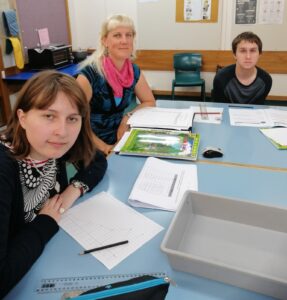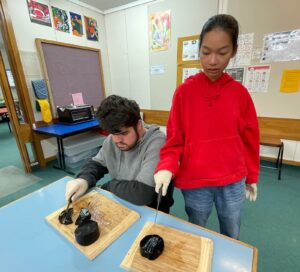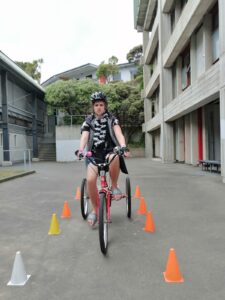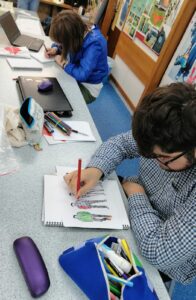 ---
Library
Year 9s have been attending Library orientation sessions with their English (Fiction and Literature) and Social Studies classes  (Non-Fiction and databases) . The aim is to have students feeling comfortable with using the library for research and pleasure reading. 
Issue statistics are significantly up on the same time last year, as are reserves. It's wonderful to see so many enthusiastic readers!
---
Community Education Centre (CEC)
Term 1 night classes started this week, but we still have plenty of Saturday workshops and courses coming throughout the year. Our brochures have been flying out 3x faster than ever before – have you managed to get your copy yet? (Photo: Frances, Nigel, Anne & Karen from the CEC office promoting our 2021 course brochure. (Thanks to Attire for Hire in Johnsonville for the outfits!)

---
Papa Taiao Leadership Programme
Nau mai haere mai ki te Papa Taiao Leadership programme 2021 for Yr 11-13 students
 Our year long programme will give you a space to develop your leadership skills while doing something practical to make real change. If you are fed up with feeling like you don't know how to make a difference, this course will help you cast that feeling aside! Clickhere to register!
 You will join students from around Whanganui-a-tara who will become your change-making whanau. You will also be linked with a mentor, teacher, and Papa Taiao facilitator who will be your cheerleaders for the whole year and give you the resources you need, working out of various organisations around Wellington.
 Your project could be organising an event like a climate strike, leading a planting day, bringing a speaker to your school, or running a plastic free market. Or you could create ongoing action like setting up a community garden or creating a social enterprise. Your cheerleaders will guide you through the process of how to DO!
For more information: Email Renee@papataiaoearthcare.nz    Phone 0275416406
---
Careers
STAR (Secondary Tertiary Alignment Recourses) Courses
These short courses are available to Year 12 & 13 secondary school students who seek to improve their skills and who looking at transitioning into the workforce.
Whitireia/Weltec TRADES STAR Taster courses
Trades tasters are 1 – 5 day courses in Painting, Carpentry, Plumbing, Electrical and Automotive. Students are able to attend 1 or all of the above one day courses to get a taste to see if these industries are something they would like to purse as a future career pathway.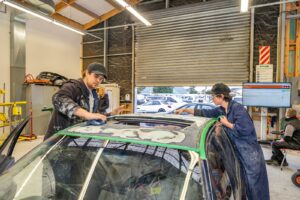 Taster trades are held at the Whitireia/Weltec Campus in Petone on Fridays, 9am to 2.30pm. There is no cost to students/parents/caregivers for the course/s, bus and train costs can also be covered by the school STAR program. These courses will be starting in Term 2. 
For students to enquire about these taster courses or other STAR courses available, please contact Terry Hawkings, STAR co-ordinator or Paula Willis STAR administrator for a meeting to discuss options and suitability. 
WELLINGTON ENGINEERING E2E DAY

Engineering E2E (Education to Employment) Day will connect your student with professional engineers from the industry across multiple disciplines e.g. civil, mechanical, electrical. The E2E event will enable students to gain insight into career opportunities in the industry, employer perspectives of what skills and attitudes are needed and engineering courses and pathways available through WelTec for students who are wanting to pursue a career as an engineer.
Year 12 & 13 Students will have the opportunity to tour 8 of 12 WelTec engineering laboratories and see demonstrations. Students may be able to experience all 12 lab demonstrations if they arrange to stay on campus for longer. Provided by EMS and WelTec: Insightful conversations, demonstrations and laboratory tours, prizes for students and engagement opportunities for careers staff. 
Date: 24th February 2021 Time: 10am – 12:30pm
Location: WelTec Engineering School, 21 Kensington Ave, Petone Meet in the C Block Foyer near the pedestrian crossing at 9.45am for 10am start Please email chuni.bhika@whs.school.nz if your student wishes to attend this Engineering event, transport from WHS to this event will be provided. For further details click here.