Important Dates
Monday 26 September – Queen Elizabeth II Memorial Day (school closed)
Monday 26 September – Friday 30 September – Mental Health Awareness Week

Wednesday 28 September – 2023 Course choices are due in (all current year levels)
Friday 30 September – End of Term 3
Term 4
Monday 17 October – Start of Term 4
Monday 17 October – Board meeting, 6pm
---
Important Information
Public Holiday Monday
Just a reminder that Monday is a National public holiday (Queen Elizabeth II Memorial Day), and school will be closed.
---
Reports
The Term 3 reports are now live on the Parent Portal. To access the Portal go to: https://portal.whs.school.nz/index.php
If you need help with your login details, email Admin@whs.school.nz giving your student's full name and year group.
Where necessary, physical copies are in the post.
---
Youth Hauora Project
Evolve Wellington Youth Service offers a Youth Hauora Project and will be running daily workouts & activities for free over the upcoming school holidays for anyone aged 12+ in Wellington! For more information see their Facebook page.
---
What's Happening?
Mental Health Awareness Week 
Next week is Mental Health Awareness Week. The theme for the week is 'Reconnect with the people and places that lift you up'. The counselling team are planning a few activities to mark the week – look out for information in the notices or via email!
– DeNeen, Gavin, Maeve and Nikki.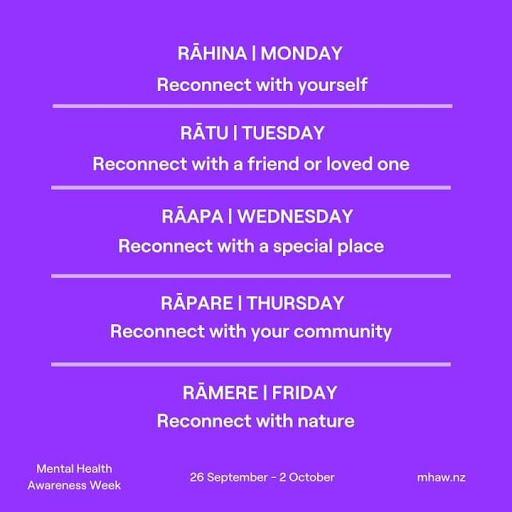 ---
Music Evening
The Music Evening is happening on Tuesday 27 September, 7-9.30pm in the Riley Centre. This is an awesome event that showcases the talented students in our senior Music classes and co curricular groups.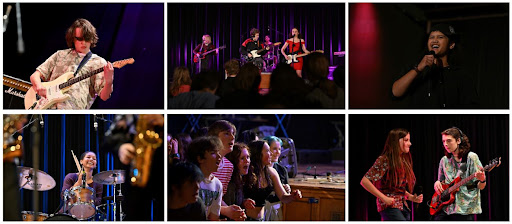 ---
MCAT revision and exam
Two Saturday morning's back (10 September), the Maths Faculty ran a revision session for students entered for the 1.2 Algebra external exam. Around 55 students enjoyed biscuits and the help of their teachers to solve lots of problems. The actual exam took place on Tuesday morning last week and the feedback from students has been mostly positive. Just a reminder to all students and caregivers, that as this is an external exam, the results come out in mid-January with all their other externals.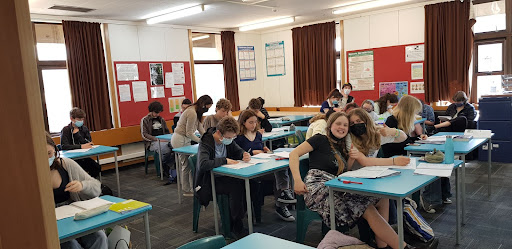 ---
Year 12 Drama Performance
Last week Year 12 Drama presented The Government Inspector by Gogol. Set in Russia, 1836. A Government Inspector arrives in a small town. Everyone wants to make a good impression. Whatever it takes.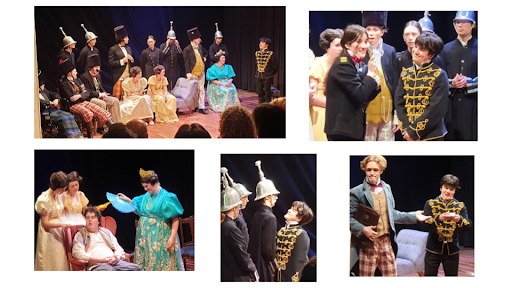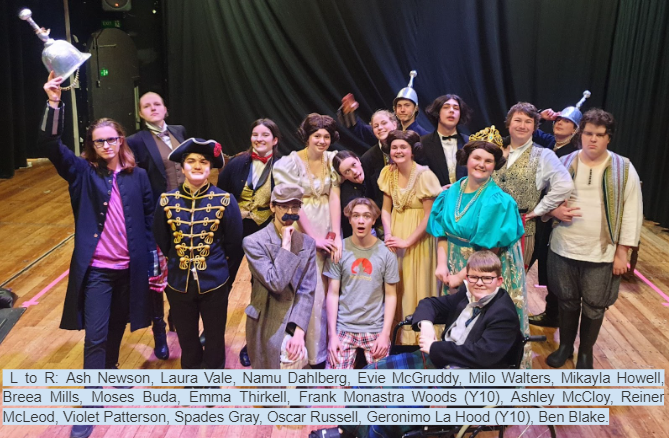 ---
International
International Student Needing a Homestay 
Have you thought about hosting an international student? We are now looking for new homestay families who are inclusive, caring and supportive and willing to share their home and Kiwi life with a student. Visiting students want to experience day to day life with a New Zealand family and to feel a part of the family. 
In particular we require a family who can host a male student from term 4 through to July 2023. The student will be away during the summer break.  We will also have new students to place in January 2023. The current homestay fee paid is $315.00 p/w increasing to $320.00 p/w in 2023.
Open up the world for your family and be a part of enriching and transforming lives. After hosting more than 50 students a recently retired homestay Mum said: "Hosting students opened up the world for our family. I can't think of the word to really describe how enriching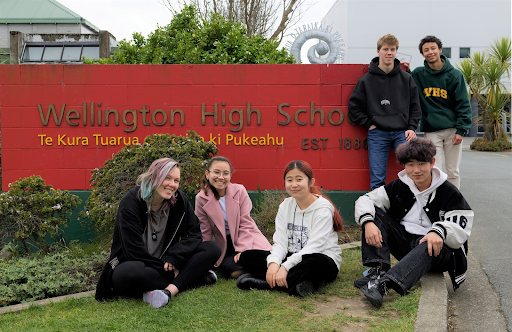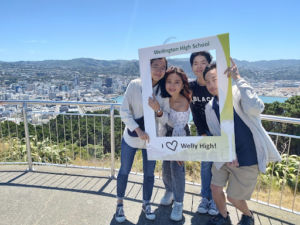 the whole experience is."
Enquiries to: Di Jordan
homestay@whs.school.nz
021 020 63860
04 385 8911 ext 781
---
Achievements
Crisis Labs 2022 Winners

A WHS team entered the Massey University Crisislab challenge this year. The challenge involves reading information from seismometers and providing warnings about earthquakes. There were 22 teams initially, the WHS team "44 Dev" consisted of three Year 12 students, Lev Petersen, Anthony Smith and Brendan Shaw. 44 Dev won the first round earlier this year and advanced to the second, along with eight other teams.
This week was the competition final. 44 Dev overcame technical challenges to take out both the Best Presentation and the Overall Winner awards. The judges came from a variety of organisations such as Massey University and EQC, and were very complimentary of how the team not only addressed the specific competition challenges but also looked beyond them.
Well done Lev, Anthony and Brendan who won (amongst other things) an internship over summer at Massey University's Crisislab.
You can read the article from 1 News here!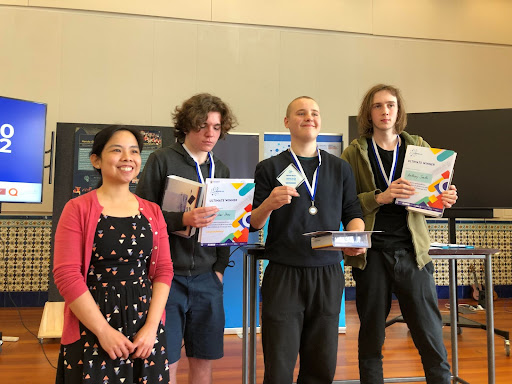 ---
Zonta Science Award Ceremony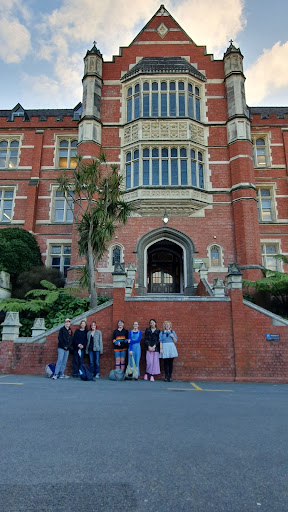 Last Wednesday night, eight science students went to Victoria University of Wellington to celebrate the achievement of Dr Tara McAllister who was this year's recipient of the Zonta Science Award. 
This award goes to an emerging female scientist who has made an influential contribution to the field. As such she has played an important role in paving the way for future female scientists. 
Tara is a Māori freshwater ecologist who received the award due to her work on reducing toxic blooms in rivers. This is vital to better understanding how we can improve water quality and protect our delicate ecosystem. It was an honour to witness Dr McAllister receive her award and be in the presence of so many inspiring women in the Science field.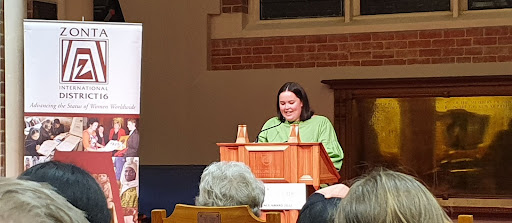 ---
Katherine Mansfield Short Story Competition
Congratulations to Jessie Davidson for being shortlisted for the Katherine Mansfield writing prize. Two of her most recent English teachers, Lauren Hercock and Ben Roth Shank accompanied Jessie to the evening celebrating young writers. Stories can be found here.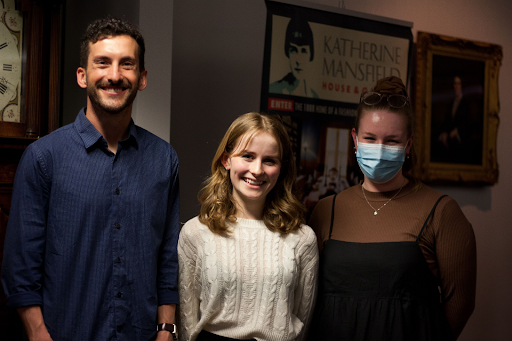 ---
Careers
Applications are now open for Gateway Work Experience in 2023 
Gateway work experience is generally for one day a week for a term/10 weeks or over a school holiday period. Being on Gateway students will achieve a minimum of 20 credits on a Health and Safety course and a Work Ready course or Industry-based unit standards.
Gateway is not a timetabled class and successful students will have to catch up on the school work they miss due to the work placement. They can choose a day that works best for them and that least impacts their school timetable.
Students must have good attendance. Places are limited and some courses and work placements will start as soon as Term 1 next year so we urge students to get their forms in now and they have also been emailed the information. Students can pick up an Expression of Interest form from Student Services and this can also be located in the HUB Portal under 'Careers & Gateway".
Once we receive the signed form with permission from parent/caregiver, we will make time to meet with the student to discuss possible options for next year. All students will be interviewed to assess suitability for work experience and is based on the students interests and strengths.
This year students did work experience in the following areas:
Retail

Hospitality: Chef/Cafe/Barista

Trades: Commercial Building, Electrician, Plumber, Mechanic, Panel beating & Joinery

Youth Services (Youthline)

Radio, Live Sound & Event management 

Animal Care

Computer Repair

Horticulture with WCC Botanic Services

Childcare

Hairdressing 

Landscaping

Physical fitness trainer & more
If you have any questions, feel free to contact Paula Willis, Gateway Administrator: wsp@whs.school.nz 
---
Kinda Ice Cream 
A frozen cauliflower dessert? It's ice cream!
Kinda co-founder Mrinali Kumar, a Wellington High School and Massey University alumna, has created a more sustainable ice cream from cauliflower! "My Massey journey has taken me to start my own business. The alumni community is a great way to stay connected with other graduates who have helped me on my entrepreneurial journey. The one word that sums up Massey for me is innovation!"
Watch the video to learn more about Milli!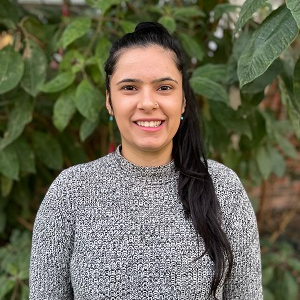 ---
Sport
Hockey
On Tuesday night the girls hockey team played against Chilton in the R1b 3rd and 4th playoff. We managed to win 1-0, with Cerys Southward-Ellis scoring the winning goal for us. This is the highest placing we have managed to achieve in the last 5+ years. Congratulations to the team on their efforts this season!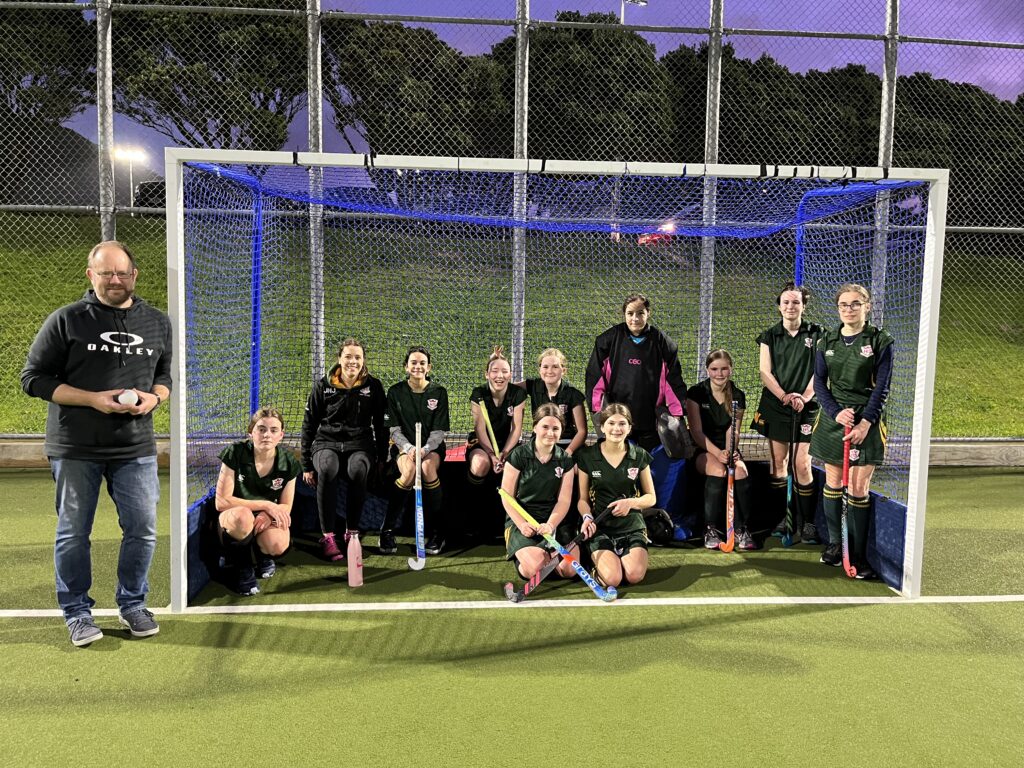 ---
Football
On Wednesday night (21st), our team played a night game vs Phoenix 1st Team (women). It was an excellent game that found us down 4-3. We won the first leg of the series (2-1), so at the moment the series is a draw. Well done team!