Important Dates
Thursday 14 April – End of Term 1

Monday 2 May – Start of Term 2
---
Important Information
Principal's Message
"This has been a challenging term. I know I have said this before and every time I write that down or say it, something else comes along and we have to make alternate plans to meet the new challenge. I want to thank all of the students for the way that they have confronted the challenges that the last two years has been throwing at them: lockdowns, mask mandates, COVID sickness, less than half full classes at times, sport vaccination requirements and curbs on spectators, home isolation and remote / hybrid learning."
Dominic's End of Term Principal's message looking at the term just passed and the unique challenges posed by Covid is now online.
---
Board of Trustees Update
Greetings from all of us on the Board of Trustees, and in particular a very warm welcome to all in the school community who are new to the school in 2022. 
The Board has held three meetings this term – one in person, and two online. Along with all our regular business and the COVID-19 context, we've looked at analysis of the 2021 NCEA results; had a question and answer session with consultants about the school buildings; and reviewed the annual plan. A board member also sat on the recent interview panel for a new deputy principal.
We've just co-opted Nicky Birch to our Board. Nicky was recently appointed to the role of Chair of Te Whānau a Taraika at Wellington High School. This is a group of parents and school staff whose main aim is to support the success of Māori students. In any one year around 11% of the school roll is Māori. Co-opting Nicky to our Board strengthens the reflection of our school community in the membership of our Board. Nau mau, haere mai Nicky.
The strategic plan will be a big focus in Term 2. In this plan we look ahead for the next 3 years.  The school will be bringing in an external consultant to work with the school, Board and community in this area. We'll let you know about opportunities to contribute.
Board elections will be held later this year. Parents who are interested in the role are very welcome to come along to a meeting to find out more about what's involved and how the Board works. Future meetings dates (and other information about the Board) is available here.  
The Board wishes all staff and students a restful and re-energising term break.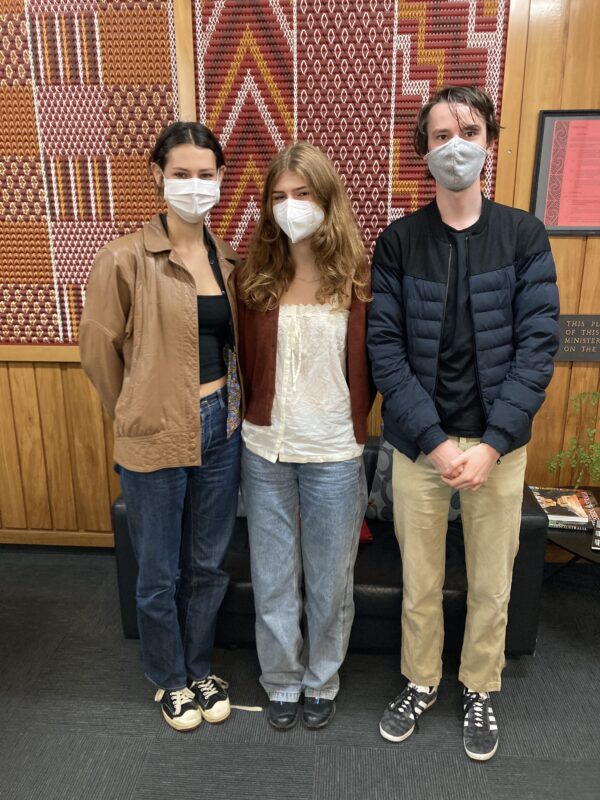 Pictured: our student representatives. (L – R: Eve Ashby, Lulu Shepherd, Theo Melville).
---
Whānau Survey 2022 — Have your say 
We have had over 170 responses so far –  if you would still like to, please share your thoughts about how well we are supporting your student/s in this year's Whānau Survey.
The survey focuses on the school's WERO values (Whānau, Excellence, Respect and Ora) and the questions reflect these values while also linking to our strategic plan.
Thank you in advance for taking the time to share your thoughts with us. As always, if you have any specific questions or concerns about how we are supporting your young person/s, please contact the rōpū teacher or Dean directly: https://www.whs.school.nz/contact/.
---
What's happening? 
Wellington High helps launch new relationships and sexuality guidelines
This week, the Ministry of Education visited Wellington High School to launch new resources that will support teaching, learning, and assessment in relationships and sexuality education. Our Health and PE Faculty, particularly Natalie Bell, has been a key voice in the development of the resources, and an example lesson was taught during the launch. You can watch the full news story here via TVNZ.
---
He Kākano
Last week of term! One of our senior students enjoys walking around the school grounds to view the art installations created by the art and technology department. Another student is building upcycled wooden plant boxes and shelving for horticulture. Our communication skills classes have been going well. Today's session helped students identify feelings and expressions through tone of voice. The role playing activity was a total success and the students enjoyed acting out different emotions.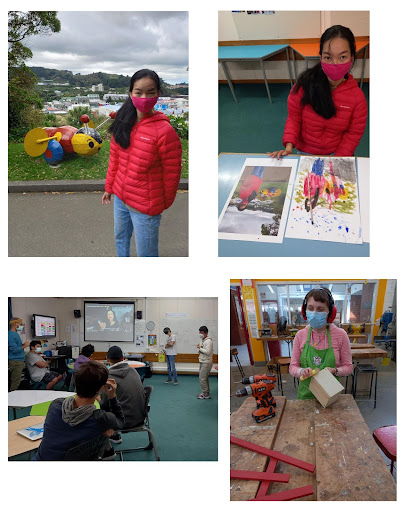 ---
The Great Kiwi Earthworm Survey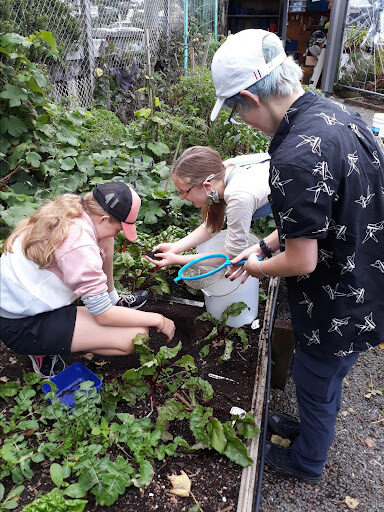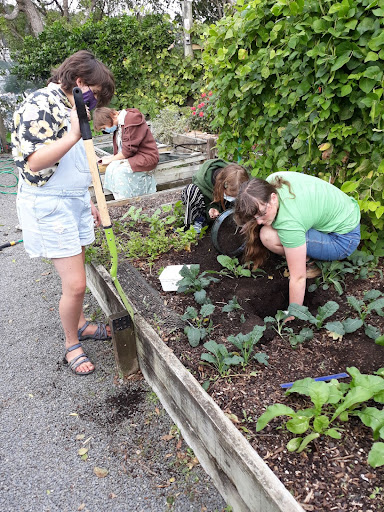 Garden club got stuck into a national citizen science project with the Great Kiwi Earthworm Survey. Our record: 61 worms (and 4 different species) in a 20 x 20cm quadrant!
---
Careers
Girls in Hi Vis opportunity (Infrastructure Industries Careers)
GWHV runs across the country throughout June and gives female high school students the opportunity to gain hands-on experience, hear from inspirational women and learn about the career opportunities in infrastructure. Infrastructure is what keeps New Zealand connected, through roads, bridges, water pipes, power lines and wifi networks.
The civil, energy, telco and water sectors are booming and talented new recruits are in high demand. Careers are exciting, varied and skilled, and provide the opportunity to gain tertiary qualifications while earning a salary.
Check the website for more details!
Information about the individual events in your region will be up on the website from Term 2.
If you are interested, please contact Chuni Bhikha (Careers Advisor) ASAP …. bac@whs.school.nz