Important Dates
Monday 11 May: Board of Trustees meeting 4.30pm (online)

Monday 11-15 May: School open for Years 9 & 10 who have registered their intention only. Remote learning plan continues for all students. N.B. These dates are subject to change dependent on the Government's announcement on 11 May.
---
Important Information
COVID-19 update from the Principal
(This message has also been posted on our responding to COVID-19 page.)
Kia ora koutou
Yesterday, the Prime Minister advised that in Alert Level 2 schools are safe environments for children, young people and staff and that additional public health control measures are in place to prevent the spread of disease and to support contact tracing. There will be a decision about moving between alert levels on Monday 11 May, based on public health information, in particular low or no community transmission. If the decision is made to move from level 3 to level 2 then, according to the Prime Minister, "… schools won't open midweek – whenever the decision is made – they will open at the beginning of the following week." This means that the earliest we would be reopening at level 2 would be from Monday 18 May.
The decision to reopen our site is an important one and the key Public Health approach is to minimise the risk that someone gets infected in the first place, and second to ensure we can identify and contact anyone who has been in close contact with a person, if someone in our school is infected.
As we have done in Alert Level 3, you can be assured that in Alert Level 2 we will know who is at school, who our staff and students have been in close contact with and take appropriate measures to keep everyone safe.
Physical distancing is a good precaution to prevent the spread of disease. However, we do know it is challenging in schools, so good hygiene practices and regular cleaning are even more important here. This includes staff and students coughing into their elbows, handwashing and drying and regular cleaning of commonly touched surfaces.
Under Alert Level 2, we advise any students and staff to stay at home if they are sick, and we will send anyone home immediately if they show any symptoms.
Our school has safe and sensible practices to maintain the health and safety of everyone on the school site. As described by Dr Payinda in his NZ Herald article, "Covid's not measles or chickenpox, it doesn't hang in the air for hours waiting to infect passers-by. It travels on invisible drops of spit. You don't have to cross the street to avoid anyone. Just avoid getting in their 'moist breath' zone". We all just need to remember to have some breathing space at Alert Level 2!
It's important however that not just at school but at home, safe hygiene habits are practised by everyone, as this is essential to minimise the risk that someone gets infected with Covid-19.
For more information about the public health measures at Alert Level 2, you can visit the covid19.govt.nz website: https://covid19.govt.nz/
We will be in touch again soon to update you on our plans.
Mauri ora
Dominic Killalea, Principal
---

Simply Dental update
We are still operating and are here for you! We may be operating a little differently under each level, of which we will keep yourselves, your school, and your families informed to ensure we are providing safe, healthy, and effective care.
What we can do for you under each alert level:
Level 3 – Urgent and emergency services
Level 2 – Back in Action (with some changes), working closely with your school and your family.
Concerned about your teeth or gums?
If you currently have any dental concerns, please click on the link below and we will be in contact.
https://app.smartsheet.com/b/form/5a7d4d5530b342d784b7d258bf027424
Remember – no one should have to be in pain, and we are here to support you and to keep you happy and healthy!
---
What's happening?
Resounding feedback from our learners
After twelve days of learning, we asked all our students for feedback on how the remote learning plan was going so far for them. We were keen to know where we had found a good balance, and whether there were areas that might need a tweak. 541 students replied, a huge response given the population size of the school, and very encouraging overall. They told us that:
many of our teachers were doing a great job and students felt supported, especially thorough rōpū

the workload was feeling overwhelming at times

most tasks were clear and emails largely manageable, although both could be improved

Google Meets could be great if scheduled and managed well, and were not too long

they wanted a weekly summary at the start of the week so they could manage their time flexibly
Our students also had great suggestions for useful approaches that could carry back into face-to-face learning. We have discussed the feedback across our faculties and used it to help us refine our remote learning plan.
---
Farewell and thanks to Lou Wycherley
Friday 1 May, the end of an era as Art teacher Lou Wycherley retired after 25 years of service at WHS. Even though we could not farewell her in person, in lockdown custom, the celebration went online.
Lou leaves a great legacy through her leadership and work on the refurbishment and renewal of Taraika and her documentation of the story of our marae. Students and colleagues have been greatly enriched through her vast knowledge and experience. We thank her and wish Lou every success.
Ina aro atu ana te oranga
ki ngā mea pai,
ka rere te wairua,
ka taea ngā mea katoa. 
When our lives and heart are attuned to good things, life is clear, the spirit flows freely.
Everything is possible. 
Dr. Maharaia Winiata (Ngati Ranginui Leader) teacher, scholar, anthropologist.
To read Lou's account of the refurbishment and renewal of Taraika, including the design of the heke panels within it, click here or on the image of Taraika to the right.

---
Shakespeare Society – Rehearsing The Tempest – Online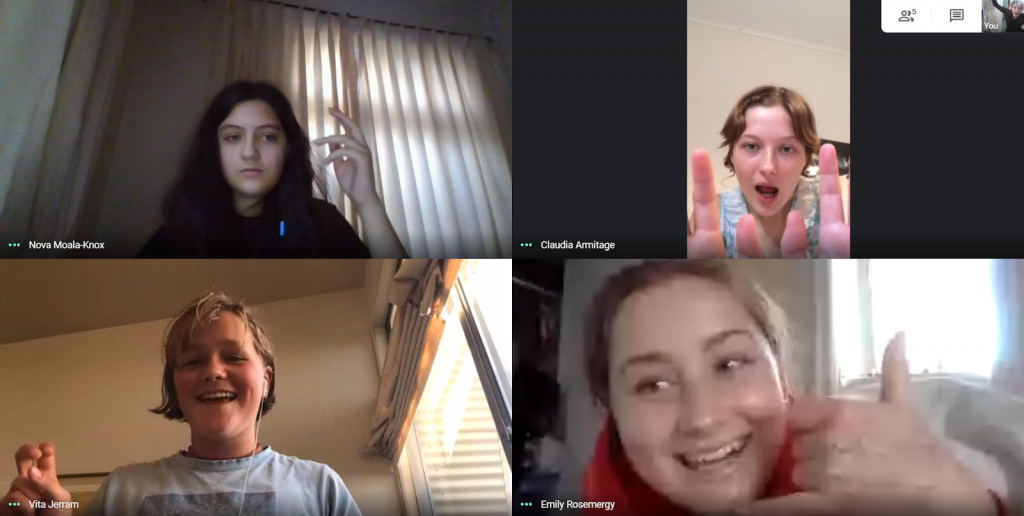 This lockdown period initially put a bit of a damper on this year's production as we were due to perform this week – but we've done what we can to make it worthwhile. Virtual rehearsals are almost every day so we've been able to read through and discuss scenes in depth, and the cast has been working very hard at learning lines. We've also been keeping the energy level up by also having weekly Netflix Parties! 
---
48 Hour Film Festival
This competition is usually enthusiastically entered by WHS students who study Media. This year, with people at home, it has been a little different. We have enjoyed viewing two 'whodunnit' entries created by students who were recently at WHS, Jack and Lani Buchanan, and Ruby Arahanga, together with their whānau. Enjoy!
Jack Buchanan awarded a CBS News 'Sunny'
You've heard of the Oscars, the Emmys and the Grammys. COVID-19 has also given life to the Sunnys, with WHS alumnus Jack Buchanan a worthy recipient. CBS News, awarded Sunnys to a number of quarantine / lockdown videos.  To view their coverage go to https://www.cbsnews.com/news/sunday-morning-presents-quarantine-videos-with-their-very-own-awards-the-sunnys/. Lockdown Boogie is featured about 5 minutes in. Congratulations to Jack and his family.
---
Fresh Avocado – lockdown edition!
Soon we will feel nostalgic for these strange times (maybe). Don't worry – WHS students have immortalised the quarantine experience in prose and poetry. Check out the 'lockdown edition' of Fresh Avocado (the online home for WHS poetry and creative writing).
https://www.freshavocado.whs.school.nz/2020-lockdown-edition
Featuring: Cadence Chung, Bodhi Brooke-White, Millie Crowe and Tulip Kamar.
---
International Update
As the lockdown continues we have 59 international students still with us but we were really sad to say goodbye to the 19 students who left just before or during the early days of lockdown. Many of these students were due to leave by the end of Term 1 but for 10 students from Europe it was a rushed early departure on repatriation flights. 
Overall we farewelled students from China, Czech Republic, Finland, France, Germany, Italy, Japan, Switzerland and Thailand! We hope they will have the opportunity to visit NZ again in the future.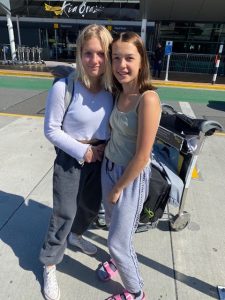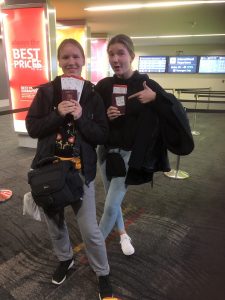 Photos L-R: Luna (Germany) and Essi (Finland) about to board their flights. International students outdoors in pre-lockdown times.
---
Year 10 Japanese pikelet challenge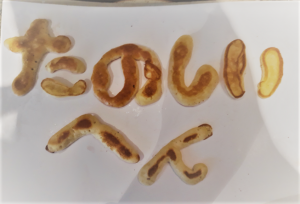 Students were challenged to make a pikelet in the shape of their favourite Japanese Hiragana symbol. Riley Kelly went above and beyond making symbols to spell out adjectives from our current unit of work that describe her feelings during lockdown:
tanoshii ( fun/enjoyable)
hen ( strange/weird)
---
Instrumental music lessons online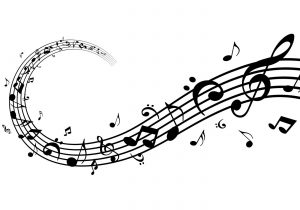 Instrumental music lessons are available online during lockdown.
---
Sports
College Sport Wellington launch eSport competition 
In partnership with eSports provider Victory Up and League of Legends game developer Riot Games, CSW is launching its inaugural esports competition, the Wellington Secondary School League (WSSL).
Entries can be made via Liam Good, Sports Coordinator until Wednesday 13 June. Late entries will not be accepted.
There will be two divisions: Senior Open (Years 11-13) and Junior Open (Years 9-10).
Games will be played on Wednesdays at 4pm from Wednesday 20 May. The aim is that sutdents will be able to play at school once lockdown restrictions are lifted.
To find out more go to https://collegesport.org.nz/esports/ or click here to read the information sheets for parents and students
---
Sports on Instagram
If you are looking for inspiration for sports, look no further than the WHS Sports Instagram page. Updated daily by our Sports captains this includes videos uploaded by students during lockdown and creative ideas for exercise. If Instagram is not your thing, then why not check out the three strength and conditioning programmes that have been shared with us.