Important Dates
Tuesday 17 March: Property consultation workshop 1 (3.20-5.30pm)
Wednesday 18 March: Property consultation workshop (3.20-5.30pm)

Friday 27 March: Learning Conversations

Monday 6 April: Board of Trustees meeting 6pm

Wednesday 8 April: Term ends
---
Important Information
Property consultation workshops 17 and 18 March
Thanks to the parents and caregivers, students and staff who have signed up for the property consultation workshops on Tuesday 17 and Wednesday 18 March. If you are interested in being involved, please email admin@whs.school.nz, we have had great feedback but may be able to accommodate one or two more.
---
Learning Conversations – 27 March
An email has been sent to all caregivers this afternoon about our first Learning Conversations of the year.  Please note:
Bookings can be made at https://www.schoolinterviews.co.nz/ using code uesak
Bookings are made by choosing the year level then the rōpū teacher. Please note that we are only able to run one learning conversation per student.
---
What's happening?
Year 12 Zealandia visit
This week the year 12 Biology and Science students went on the annual Zealandia trip to observe the Takahe. Despite the weather it was a great day with many sightings of New Zealand's endemic birds.  A highlight for all was the giant cave weta and the many tuatara basking in what little sun could be found. The students were fantastic, asking many insightful questions.
---
Year 11 watercolour workshop
Swedish artist, Adrienne Riseley, visited a Year 11 art class to show the students her artwork and demonstrate how she works as an artist, focusing particularly on her watercolour skills. Adrienne,  who is on a five month sabbatical to New Zealand, inspired the students, who in turn produced great work.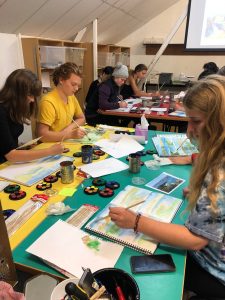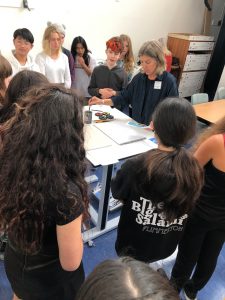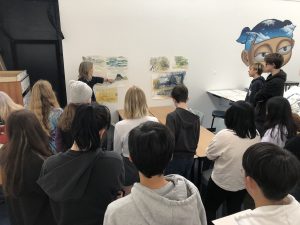 ---
The Totara Flats tramp
Thanks to Scarlett Connolly (Year 10) for this account of the recent Totara Flats tramp.
The tramp started off easy-going and enjoyable. While walking I thought to myself "this might not as hard as I thought it would be". Boy, was I wrong. After 3 hours of walking, I was lagging and it felt like I was going to be walking down this hill for days before I even found a glimpse of the Hut.  But we got there, and it was all worth it. 
The memory of this tramp will stay with me for a long time. Walking through the trees with the sun shining through as I talked the hours away with my friends, walking over the swing bridges, having hot chocolate with my friends after the long day tramping, listening to music in a circle with everyone on the top bunk, playing cards till 9:30 at night, and watching the Elon Musk satellites go past in the clear night sky.
When we got back to the car park the next day after another long four and a half hours, I felt exhausted and relieved but also happy and proud of myself for what I had accomplished and the memories I had made.  
---
Achievements
Wellington Young Physicists' Tournament medalists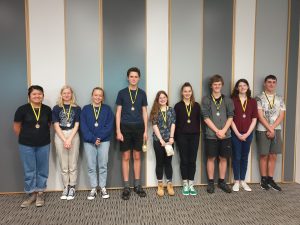 Held at VUW last weekend, WHS's two teams competed against teams from Onslow College and were rewarded with silver and bronze medals. Congratulations to bronze medalists Alexa Lee, Julia Randerson and Hannah du Toit and to silver medalists Ryan Bright, Lydia Acton and David Lindsay. The silver medalists will travel to Auckland for the national finals on Saturday 21 March. From this, they may be selected to represent New Zealand in the International Young Physicists' Tournament (IYPT) later this year.
---
Young Women in Leadership
Congratulations to Year 12 students, Ash Dearnley and Cadence Chung who have been selected for the Young Women in Leadership programme. This programme takes place at Massey University in April and June. Each year the programme brings together around 200 Year 12 students who learn about leadership and build their confidence and networks. Students focus on developing projects that will make a difference to their local community. We congratulate Ash and Cadence and look forward to hearing how this opportunity helps them drive their initiatives forward.
---
Sports
The year started exceptionally well, with a number of records being broken at the WHS Athletics Carnival. Following this, a number of students competed at the Western Zone Athletics on 4 March and were rewarded with some further exceptional performances. Congratulations go to all our record-breakers.
| | | | | | |
| --- | --- | --- | --- | --- | --- |
| Name | Age  | Event | Old Record | New Record | Notes |
| Ari Koed-Chang (Year 12) | U16 B | Long Jump | 5.87m | 5.95m | Ari broke the record he set in 2019 then jumped a phenomenal 6.12m at Western Zone Athletics |
| Frankie Coup (Year 10) | U16 G | Javelin | 24.49m | 28.99m | Broke the record set in 2009 and won event at Western Zone Athletics |
| Henry Chapman (Year 12) | U16 B | Javelin | 33.44m | 41.22m | Broke the record set in 2009 and placed 3rd at Western Zone Athletics |
| Tiopira Mulholland (Year 12)  | U16B | High Jump | 1.66m | 1.73m | Tiopira broke the record he set in 2019 |
| Niamh Fyfe (Year 10) | U14G | Long jump | 4.33m | 4.52m | Niamh broke the record she set in 2019 |
| Ella Blakely (Year 13) | U19G | 400m | 1:20.69 | 1:03.51 | Broke the record set in 2010 |
| Ella Blakely (Year 13) | U19G | 200m | 29.3s | 27.37s | Broke the record set in 2014 |
| Ella Blakely (Year 13) | U19G | 100m | 13.69s | 13.39s | Broke the record set in 2014 |
| Ella Blakely (Year 13) | U19G | Long Jump | 4.44m | 4.79m | Broke the record set in 2012 |
---
CSW Champions Tennis Tournament success
Congratulations to Anthony Cater (Year 12) who was runner up in the CSW Tennis Tournament held earlier this week. Seeded 8, and out of a field of 40, Anthony won his first four matches. He reached the final and played Tom Bolton (the number 1 seed). A fantastic effort Anthony, congratulations!
---
Student Dragon boat 2020
Sunday 8 March was a memorable day for the students representing WHS at Dragon Boating. The students were the first recipients of a trophy celebrating the fastest time raced during the entire 2020 Youth Festival.
Congratulations go to our team: Fabi Abromeit, Emma Allen, Ella Blakely, Riley Cherian (captain), Heidi Coleman, Seba Corte Ruiz, Hendrick Easton, Leandra Hoevelberndt, Nele Hollopp, Andre La Rooij, Kayla Lander (captain), Marjorie Ledru, Lily Parkin, Caitlin Peirse, Ben Reick, Leo Richter, Emily Rosemergy, Hiwarau Scanlan, Toshiyuki Shiga, Isobel Smith, Noah Taylor, Shoko Ueshima.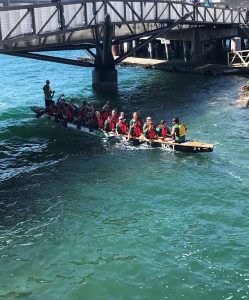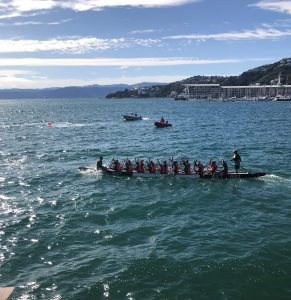 To appreciate just how fast the team tackled the race, the Mixed A Final can be watched on the Wellington Dragon Boat Facebook page. 
---
Welly High Warriors 2020
WHS has had a staff Dragon Boat team for 8 years now. Along the way, the team has won a few medals, but had not reached the Corporate A finals – until now. This year, supported by huge levels of support along the shoreline, the team placed 3rd in the Corporate A Finals. Congratulations!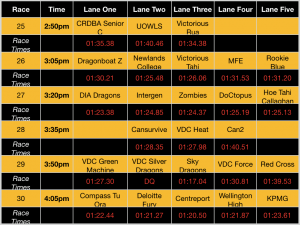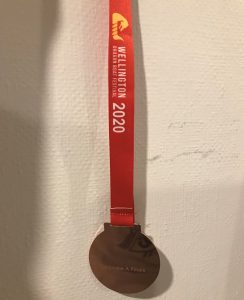 ---
Rowing regatta 
As this week's Wrap Up goes live, our rowers are competing under sunny skies in Cambridge. There are no pictures from the course as yet, but these pictures show the glorious conditions that greeted our rowers as they prepared to take to the water this morning.