Important Dates
Monday 17 August:

Careers Expo and Future Focus evening

Thursday 20 August:

the Friday timetable will run today

Friday 21 August:

mid-term break – school closed (Tertiary Open Days)

Monday 24 August:

 Board of Trustees meeting, 6pm

Friday 4 September:

Learning Conversations. School will only be open for Learning Conversations. 

Monday 7 – Friday 11 September:

School derived grade exams. The Junior timetable will run as normal this week.

Te Wiki o Te Reo Māori. September 14th – 20th
---
Important Information
Te Whānau a Taraika farewell Matua Tim Poi
Te Whānau a Taraika thank Matua Tim Poi who has stood down as chairperson after eighteen months in this role. Te Whānau a Taraika acknowledge Matua Tim Poi for his support and guidance throughout his time as Chairperson at our hui.
E mihi ana hoki te whānau a Taraika ki a Tim Poi mōna i noho mai hei heamana mō te rōpū whānau o te kura. Nā te mea kua mutu kē ana tamariki i te kura me te nui o ana mahi ka tukuna e ia tēnei tūranga. Nā reira e te matua e Tame e mihi ana rā ki a koutou ko tō whānau i kaha nei ki te tautoko i te whānau a Taraika – tēnā rawa atu koe. He kokonga whare e kitea, he kokonga ngākau e kore e kitea.
Noho ora mai
Te Whānau a Taraika
Te Tumatakuru O'Connell
We welcome Te Tumatakuru O'Connell who will be taking on the role of Te Whānau a Taraika chairperson.

---
Tell us how you feel about your child's experiences at Wellington High
Thank you to the 200+ whānau who have responded already. This year, our school, along with the others in our Kāhui Ako, is working with with a team from the University of Waikato, Poutama Pounamu.  They are helping us understand and respond to our learners' experiences, and particularly our Māori learners.
We would like to know how you feel about your child's experiences at Wellington High. Please complete this anonymous short survey: Wellington HS Whānau Survey 2020.
We will discuss this further with our community and feedback broad findings later this term. Ngā mihi nui.
---
Rail Safety Week: 10-16 August
Rail safety week 10-16 August – Cross with Care | Kia tūpato te whakawhiti
Rail Safety Week aims to reduce near miss collisions on level crossings. Every near miss is a traumatic event and has a very real impact on the locomotive engineers, the witnesses involved and on those who nearly lost their lives.  Never cross when bells or lights are activated and always look carefully in both directions before crossing.  Be especially careful to look for a second train.  If one train has stopped at a station another one could be coming.  For those families interested, have a look at this Rail Safety Virtual Field trip information that was shared with participating schools in 2019.   Visit the Tracksafe website for more information.
---
What's Happening?
Blank Canvas – open now!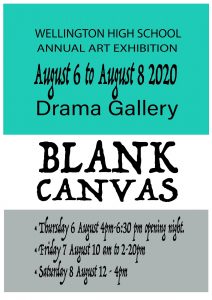 Thanks to Tony Cairns for these photos from Blank Canvas's opening night.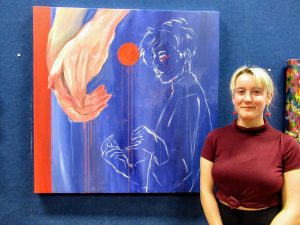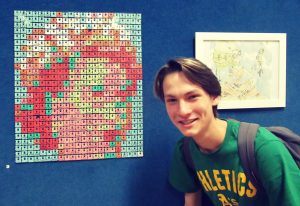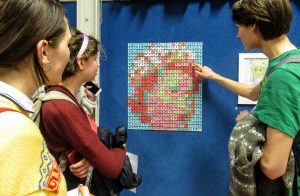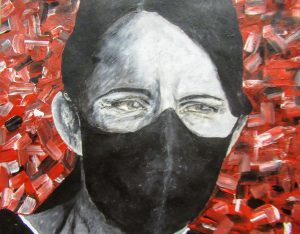 ---
Te Wiki o Te Reo Māori fundraiser
To celebrate Te Wiki o Te Reo students are selling T-shirts and Hoodies to our community. Molly Henry from year 13 has designed a beautiful design to reflect the year that has been and the many struggles that are overcome by staying connected and looking after your Mauri and that of your friends and whanau.
If you would like to purchase a Hoodie and/or a T-shirt click here to order. Payment is to be made at Student Services. Apparel will be available for pick up at school from week 8. No orders will be accepted from 24 August.  To find out more click here or email  ss@whs.school.nz with any questions.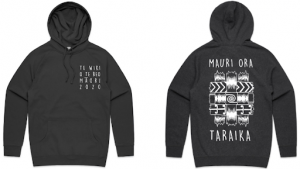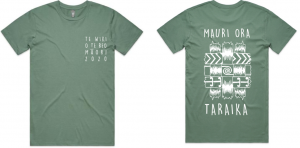 ---
Shakespeare Society 2020
Last week the Shakespeare Society put on their 29th performance, showing William Shakespeare's 36th play, "The Tempest". After much disruption caused by COVID-19, the cast and crew pulled together to put on a fantastic and completely unforgettable show. Thank you to all who helped and thank you to the cast for their incredible dedication to the play.
– Emily Rosemergy and Zoe Crane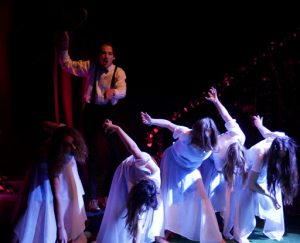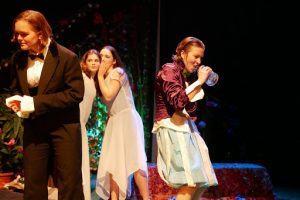 ---
Community Food Waste Project
What started as a class Food Waste project, developing a product utilising Kaibosh's waste stream produce, has turned into a multi stakeholder community project for our Year 12 and 13 Food Technology class.
We've learnt a lot hearing Matt from Kaibosh generously talk about Kaibosh's philosophy, mahi and allowing us free reign to sort through excess fruits and vegetables. As a result of our Kaibosh visit, Ali from the Hopper shop is partnering with a group of students to develop a zero waste product. Finally Emma and Millie from St Vincent de Paul came in this week to discuss a Make-a Meal collaboration with our students with a focus on waste minimisation.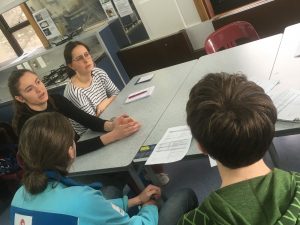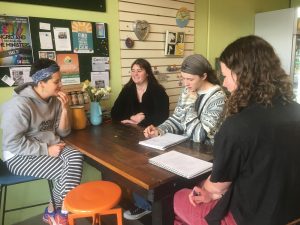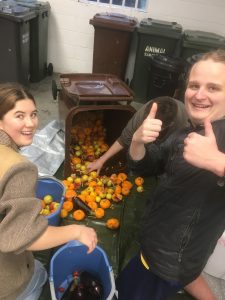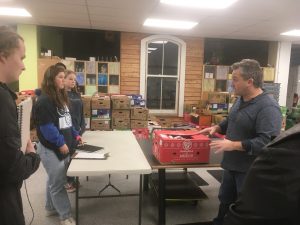 ---
Breakfast Club
Breakfast Club is now open! Students are now able to have a great start to their day with breakfast and a hot cuppa. A huge thanks go to the student leaders who give up their time and show their WERO values in action as they make sure that students are fed and set up to learn.
---
Year 10 & 11 Business Trade Fair
The Riley Centre was turned into a bustling market hall for the Year 11 Business Trade Fair last week. With a wide range of goods for sale including bags, plants and food of many types, staff and students took the opportunity to support Business students who have been preparing for this event over many weeks.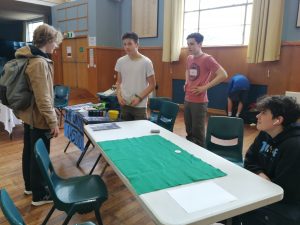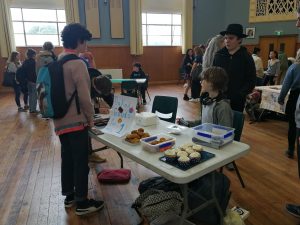 ---
Horticulture trip to Palmerston North
Senior horticulture students made a trip up to the Massey University Palmerston North Campus. Students had the opportunity to see the facilities available to Horticulture students and to hear about some of the research taking place. This included tours and demonstrations of; the post harvest physiology research labs, a hydroponic teaching and student experimental automated glasshouse and the apple orchard where students practice plant management skills. Various innovative technologies in the process of development were also seen.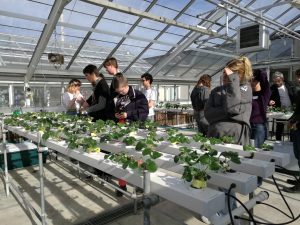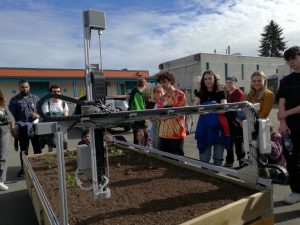 ---
Outdoor Education jumbo circuit tramp
Completed over the course of three days last week, these pictures capture the spectacular winter conditions that the Year 12 Outdoor Education students tramped through as they completed the jumbo circuit.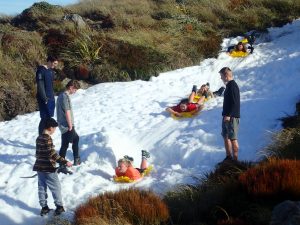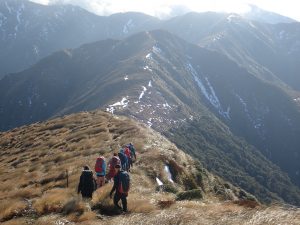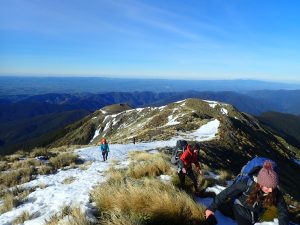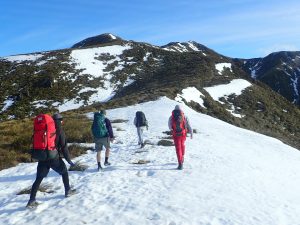 ---
He Kākano
The He Kākano students have been engaged in a range of projects and learning opportunities this week. We have a group of art students displaying their sculptures in the school library, as well as submitting work for the Blank Canvas exhibition held this week. Hamdiya Yusef is learning how to make and serve plunger coffee for unit standards in her Barista class. And there is always time to be outside climbing trees!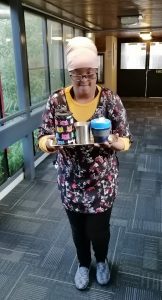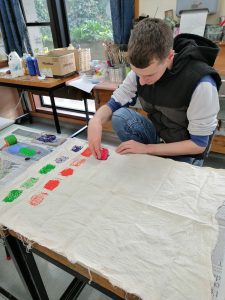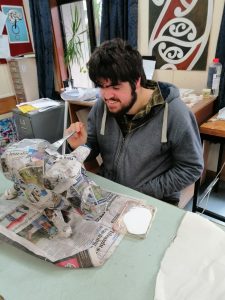 ---
International News
Wellington High farewelled 4 students at the end of term 2.  Under current COVID regulations we are unable to receive new international students however the level of enquiry and enrolment is very high for the future.  We currently have 57 international students attending Wellington High from 15 countries.
Breakfast Hui
A Breakfast Hui was held for international students with the sharing of food and coffee along with sharing school news and information about opportunities. Two students who are soon to depart were farewelled. They are Manuela Castenada from Colombia and Keita Koyama from Japan.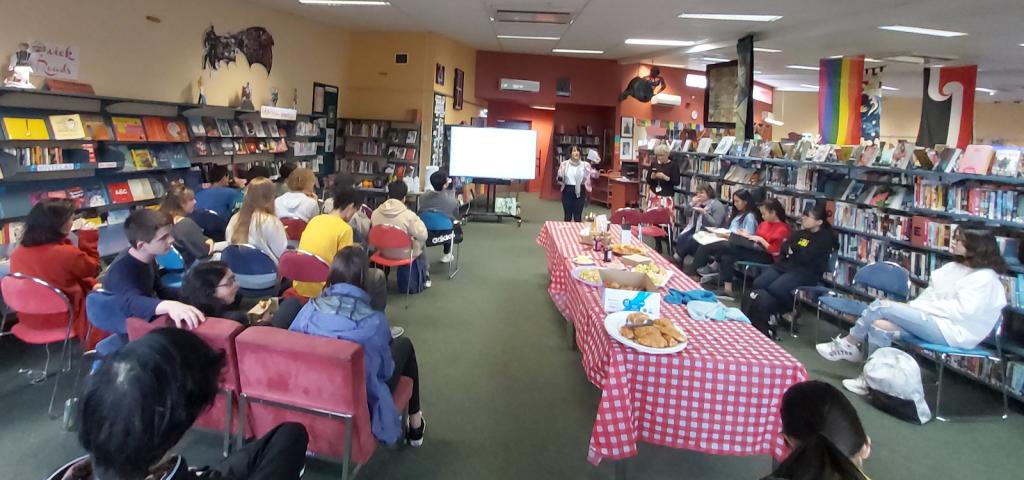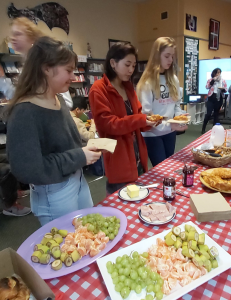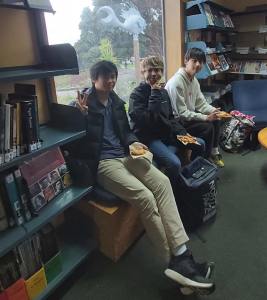 International Week
Week 4 is International Week! Join the International Department and celebrate!
Monday 10

Lunchtime International movie – M102

Lunchtime speaker in the library – Bharat Pancha will talk about Nepal and the orphanage that Wellington High School sponsors

Tuesday 11

Lunchtime International movie – M102

Wednesday 12

INTERNATIONAL FOOD FAIR, Level 5 foyer

Bring some change and enjoy the variety of foods from the home country of many of our students.

Note:  All proceeds will be contributed to the Nepal Orphanage fund.

Thursday 13

International sports, open to all – in the Tindall Centre at lunchtime

Lunchtime International movie – M102

Friday 14

Lunchtime International movie – M102
---
Achievements
Celebration of Reading at the National Library
Jean Cleaver-Parris (year 11) presented at a Celebration of Reading event alongside Prime Minister and Minister for Arts, Culture and Heritage Jacinda Ardern and Minister for Internal Affairs and for Children, Tracey Martin. The event announced the establishment of a new role of New Zealand Reading Ambassador for children and young people to promote the importance of reading in the lives of young New Zealanders, their whānau and communities, helping create a 'nation of readers'.
"We know from research that reading for pleasure makes a huge difference to a child's wellbeing and their potential for life-long success – in personal relationships, education, health and employment," Jacinda Ardern said.
Jean was one of four students speaking. She too connected reading to wellbeing, referring to the Chinese-American writer Yiyun Li who reads so she can be with people who don't notice her existence. Jean finished her speech saying, "When I really think about it, that's what I like too. Reading, so I can forget myself. To not be the main character for once." Jean's full speech can be read here.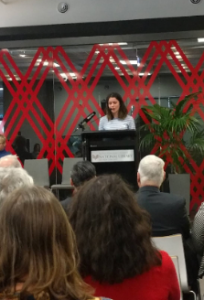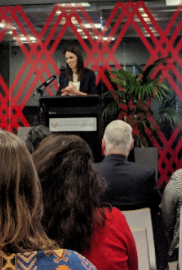 ---
A4 piece of paper with typed forward slashes wins $25,000 Art prize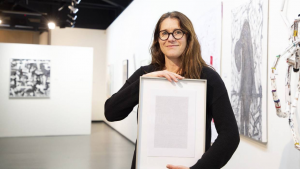 Congratulations to a former WHS teacher Poppy Lekner awarded on the 3 August. Poppy Lekner is the winner of the 2020 Parkin Drawing Prize with her piece Forward Slash, an A4 piece of paper with type-written forward slashes over and over on it. Lekner, born in England, is a Wellingtonian, having previously been the head of photography at Wellington High School. She now works at Inverlochy Art School. (Photo courtesy of Stuff News)
---
NZIFF success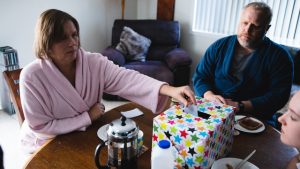 If you have been watching the New Zealand International Film Festival online, you may have come across Kiwi Shorts. If so, shout out to former WHS Library Assistant, Finnius Teppett for his film Democracy which is a 15 minute feature in this collection. If you haven't seen it yet, Finnius' film is available online at nziff.co.nz until Monday.
---
Sports
Junior Badminton
Even though all of Term 2 games were abandoned due to the lockdown, Term 3 has seen a large number of juniors playing at lunchtime on Tuesdays. Matches are played after school on Thursdays and students have had good success against local schools. The boys' first team are sitting mid-table in division 2 and the girls are currently at the top of their division 2, with 4 wins and a draw so far.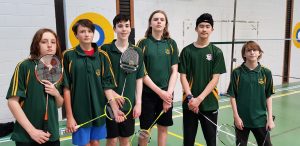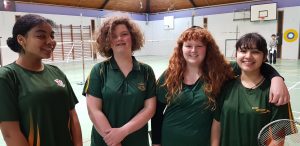 ---
Junior Netball Tournament
The Junior Girls competed in the CSW junior netball tournament. They played hard after a few unlucky injuries. Great job team and coach Phillipa Wood.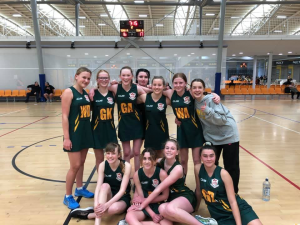 ---
CSW Secondary Schools Cross Country Championships 2020
Theo Wilkinson competed in the CSW Cross country champs and came in 8th place competing against the best runners in Wellington. Great job Theo!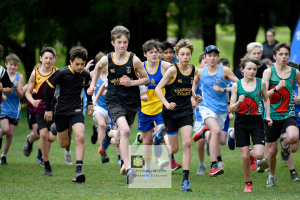 Team of the week: Junior Boys' Football coached by Ben Roth Shank. They are playing at 10:45am on the WHS field against Otaki. They have played two games in their pool so far recording a win and a loss. Sitting in the middle of the pool a win this week would put them near the top of the table. Thanks to Year 9 Mour Mongkol for this poster to promote the forthcoming match.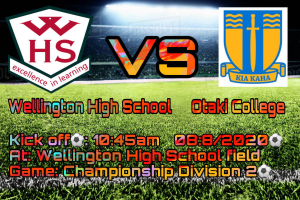 ---
Careers & courses
From the Careers Team
Careers Expo – Mon 17 Aug (12.30 – 3.45pm)
This event is an opportunity for Senior students to meet and chat with Education and Training providers – Universities, Polytechs, Private training providers, Industry Training organisations. Parents and caregivers are welcome at any time or you can come in the 3.00 – 3.45pm slot before you go to the Future Focus event.
Before the event, students will see information about the providers and will be asked to identify which providers they are interested in and what information they want and what questions they wish to ask. All of this will hopefully give Yr 11 and Yr 12 students great information to help them make good subject choices for next year and beyond.
At the moment, ALL senior students are being encouraged to engage in adding information about themselves (with the support of their Ropu teachers) into a Careers Information Programme that the school has invested in (Careers Central). It will help them to think about themselves, do some Quizzes which will give them some ideas to think about, to develop some clear pathway/job/course ideas.
University Visits to WHS – have been scheduled for this term and a calendar of dates is available to students who have signed up for the Yr 13 Deans Classroom. This is where a lot of important Careers info is being placed. If students are not a member of this page, they will miss important info, dates and contact info.
Universities New Zealand has launched a new website: Thinking about university? A guide for New Zealand students, parents and whānau. The website can be accessed via this link:  www.thinkingaboutuni.nz
Polytechs, Trades and Apprenticeships – The Government has recognised that many people lost jobs during this crazy year and have made a significant amount of money available to encourage people to retrain – Polytech is one option. They are also encouraging employers with subsidies to take on Apprentices. Students looking to enrol at Polytech, need to be aware that there will be greater "competition" for places and should regularly check training websites for when course applications open and to apply in a timely manner.
Looking for work? – There is a lot of competition for jobs at the moment from older, work ready people who are looking for new lobs and perhaps a new direction. This poses some obvious challenges for young people who are looking to enter the workforce next year. An option being promoted is for students to upskill and develop work ready practical skills through Polytech type courses. When they complete the programme, it is hoped that the employment opportunities may have settled and that employers will be a bit more receptive to taking on work ready and trained young people.
Appointments and Conversations – I am more than happy to meet and chat with students and families.
CHUNI BHIKHA (Careers Adviser)          E: bac@whs.school.nz
---
Reminder: NCEA and UE changes for 2020
A reminder of the changes made for 2020 can be found at: https://www.nzqa.govt.nz/ncea/understanding-ncea/changes-to-ncea-and-ue-for-2020/
---
AA Defensive Driving Course
The AA is considering running a Defensive Driving course at Wellington High School.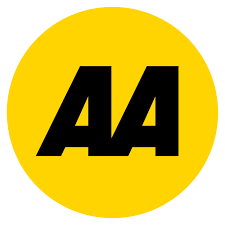 There will be four classroom sessions of two hours, and a one hour drive session. The classroom sessions are going to be either on a Monday and Wednesday, or a Tuesday and Thursday, on a date yet to be confirmed. The sessions will be between  4-6pm or 6.30-8.30pm.
Because they are NZTA approved, attendance enables the driver to receive their full licence after 12 months, rather than waiting for 18 months.  Because of the one hour driving component, there is also an advantage of having a test run with a driving instructor, who will provide a list of items that require improvement before the actual test.
The cost per participant is $229, including the 1 on 1 drive in your own car. If you are interested please email john.wilkinson@whs.school.nz. Please state your preference for the time slot.