Important Dates
Monday 29 June: Open Evening 6pm

Wednesday 1 July: Music Evening 7pm

Friday 3 July: End of Term 2

Monday 20 July: Start of Term 3

Wednesday 22 July: Parents' Evening (Senior Students)

Monday 27 July: Parents' Evening (Junior Students)
---
Important Information
Board of Trustees by-election results
As a result of the recent Board of Trustees by-election, Dr Wyatt Page has been elected to the Board. Wyatt will join the Board with effect from the next meeting on Monday 27 July.
---
Reports and parent-teacher meetings
Learning Profile reports for Term 2 are now available for download from the Parent Portal (see Results > Reports).
Parent Teacher meetings will take place on Wednesday 22 July (Senior students) and Monday 27 July (Junior students).
To make appointments go to:
Go to: https://www.schoolinterviews.co.nz/
Enter the code: vdm7q (Juniors) or 5yjhn (Seniors)
Choose the SUBJECT then the TEACHER.
Please leave a five minute gap between bookings.
Note that we are only able to run one conversation with each teacher per student.
If you are hearing impaired the Riley Centre can be a challenging environment: please email admin@whs.school.nz and we will aim to accommodate your bookings separately.
---
Revised guidance on testing for COVID-19
The Ministry of Education has circulated the following information to all schools:
At a time where there are increasing numbers of colds and other winter illnesses, the Ministry of Health has revised its guidance on who might need testing for COVID-19. It is important to note that there is currently no known community transmission of COVID-19 in New Zealand. The vast majority of adults, children and young people with symptoms consistent with COVID-19 will not have COVID-19.
Symptoms of COVID-19 can include new onset or worsening of one or more of the following:
Cough
Fever
Sore throat
Runny nose
Shortness of breath/difficulty breathing
Temporary loss of smell
Health's information on who should get tested notes that people with any of the COVID-19 symptoms who are close contacts of confirmed cases, have recently travelled overseas, or been in contact with recent travellers, should get assessed.
If anyone has symptoms but is unsure if they have been exposed to COVID-19, they should ring Healthline on 0800 358 5453 or their GP for advice. Over winter there are many other viruses about that can cause people to feel unwell and have symptoms similar to those of COVID-19.
Some people with symptoms consistent with COVID-19 may be tested as part of Health's ongoing surveillance to ensure that there is no community transmission in New Zealand. If they are not close contacts of confirmed cases, have not recently travelled overseas, or have not been in contact with recent travellers, then there is no need for them to self-isolate while awaiting the test result, and they can return to school once they are feeling well.
If not recommended for testing, they will be able to return to school or their early learning service when they are feeling well and no longer displaying symptoms.
---
Wallace Street roadworks update
The current phase of the Wallace Street roadworks is due for completion by the end of the month. As long as the rain holds off, Wallace Street should be re-opened to through traffic on 1 July.
Following this, however, works will need to get underway along Wallace Street, near Massey University's entrance, to upgrade wastewater pipes. This will take place in off peak hours (9.00am-4.00pm) on weekdays and traffic will often be reduced to a single lane with Stop / Go control. This is likely to take two months to complete.
---
What's happening?
Economists breakfast with Dr Allan Bollard
On Thursday, Year 13 Economics students Sarah Bennett and Rachel Woolcott, attended a Cullen Breakfast at the Wellington Club. Speaking at this week's breakfast was Dr Alan Bollard, who has held numerous senior positions in Government and interGovernmental agencies. Dr Bollard discussed the economic impact of the covid epidemic and then participated in a question and answer session.  Sarah said  "the range of angles in the topic discussed was thought provoking". Rachel commented "it was a very interesting discussion and I enjoyed listening to his jokes and insight."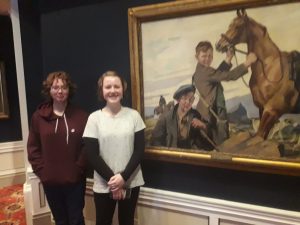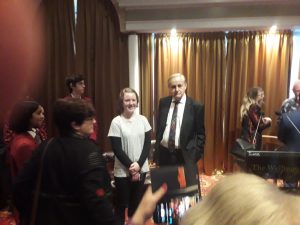 ---
Year 13 performance of 'Girls like that'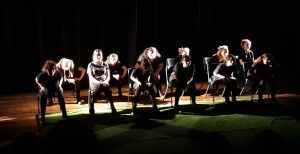 Evan Placey's Girls Like That is an ensemble play that explores the pressures young people face today in the face of advancing technologies. Year 13 Drama students produced and performed this play this week. The students are to be congratulated for their sophisticated performance which was an enduring piece of theatre, an achievement all the more impressive when considering that much of this production was conceived and developed during lockdown. Congratulations to all, and to Drama teacher Roger Mantel.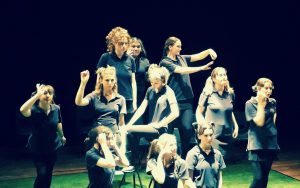 ---
He Kākano 
The He Kākano students have been engaged in a range of creative activities, cognitive thinking skills and maths throughout the week. 
 
 
---
Winter in the garden
The weather over the past few weeks has seen our horticulture students spend time on maintenance, cleaning and repairing tools including secateurs. They will be well prepared for winter pruning and work outside once the weather improves.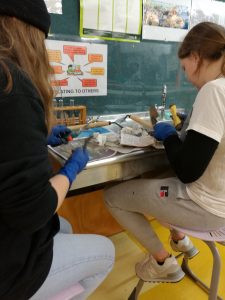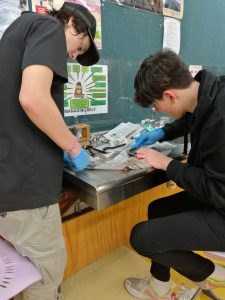 ---
Instrumental & vocal lessons update
If your Junior student is interested in taking instrumental / vocal lessons but has not yet enrolled, please download the form from the Student Hub and hand in or email the completed form to Fritz Wollner
Lessons will be reorganised for Terms 3 and 4. If students have not been attending regularly, they need to see Mr Wollner as soon as possible to ensure they do not lose their spot.
---
Achievements
National Bridge Speech competition place secured
Year 13 Amelia Smith qualified for a place in the National Bridge Speech competition following her success in the regional Chinese speech competition last week. Amelia will represent the North Island outside Auckland region in the competition, to be held at Victoria University on Sunday 2 August. At that event, each qualified candidate will need to present a speech, perform to demonstrate a skill and answer questions in Chinese. Finalists will represent New Zealand and compete with candidates from all over the world in October. We wish Amelia luck as she progresses through the competition.
---
Sports
Junior girls football
For the first time in many years WHS has a junior girls football team out in competition. Their most recent game resulted in a very close 2-1 loss but the girls had fun and were very impressive despite some players not having very much experience. This team could not have gone ahead without the support of parents who helped with both transport and officiating.  Special thanks to Bea Gladding and Jennifer Argyle who are the coach/manager dream team who make this team possible. Below are some photos of the action and sideline support.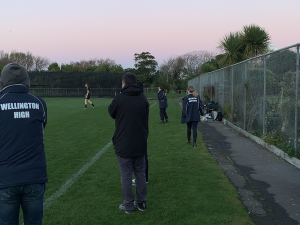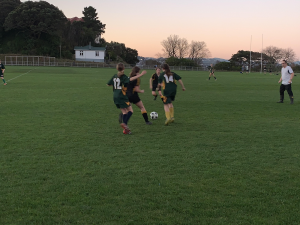 ---
Basketball
Basketball is underway with all teams at WHS having played at least one game so far. Big thanks to Jason Reddish who is taking on the entire boys programme at school which includes four teams and doing a great job. Another big thanks to Nick Andrews who along with a parent is coaching the Senior girls team. Junior Boys play on a Tuesday and another junior team plays on a Thursday. All Senior teams play on Fridays, with the top boys and girls team playing at the ASB Centre. Below are some photos from the first junior basketball game.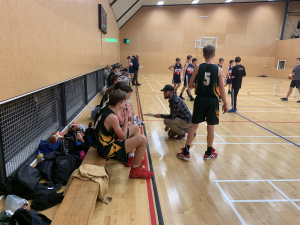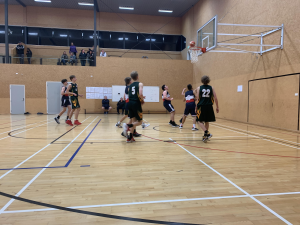 ---
Boys 1st XI football
The 1st XI played their first game of the season, bringing home a 5-1 victory against St Patrick's Silverstream. Their next fixture is against Newlands College this coming weekend.