Important Dates
23 September:

Board of Trustees meeting 6pm

24 September:

Music Evening (see below)

27 September:

Final Senior course choices due for 2020 (Y10—Y12); End of Term 3

14 October:

Start of Term 4
---
Important Information
Gateway 2020
Gateway has been set up to provide structured workplace learning for Year 12 – 13 students and is funded by the Tertiary Education Commission (TEC).
Students are given the opportunity to try out their career choices, while gaining realistic workplace experience, attending their Gateway placement one day a week, for 10 to 11 weeks.  Gateway gives students confidence to make a smooth transition from school to future employment.
Benefits for Students
Students develop their sense of responsibility, time management and communication skills.

Students gain confidence and are enthusiastic about their education.

Students learn industry-based skills and gain valuable experience and knowledge.

Students are given opportunities to make informed choices about their future direction.

Students gain realistic workplace experience with support from Gateway staff.

Students gain industry-based unit standards which contribute to their NZQA Record of Learning.

There are no financial costs to students.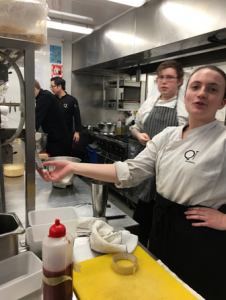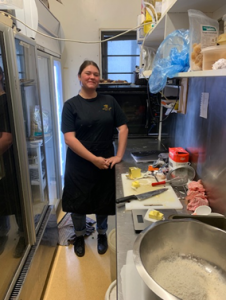 What is expected of the student?
A requirement for a student to be placed on Gateway is that they have a high level of attendance at school. 

All students are interviewed and must prepare a CV (CV assistance is available). Students are expected to be motivated, committed, have a good work ethic, effective communication skills, good personal presentation. 

Students are taught interview preparation skills and work placements are sought on students' interests and strengths.

Students must make up the class work that they miss because of the Gateway placement.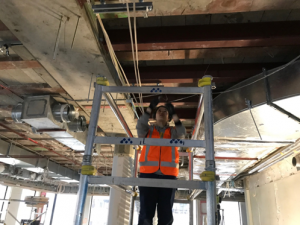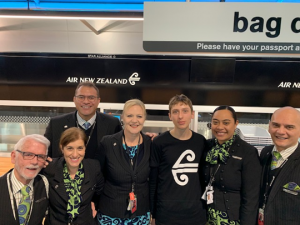 Applications for 2020 are now open. Expression of Interest Forms are available from Student Services and COM 5. Spaces are limited.
As a parent, If you are a business owner or have an employer who would be interested in hosting a student for work experience, please contact Paula Willis, Gateway Administrator gateway@whs.school.nz for information on the programme.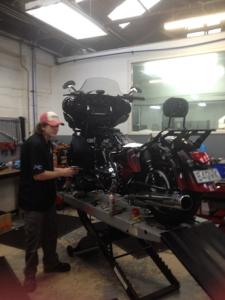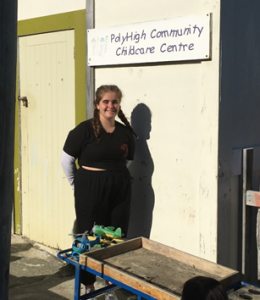 ---
Wellington Trades Academy 2020
The Trades Academy programme offers students the best of both worlds – in school and out of school practical learning opportunities. It involves students learning at WHS 3 days a week and at Polytech for 2 days a week. This programme is aimed at supporting students to get their NCEA L2. The 2 day Polytech programme will earn them between 40 – 45 credits – about the same value as 2 subjects at school.
The range of courses for 2020 will be: Level 2
Construction Trades – (Weltec) Petone x 2 classes – Thurs/Fri

Construction Trades – (Whitireia) Porirua x 2 classes – Thurs/Fri

Auto Engineering –  (WelTec) Petone x 1 class – Thurs/Fri

Engines – (Whitireia) Porirua x 1 class – Thurs/ Fri

Hospitality – (focus on Cookery / Food and Beverage) x 1 class– (Whitireia)Porirua – Thurs/Fri

Hospitality Services – (focus on Front of House / Barista / Tourism)  1 class (Whitireia) Porirua Thursday / Friday

Salon Environment – (Weltec) Petone x 1 class – Thurs/Fri

Salon Environment –  (Whitireia) Porirua x 1 class – Thurs/Fri

Introductory Animal Care –

venue tbc

x 1 class – Thursday / Friday 

(note this programme has had significant content changes and will include a significant proportion of Level 3 units so students will need to be capable of study at this level

Introduction to Creative Technology – (Whitireia) Te Auaha x 1 class – Cuba St – Thurs/ Fri

Health Science – (Whitireia) Porirua – x 1 class – (1 day per week – Thursday)
 Level 3
Cookery – Level 3 (covers New Zealand Certificate in Cookery L3) x 1 class – Wellington – Thursday/Friday
For further details, contact the Careers Adviser (Chuni Bhikha)    chuni.bhikha@whs.school.nz
---
What's happening?
Te Wiki o te Reo Māori!
Our Te Kura Tuarua o Taraika ki Pukeahu whanau had a mean week celebrating Te Wiki o te Reo Māori! 
We gathered in Taraika each day to hear guest speakers such as Warren Maxwell (Ngai Tūhoe) talk about music and hauora, Taawhana Chadwick (Ngati Kahungunu) kōrero about traditional navigation and astronomy, and poet and storyteller Apirana Taylor (Ngāti Porou, Te Whaānau a Apanui, Ngati Ruanui) share some work and writing tips with us. It was a tino pai week full of kai, kōrero, and whanaungatanga.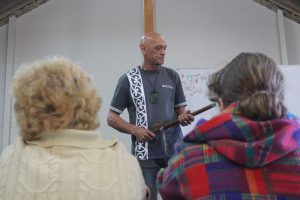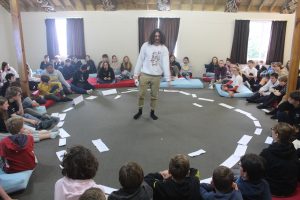 ---
Outloud – Pride Week 2019
WHS' annual pride event, OUTLOUD expanded into a week long celebration this year! Partnering with InsideOut Aotearoa we were able to bring workshops and discussions on trans allyship and cultural and rainbow identities in the library. We hosted a unity rainbow picnic on our school field and ended with our pride carnival, with bake sales, giltter face painting, phtotobooths and a panel of LGBTQIA+ figures including Jan Logie from the Green Party, queer historian Will Hansen, youth InsideOut volunteer Compass, Drag King Willy Smackntush and our very own Ultraviolet teacher coordinator Hannah Paton-Smith. It was a smashing success and we are so proud that we're able to celebrate diversity in what was a fun and sunny week. Thank you to all who helped make it happen, and special thank-yous to our sponsors, Six Barrel, IkoIko Wellington and Havana Coffee!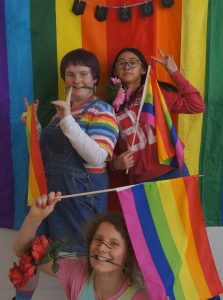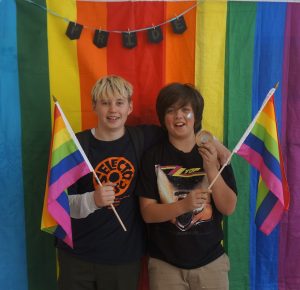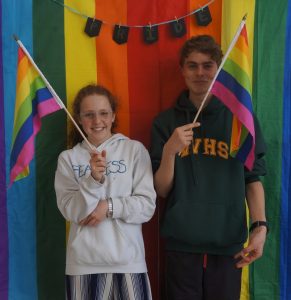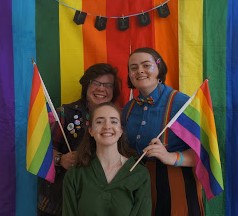 ---
Mental Health Awareness week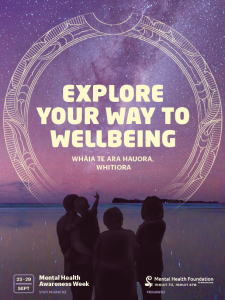 23-29 September is Mental Health Awareness week. Our Guidance Department has put together information for students and whānau, providing helpful tips that all can take to support our well-being journey. In addition, they have included contact details for organisations that can be approached for help if needed.
You can read the full document here.
---
Student work inspired by Suffrage in Stitches
A few weeks ago the Yr 10 Fashion group went to view the Suffrage in Stitches exhibition at Wellington Museum. Since then we have come back to school and have been working on individual panels with a theme of Climate Change. This is a very topical and important social issue that is relevant to all, and with the student climate in action strike day coming up too. The Yr10 Fashion students have designed their own panels and have used a range of techniques ( embroidery, machine sketching, appliqué, hand stitching, fabric collage),  to create them. We will be hanging them up on display which will make a powerful visual statement.
---
Music Evening
Come and hear the amazing musical talent at our school perform their hearts out. This Tuesday, 24 September at 7pm,  $5 entry. All proceeds go to the Syrian relief fund.
---
WHS Brand Identity: co-design workshop
On Thursday Week 8, the designers from Chrometoaster visited WHS to gather feedback from students, staff and whānau about the designs that are emerging as part of a refreshed identity. Over 300 students shared their responses during the day as they visited the stand in the foyer. This was followed up with a fourth workshop with a large group from across the school to review the feedback. A design element to reflect Pukehau is still being developed, to be woven through, but it is exciting to see fresh ideas emerging!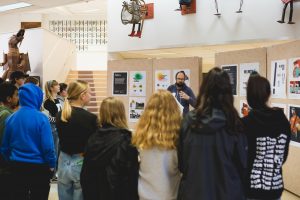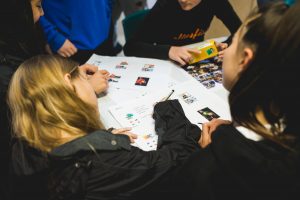 Photos courtesy of Chrometoaster
---
Capital City Kāhui Ako Pānui

Our first newsletter has been sent out to our community. We now have a website to share updates Find out what the seven schools have been up to — and enter the logo design competition!  https://capitalcitykahuiako.weebly.com/our-news.html
---
Papa Taiao Predator Free Leadership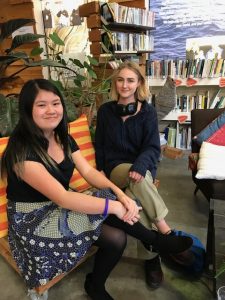 Alexa Lee and Ursula Palmer Steeds have spent this year in the Papa Taiao Predator Free Leadership programme. Monday was their graduation, where they presented the work they had done this year. The programme allowed them to work on the restoration bank behind the poppies, to organise clearing, planting and applying for funding. Several camps were attended around Wellington where they could see the impact of predator free areas and how to achieve them.
---
Osaki Kaisei Senior High School Visit
At the start of September 10 students and a teacher from our sister school in Hiroshima, Osaki Kaisei, visited us.  They were here for a week and a half and did a wide range of activities including a cooking class, going to the zoo and attending class with their host brother or sister.  They wrote the following about their time here:
This was our first visit to a school abroad. We had a really good time at Wellington High School. There are many students from various countries at Wellington High, so we were able to experience their cultures too. Wellington High has wide and beautiful school buildings and we are so jealous of the students because they have a lot of break time! Also, students have many choices of subjects such as drama, design technology, Māori and lots more. Some of us said, "I want to transfer". We are so grateful to all the people who have been involved with us and taken care of us. Thank you.
---
Year 10 Royal Visit to Pātaka
The Year 10 Royal whānau took a trip to Pātaka to visit the Kupe to Cook exhibition. The students enjoyed learning about the different artworks and what they represent and then creating their own Waka from driftwood.