Important Dates
Friday 23—Thursday 29 August

: Senior Derived Grade Exams (Y11-13) and altered timetable for Years 9-10 

26 August:

Board of Trustees meeting

28 August:

No late start for Juniors

30 August:

Mid-term break; school closed.
---
Important Information
Senior Derived Grade Exams 2019 — Years 11-13
All students in Year 11—13 will be sitting derived grade practice examinations between Friday 23 August — Thursday 29 August 2019. Full information has been sent home, and can also be accessed via our website: http://www.whs.school.nz/newsnotices/senior-derived-grade-exams-2019/
---
Wellbeing tips for families
We like this wellbeing website – Sparklers – and will share a resource each week that you might find useful. 

This week:
How to help tweens & teens navigate social media

: They say: "Internet use can be a real concern for us parents. Here we tackle how to teach your kids to stay safe and make good choices without having to 'go into battle'! May the force be with you!"
---
What's happening?
Capital City Kāhui Ako update
On Tuesday, trustees and whānau from across the seven schools in our Kāhui Ako gathered at Newtown School. It was a great opportunity to hear more about the areas that our schools want to work on, and how we would like to connect regularly with our community through a Kaitiaki Group.
Our Community of Learning has also appointed four Across School Lead teachers, and three stepped into their roles at the start of Term 3 – You can 'meet' them all here – with Andrew to come on board Term 4.
---
Drama in Year 12
If you would like to watch monologue and duologue performances by year 12 drama students we have the event for you: Hall stage, Wednesday 14th August 4pm and 6pm, free entry. The show run time is 60 minutes. 
---
He Kākano students meet the NZSO
The Base One/He Kākano students attended an NZSO Relaxed Concert at Shed 6 on Wednesday. The orchestra played short pieces by Bach/Webern, Mozart and The Bizzola. The students were invited to meet some of the musicians and have a go some instruments including viola, percussion and trumpet.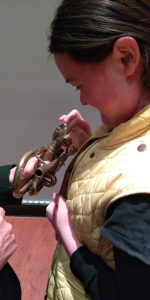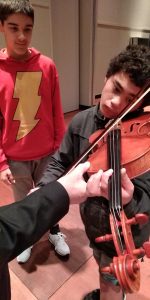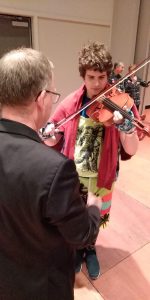 A group of English Language students also walked down to the afternoon concert and enjoyed listening to and playing music.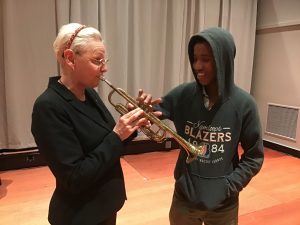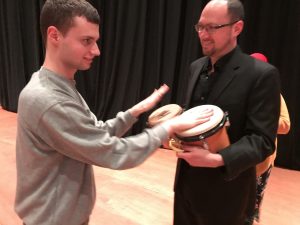 ---
Pop-up Globe's Hamlet trip
Last Thursday, 30 students from across year levels attended a matinee performance of Hamlet, by the Auckland-based theatre company behind the Pop-Up Globe. This was an excellent and  surprisingly funny version of Shakespeare's tragedy, with the actors breaking from the script at points to make fun of the audience and reference current events – e.g Hamlet is sent to England because no-one will notice his madness, as everyone there is as mad as he is: #Brexit!). Good on these students for taking up this opportunity.
---
TEngineering careers workshop with GHD engineers 
Wellington High School senior physics students had a chance to find out about engineering careers from on Wednesday. Two young graduates working in Wellington for international firm GHD ran a 90 minute workshop for 25 keen students. Alanna and Zoe are in their second and third years in the workforce after completing their studies at the University of Canterbury. Their presentation covered all aspects of their experiences at University and they were able to offer a wealth of practical advice. There was also a practical challenge demonstrating the type of challenges engineers face.
---
The International Young Naturalists' Tournament, Minsk, 2019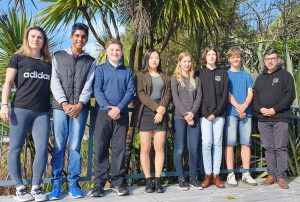 WHS students Ryan Bright and Lydia Acton are off to Minsk, Belarus for the 7th IYNT from the 18th – 24th August, with the NZ National Team. The IYNT bridges gaps between natural sciences and inspires young students. It promotes the creative potential of teenagers aged under 17 who are eager to explore the world, experiment, work in teams, and gain new skills in an international setting.
The IYNT tournament problems require students to conduct interdisciplinary research across the sciences. The NZ team comprises students from WHS, Hutt Valley High School, Auckland Grammar School and Kristin School (pictured right). They will face 20 other international teams as they progress through the tournament. We wish Ryan, Lydia and the NZ Team all the best for the Tournament.
---
Suffrage in Stitches
Over the past year 546 makers across New Zealand have researched, designed and stitched 546 panels recognising the 546 pages and 27000 signatures on the 1893 suffrage petition. These panels, the result of an incredible project by Wellington-based St Vincent de Paul's Vinnies Re Sew are on display in the Wellington Museum until 31 August. The link to WHS? Three staff members, veteran stitcher Ruth Jeffery and novices embroiderers Alison Jeffery and Nicola Dow, spent time over the summer creating three of the panels that form part of this exhibit of national significance.
---
Achievements
Hockey
CONGRATULATIONS to our Boys Hockey team who won their preliminary final on Wednesday night, with a 2 – 0 victory over Rongotai College. We now progress to the final in two weeks' time.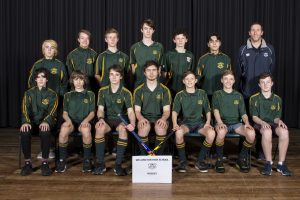 Netball
CONGRATULATIONS also goes out to our Senior A Netball team who have made it into the Final for their Division.  Their 1st -2nd playoff will be played next Saturday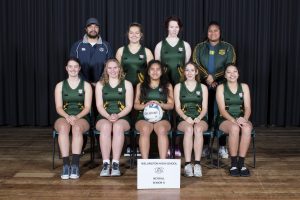 Junior Netball Tournament 
On Thursday 8 August our Junior A Netball team competed in the CSW Junior Netball Tournament held at the ASB Sports Centre.  The team had some very close and nail biting matches, but they all did a fantastic job and thoroughly enjoyed the tournamnet.  Thanks go to Miss Wood (Coach), Mr Thirkell (Manager) and Joe Sione for your wonderful coaching and support on the day.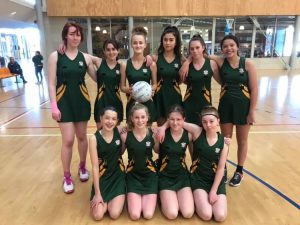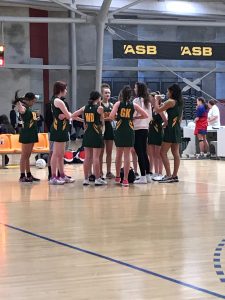 Sports and Cultural Photos 
If you wish to order Sports and Cultural Photos, these can now be purchased at Student Services for a price of $7.00 per photo.  Payment must be made when placing your order, the last day for ordering your photos will be Thursday 29 August.
Winter Sports 
With Winter Sport coming to an end, Coaches and Managers will be collecting all the players' playing uniforms at the end of their last game.  Players will need to remember to bring a change of clothes to their last game!