Important Dates
14 October:

Start of Term 4

21 October:

Board of Trustees meeting

22 October:

Sports prizegiving (11am)

28 October:

Labour Day (school closed)

29 October:

Whānau hui

31 October:

Whakanuia

1 November:

Last day for senior students

4 November:

Senior Prizegiving

4 November:

 Closing date for out of zone ballot (Years 10-13 in 2020)

7 November:

Parents notified of outcome of out of zone ballot (Years 10-13 in 2020)

8 November:

NCEA exams start

25 November:

Board of Trustees meeting

3 December:

NCEA exams end

6 December:

Junior Prizegiving

6 December:

End of Term 4
---
Message from the Principal
Please click here to read the Principal's Message for the end of Term 3.
---
Important Information
Measles update
You will have seen the update with regards to the cases of measles at WHS from Regional Public Health earlier in the week. The response of families of those students potentially affected has been superb as has been the support of the Regional Public Health team. Hopefully this remains the only case of measles in the region but we encourage all parents, caregivers and whānau to remain vigilant to the symptoms and to contact their GP in case of concern.
---
Wallace Street roadworks:  update from Wellington Water
You will have noticed a lot of work going on in the area, and may well have read the news item in the Dominion Post earlier this week about the reservoir pipeline project. We are in touch with the contractors undertaking the work for Wellington Water and they have told us that the planned diversion of traffic off the stretch of Wallace Street from John Street to Hargreaves Street (opposite the main entrance to Massey University) will not take place until December.
From December all traffic, including buses, will be diverted along Wright Street while new water mains are laid along Wallace Street.  A new pedestrian crossing will be installed on Wright Street and a new bus stop created there.  There will be no impact on the bus stops that our students use. Safe pedestrian access will be maintained along Wallace Street while it is closed to traffic, and traffic management staff will be on site during working hours.
In the meantime, roadworks are underway on Wallace Street from 9.00am-4.00pm on weekdays. We recommend allowing extra time for travel as there can be delays during this period.
If you're interested in the reservoir project or the pipelines work underway information is available on: www.wellingtonwater.co.nz/omaroro.
---
Useful NCEA exam/revision/study resource
StudyIt (https://studyit.govt.nz/)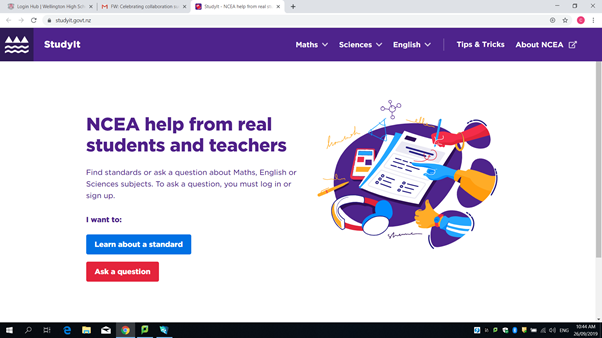 Your one stop site for achieving in NCEA Maths, Science, and English. Find what you need to know, contact subject teachers, and get encouragement from other students.
---
Rotary Scholarships available
The Rotary Club of Wellington is seeking applicants for scholarships. Applications can be submitted by individuals to assist with the cost of tertiary education, vocational training of the development of life-skills.
About 12 grants are available to students of any age who come from the Greater Wellington area and who can demonstrate financial need. The amount awarded varies but is typically in the range of $3000 to $5000.
Further information and application forms can be obtained from www.wellingtonnorth.org.nz. from 23 September. Applications open 15 October and close 31 October.
---
What's happening?
Education Minister Chris Hipkins launches School Leavers' Toolkit at WHS
On Wednesday 25 September, the Education Minister Chris Hipkins chose Wellington High School as the venue for the launch of a great new resource for students and teachers: the School Leavers' Toolkit. After a pōwhiri in Taraika, the Minister spoke to Yr12/13 students at a special assembly, presented certificates to students who participated in the toolkit's development and then convened a Q&A session with some of the students involved.
Around 30 WHS students contributed their ideas, views and opinions about the School Leavers' Toolkit website during 3 sessions in 2019. Their comments were always honest and direct and gave the developers insight and welcome guidance, helping them shape the website to make it more accessible and meaningful for students, their families and teachers.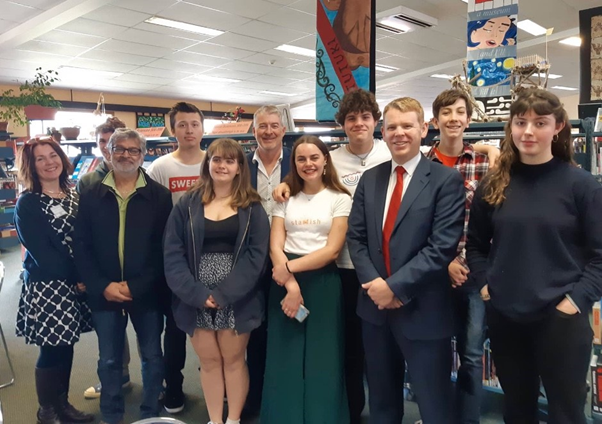 Pictured are: Front: Chuni Bhikha (Careers Adviser), Rose Gillies, Lily Parkin, Minister Hipkins, Liberty McIntyre-Reet; Back row: Suzie Tingley (MOE Senior Adviser), Michael Edmeades, William Reed, Dominic Killalea (Principal), Seb MacCaulay, Indio Avanci-Bishop
The School Leavers' Toolkit will help students …
 

learn to drive (still being developed)

 

understand practical budgeting, understanding finance and tax better

 

be equipped with workplace and employability skills and getting jobs

     

learn how our political system operates through civics education at school.

     

be more aware of Tertiary study options, funding and scholarships

     

to recognise the importance of their own and other's wellbeing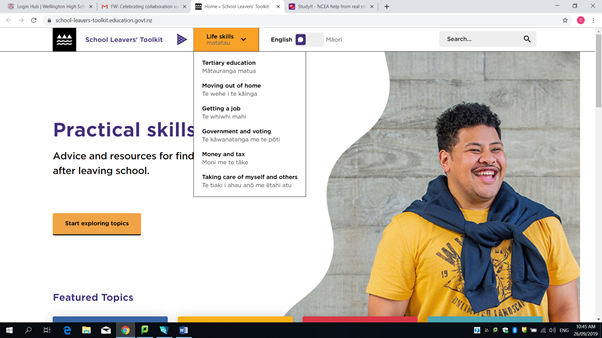 At Wellington High School, we have already started a number of these sessions for students at all levels in many of these topics through our Wellbeing sessions and our Mates and Dates presentations.
---
Packed lunchtime seminar on Prison Reform
Week 10 saw the Year 13 Sociology students presenting a range of events focussed on the need for prison reform in New Zealand. On Monday a panel of MPs discussed their party views on voting rights for prisoners in New Zealand. This discussion was facilitated by student who worked with Just Speak to raise awareness of the issue. On Tuesday the role of art therapy and rehabilitation within prisons was discussed, from a Quaker perspective. On Thursday 5 students spoke to their submission at the select committee for electoral reform at Parliament. An impressive piece of civic engagement from our students.   This was picked up in the media. You can read the full article in the NZ Herald here:  https://www.nzherald.co.nz/nz/news/article.cfm?c_id=1&objectid=12271201
---
WOW breakfast at the Australian High Commission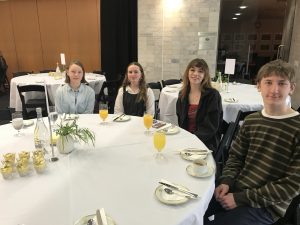 On the final morning of term, four Fashion students, Principal Dominic Killalea and Fashion teacher Kylie Merrick,  had the opportunity to go the Australian High Commission and hear Australian designers speak about Wearable Art in a panel discussion. Great thoughtful design conversation and delicious yellow themed food (The World of Wearable arts theme colour for 2019) was enjoyed by all.
WOW is on at the TSB arena until 13 October. Among the crew are WHS students Tyler Gold and Ant Vache, so watch out for them if you go to the show.
---
Garden update
As you can see from these photos, under the care of our Horticulture students, the garden is flourishing in the spring.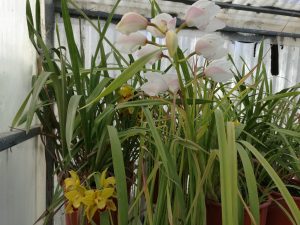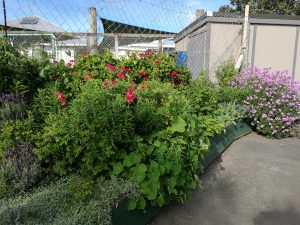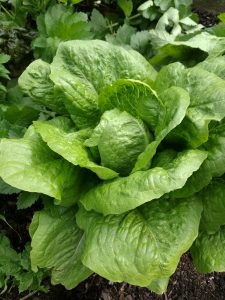 ---
Achievements
CREST success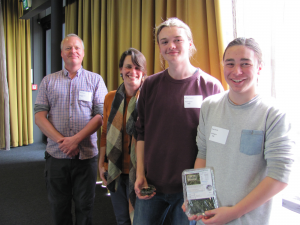 Gryffon Hester and Neo Silcock gained Highly Commended (joint second place) and a Silver Crest award in the NZIFST and Royal Societies Food Innovation Challenge. They worked for three terms with Tahi Spiralina as their client and mentors Ben Suitherland and Sally Ronaldson from Food Safety Australia NZ to develop a spiralina pasta suitable for vegans and to showcase  the versatility of spiralina.
The judging event required that they present their product, their report, academic poster and be interviewed by two sets of industry based food technologists.
We are really proud of their efforts. Ka rawe!
---
NZ Chinese essay competition winner
Congratulations to year 13 Theo van Toor who has won the first place in the secondary senior category of the 13th New Zealand Chinese Essay competition. Coordinated by the Confucius Institute in Auckland, the competition is one of a number of events annually that help link New Zealand and China through education and culture.
---
Sports
Skateboarding 
Congratulations to Gala Baumfield and Hunter Lander Smith. Both competed at the College Sport Wellington Skateboarding Championships on Wednesday 11 September. Gala gained 1st place in the Senior Girls and Hunter got 1st in the Senior Boys and won Best Trick. Well done to you both.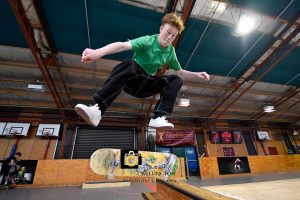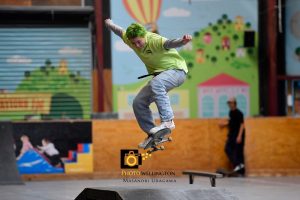 ---
Sports Prizegiving
Our annual WHS Sports Prizegiving is on Tuesday 22 October at 11am in the Riley Centre.  All students who have played sport for the school are expected to be present. Parents are also welcome to attend, so please include this in your diary, and we look forward to seeing you all.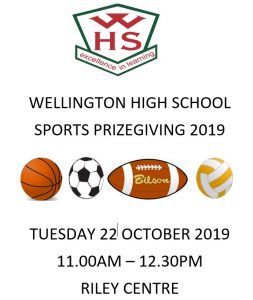 ---
Careers
Driver Education student focus group: www.drive.govt.nz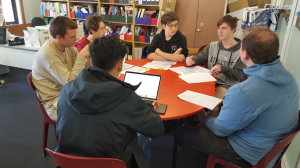 Three groups of WHS students have been providing feedback on the development of resources and the above website throughout 2019.
 The website provides …
 

great resources and advice about practising for your Learners Licence

 

advice and guidance about moving to your Restricted Licence

 

suggestions about gaining your Full Licence
Resources are varied and many are interactive and can monitor a student's progress.
---
Women in Trades seminar 
This was a great opportunity for anyone interested to come and chat, meet, ask questions from a fantastic group of young women who have chosen careers in the trades. Our visitors were very keen to share their stories:
 A first year building apprentice just out of school for 10 months after finishing school at the end of Year 12

An apprentice studying for her Level 4 Certificate to become a fully qualified Electrician. With her boss away, she is in charge of the team organising jobs and managing staff

A Plumbing and Gasfitting and Drainlaying apprentice of three years who has just bought her first home with her partner. She is hoping to set up her own "all girl" business in the future.

A Navy service woman of 13 years in the Hospitality trade as a Steward currently working as an Armed Forces recruiter.
We hope to repeat this seminar opportunity next year.