Important Dates
Wednesday 19 – Friday 21 February: Year 9 Noho Marae (1)
Monday 24 – Wednesday 26 February: Year 9 Noho Marae (2)
Tuesday 25 February: School closes at 12.20 for PPTA PUM.
Wednesday 26 – Friday 28 February: Year 9 Noho Marae (3)
Monday 2 – Wednesday 4 March: Year 9 Noho Marae (4)
Wednesday 4 – Friday 6 March: Year 9 Noho Marae (5)
Friday 27 March: Learning Conversations
---
Important Information
Introducing our new Board Chair
Kia ora te whānau o Te Kura Tuarua o Taraika ki Pukeahu.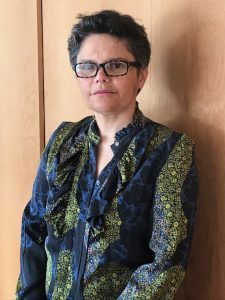 Welcome back to school everyone, and welcome to all of our students, whānau and staff whether you are returning to WHS or new to our school.
 My name is Annette Atkins and I am the new Board of Trustees Chair.
 This year, in addition to school as usual, the school will be part of a pilot for the international PISA study: a research project to understand how well the world's education systems prepare young people for success and citizenship in today's world. There will also be a number of additional prefab classrooms moved onto the school site to accommodate our increased roll, as long term classroom and facilities planning gets under way.
 Our hope is that these activities are not disruptive to normal business.  We remain committed to a great school experience for all students, staff and whānau.  However if you have any concerns please get in touch with your normal first point of contact at school: rōpū teacher, dean or other relevant staff member.
 A reminder that Board of Trustee meetings are open to you, our community, which means that you are most welcome to attend all but the confidential portion of our meetings.  The dates of Board meetings are on the Board page of the school website. All families/whānau are also welcome to Te Whānau hui, held once each term. This term's hui is next Monday 17 February.  Details are below. Please do come along!
 Thank you all for the various ways that you support the work of the school and our young people.  We look forward to a great year ahead.
---
Invitation to join Te Whānau a Taraika Term 1 hui
Nau mai, haere mai ki te hui; Te Whānau a Taraika.
Welcome to all Wellington High School whānau! All parents, caregivers and whānau included. Our Term 1 whānau hui is next Monday evening, 17 February, 6.00-7.00pm. Venue is Hineakau, the dining room attached to Taraika. Bring kai to share if you would like. All welcome.
At hui we discuss a range of topics. This hui we would like to cover:
1. Work to do on Taraika, the vision for Taraika as a house for all WHS whanau, and maintenance work for 2020
2. Kapa Haka calendar for 2020
3. Nominees for Te Whānau chair
4. Nominees for whānau representative on the school Board of Trustees
And any other issues that whānau would like to raise are most welcome.
You do not need to have come to any hui before. All are welcome. We look forward to seeing you there.
Ngā mihi nui
Tim Poi
Chair, Te Whānau a Taraika
---
Notice of timetable change for Tuesday 25 February
As reported in last week's Wrap Up, on Tuesday 25 February, school will close at 12.20pm as all teaching staff who are members of the PPTA will attend a branch based union meeting held under the provisions of Section 26 of the Employment Relations Act 2000.
The timetable for the day will see periods 4 and 5 cut with the timetable running as follows:
08.45: Period 1
09.40: Rōpū
10.00: Period 2
11.00: Interval
11.20: Period 3
12.20: School closes
If your student requires supervision during this time, there will be supervision available. Please contact Jude (jude.aspinall@whs.school.nz) at Reception if this is the case.
---
Calling potential host families for Japanese students
Japanese teacher, Jo Hawes writes: "I am looking for families to host a group of ten students from Japan from March 19 to March 31, for 12 nights. The students, aged 14-17, are all survivors of the 2011 Great East Japan earthquake and have been selected from different schools from around the Tohoku region.  They are very excited to visit New Zealand and to share their experience with us. If you think your family can help and would like to find out more please contact me.  Ngā mihi. 
jo.hawes@whs.school.nz"
---
Paddleboarding perfect waters
Following last week's amazing surf conditions, the calmer weather this week has given Year 12 Outdoor Education students the opportunity to paddleboard at Worser Bay. Conditions could not have been better!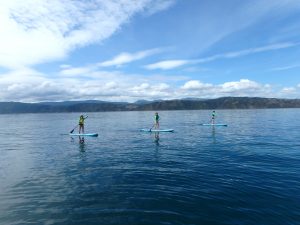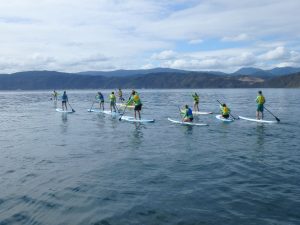 ---
Year 9 at home in the laboratory
As these few pictures show, Year 9 students have rapidly becoming acquainted with the Science labs at WHS and are becoming confident in carrying out experiments.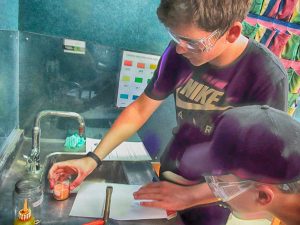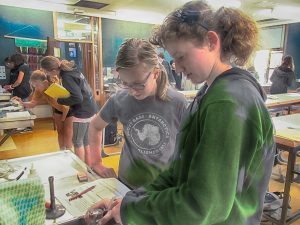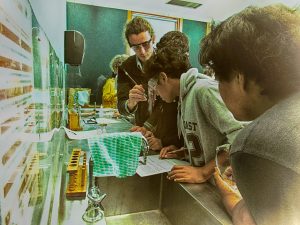 ---
Achievements
Top Art exhibition achievement for former student
Congratulations to Sofi Dickinson-Smith (Year 13, 2019), who has been nominated for inclusion in this year's Top Art touring exhibition of NCEA Level 3 Art. To be invited to exhibit is a real privilege and confirms that Sofi as a top NCEA Level 3 artist last year. Sofi is off to the Elam School of Fine Arts at Auckland University this year and we wish her all the best as she starts her studies there.
The Top Art exhibition is in Wellington from 24-27 February at Massey University's Level C Galleries, Te Ara Hihiko.
---
What's happening?
Safer Internet Day 2020
This week marked the annual Safer Internet Day which was marked by Hon. Jacinda Ardren. Here at WHS, we support students and whāau to have conversations about the way they are suing digital technologies. You might find the following conversation starters from Netsafe useful:
---
Notes from the Music Department
To find out what the Music Department is offering this term, please click on the image below.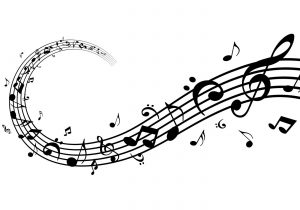 ---
From the Garden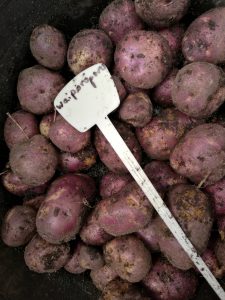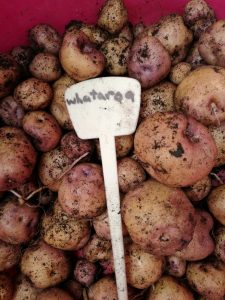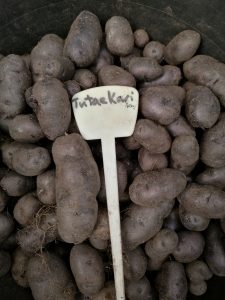 Horticulture teacher Claire Neiman shared evidence of the garden's booming harvest this week. With seven types of Māori potato harvested, plus garlic, onions and a wealth of herbs, Food Tech teacher Bob Naylor has enjoyed beginning to transform them into some delicious kai!