Important Dates
Monday 13 November:

Board meeting 6pm

Tuesday 21 November:

NCEA Teacher Only Day – School Closed

Thursday 30 November:

Enrolled Year 8 experience afternoon

Classes end for Junior students at 12.00pm

Thursday 30 November:

NCEA exams end

Monday 4 December:

Normal Junior timetable resumes

Monday 11 December:

Board meeting 6pm

Wednesday 13 December:

Junior Prizegiving 10am

Wednesday 13 December: Term ends 12.00pm
---
Important Information
NCEA Exams – Derived Grade Applications
If you can not sit an exam and would like to apply for a derived grade, you will find information about eligibility, the application process and the application form on this NZQA website. The completed application form needs to be forwarded to Rebecca Rāpira-Davies at rsr@whs.school.nz no later than 14 days after the last affected assessment date. 
If you have cold, flu or COVID-19 symptoms, you should follow Ministry of Health guidelines. If you choose to isolate yourself for five days because you have COVID-19 and are unable to sit your examination(s) you can apply for a derived grade. In this case, the school will complete the form on your behalf as long as you provide evidence. Evidence should include a date stamped photo of yourself with your positive RAT result, and the text from the Ministry of Health acknowledging your COVID-19 result. 
Please contact Rebecca if you have any questions or need help with this process.
---
Principal's Message – Mid-Term 4
For Dominic's mid-term Principal's message, he is sharing his speech from our Year 13 Senior Celebration Evening, held on Monday 30 October. Read it here.
IIf you would like to read the original Nick Cave article that Dominic refers to below, please visit The Red Hand files.
---
Achievements
Mathematical Olympiad camp invitation for Theo Keith

Theo Keith has been invited by the NZ Mathematical Olympiad Committee to attend the January camp in St Cuthbert's school in the United Kingdom. A big congratulations to him from us as this is a huge achievement. We wish you all the best!!! Kā rawe!!!
---
SPOTY success for WHS
WHS students were nominated across many categories at last weekend's SPOTYs and came away with awards.
Our nominees were:
Floorball – Austin Kyne
Floorball – Frankie Coup
Football – Gabriel Sloane-Rodrigues
Underwater Hockey – Fin Necklin
Underwater Hockey – Oli Necklin
Underwater Hockey – Maddy Murdoch
Water Polo – Ollie Bond
Climbing – Io Arnold Clark
Fencing – Nolan Peterson
Volunteer of the year – Murray Chisholm – Underwater Hockey
Volunteer of the year – Vanessa Miller – Netball
Volunteer of the year – Kini Mitipelo – Football
And the winners were…..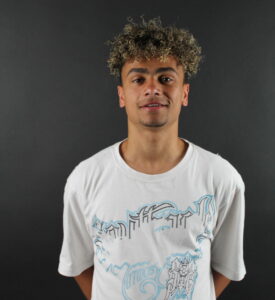 Gabriel Sloane-Rodrigues (left) was named College Sport Wellington Footballer of the Year for the Wellington region, a fantastic achievement.  Gabriel is currently playing in the Under 17s Football World Cup.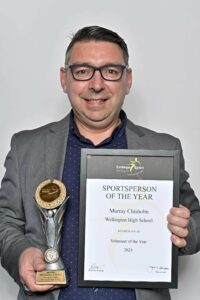 Murray Chisholm was named Volunteer of the Year. Murray has been the energy and drive behind the WHS Underwater Hockey programme for the past 17 years and his stewardship has produced numerous regional and national UWH representatives.
We are proud of our WHS sporting whānau and look forward to many more succcess stories in years to come.
---
What's happening?
He Kākano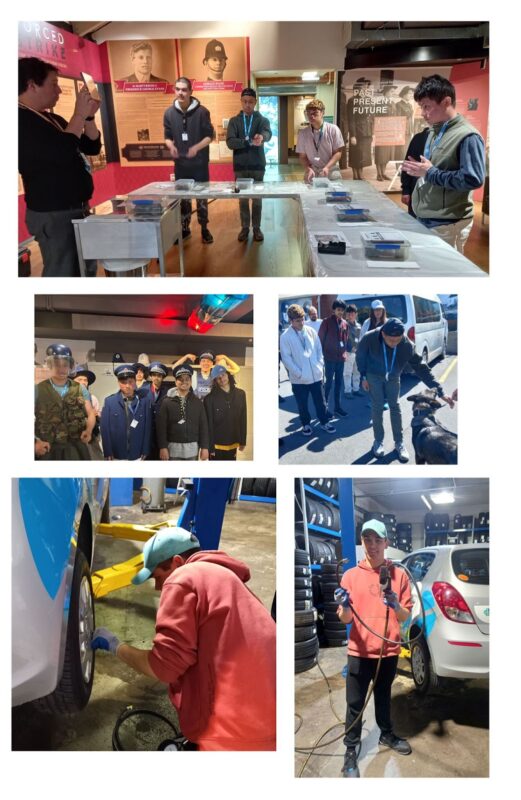 A trip to the Police museum gave ākonga the opportunity to learn about the history of policing in Aotearoa, and practise how to take fingerprints using specialised kits. It was fun to try on different uniforms too! In other news, a senior student has been attending work experience at Advantage Tyre Solutions. He is learning how to carry out vehicle safety checks and tyre replacement.