Important Dates
Friday 24 June – Matariki Holiday – school closed

Wednesday 6 July – Parent – teacher meetings for students in years 11 to 13. 

Friday 8 July – end of Term 2
---
Important Information
Parent – teacher meetings online: Wednesday 6 July
Parents' Evenings for Years 11-13 will be taking place in Week 10, on Wednesday 6 July 2022, 2.00-6.00pm. School will finish at 1.20pm.
This senior student Parents' Evening has moved to an online format for 2022 and is an opportunity to check in on your student's progress with their subject teachers. Students should attend with you.
Given we have moved to an online format please note the following:
The school is using a Google meet platform for the interviews

Each interview is five minutes.

Leave a five minute gap between bookings to allow for moving between Google meets. 

You will be emailed a separate Google meet invitation for each teacher you have booked with and will also receive a summary of all bookings. 

A "waiting room" will be in operation. Please join the meeting closer to your appointed time and wait for the teacher to admit you into the meeting.

To help teachers to admit you from the waiting room at the correct time please log into the meeting using the same account you made the booking. 

We are only able to run one conversation with each teacher per student
HOW TO MAKE A BOOKING:
Check you know which subjects and teachers your student(s) has. You can ask your student, or use the Parent Portal (

https://portal.whs.school.nz/student/index.php

) > Timetable. Teachers' codes are by surname (e.g. BLN is Bell, N)

Enter this code:

5chyv.

Choose the SUBJECT then the TEACHER.

Please leave a five minute gap between bookings to allow for moving between teachers
---
Examination Centre Manager
Wellington High School is seeking an Examination Centre Manager to run the NCEA and NZ Scholarship examinations in 2022.
The smooth and successful running of an exam centre is important for all students participating in these examinations.
The position requires you to complete an online training programme and attend a one-day training session with NZQA in August. The position requires you to complete several administrative tasks to plan and prepare for the exams from August to October. You must be available to work for the entire exam period (Monday 7 November 2022 to Friday 2 December 2022).
A high level of organisational skills with great attention to detail, strength in following processes precisely, confidence leading people of all ages, proficiency in using a computer and learning to use new computer programmes are essential qualities for this role.
If you are interested in applying, click here!
---
What's happening?
Sports Science
Sports Training and Sports Science showed off their muscles at Massey Gym last week: chest and leg days. Thank you to our friends at Massey for having us and sharing your skills!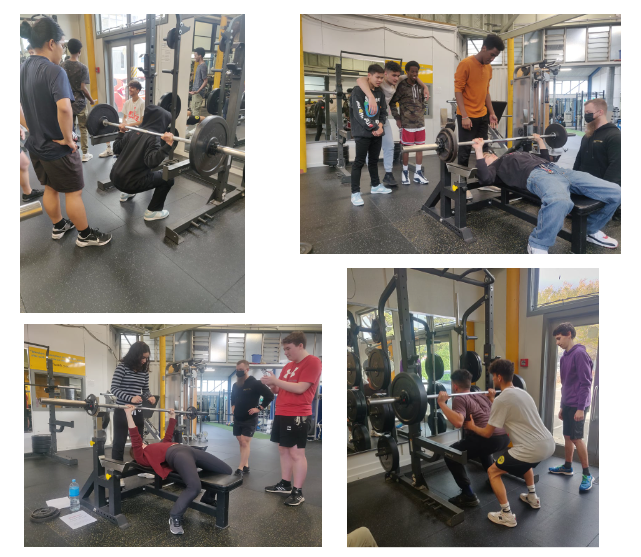 ---
Wellington Schools Japanese Trivia Champs
On Friday night two teams of Year 10 students represented WHS in the annual Japanese Trivia Champs. It was a fun night with games, Japanese snacks & some tricky questions that even had their sensei stumped! e.g. What is the second highest mountain in Japan? For future reference it is Kitadake located in Japan's Southern Alps!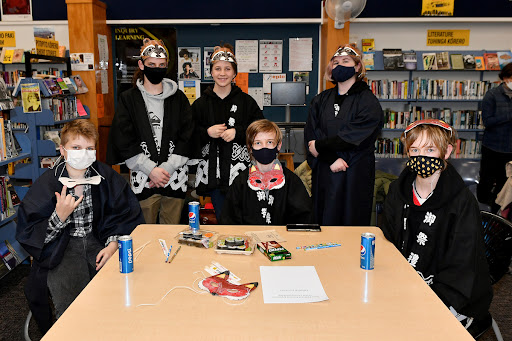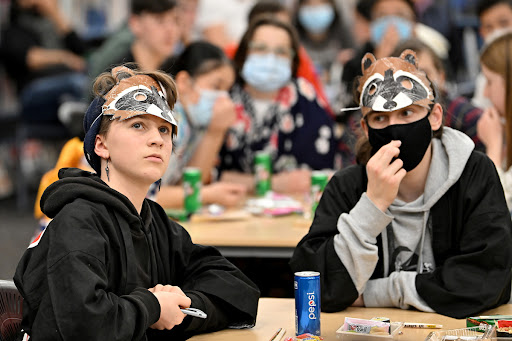 On display at the Japan Festival on Saturday was the giant kimono that the 2020 Japan Club students helped to create as part of an inter-school collaborative project showcasing the connection between NZ and Japan. Our panel is bottom left.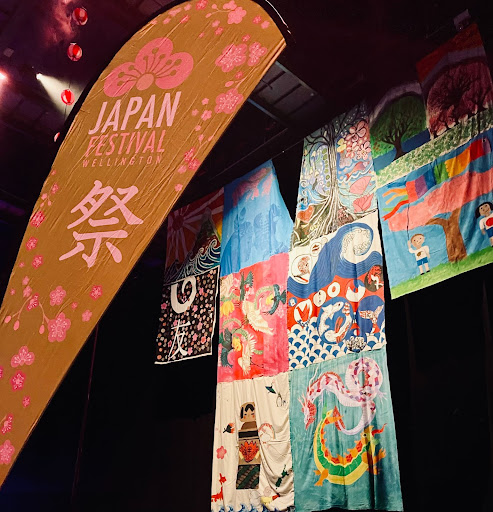 ---
Tauranga Jazz Festival 2022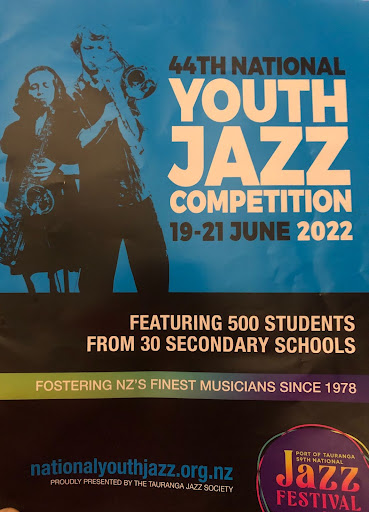 A group of 25 music students spent the last few days in Tauranga competing in the Youth Jazz competition. All of the five bands that entered were prizewinners. Office Max, Mel Stevenson and Vege Trio all gained gold and the Girls 1st XI gained bronze in the combo section. The big band won gold in the big band competition. Individual prizes went to: 
Harry Lentell – best drummer

Louis Holland – best trombone

Nico Buhne- best piano

Jack Harris won best musician of all the combo bands!
It was great spending time watching these talented young artists do their thing. All their  performances were outstanding, entertaining and a real joy to watch!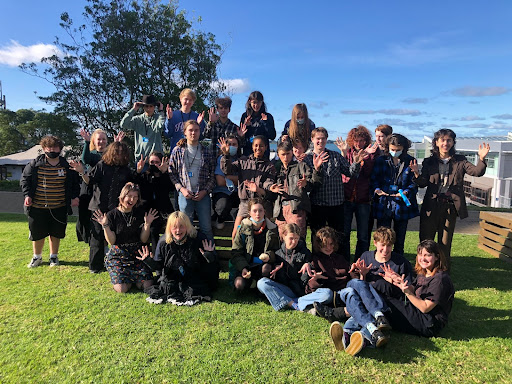 ---
Sustainability Trust Workshop
Last week year 12 Business Studies and year 13 Economics students attended a workshop at the Sustainability Trust on Forresters Lane. Students learned about sustainable flatting tips, sustainable projects within Wellington, the community curtain bank (free warm curtains and drapes for anyone holding a community services card), and how to reduce waste in day-to-day living.
The presenter mentioned how fun the WHS ākonga are and how they were "great at engaging and asking thoughtful questions about the mahi".
WHS thanks the Sustainability Trust for their fun and informative engagement with our community of learners.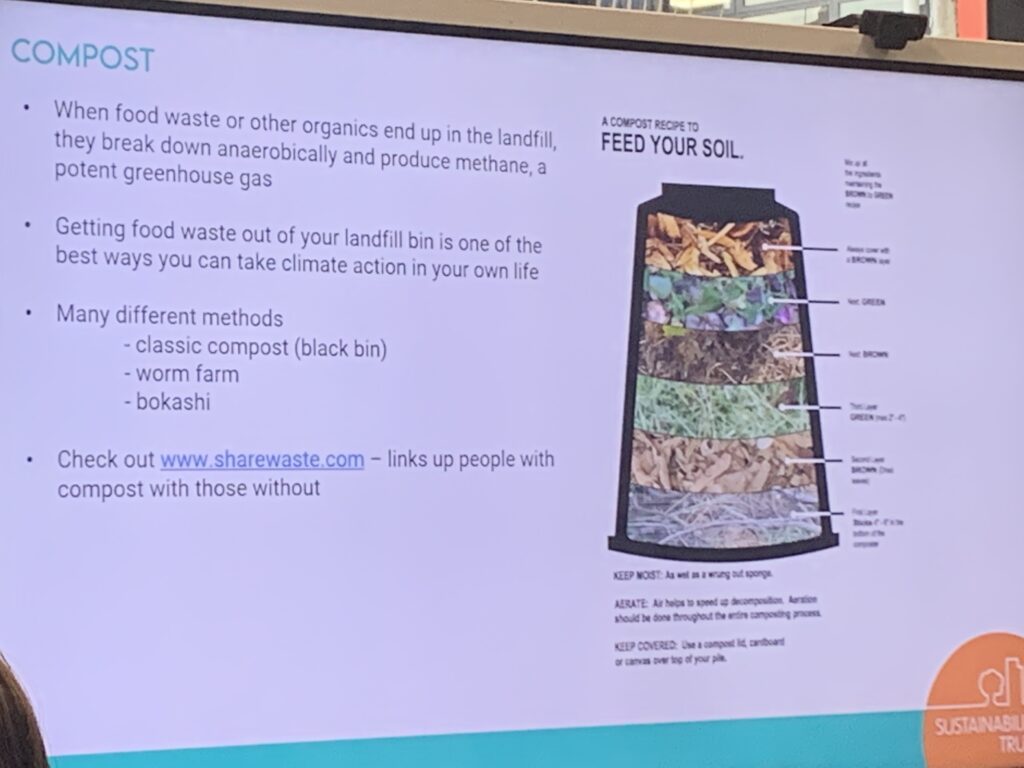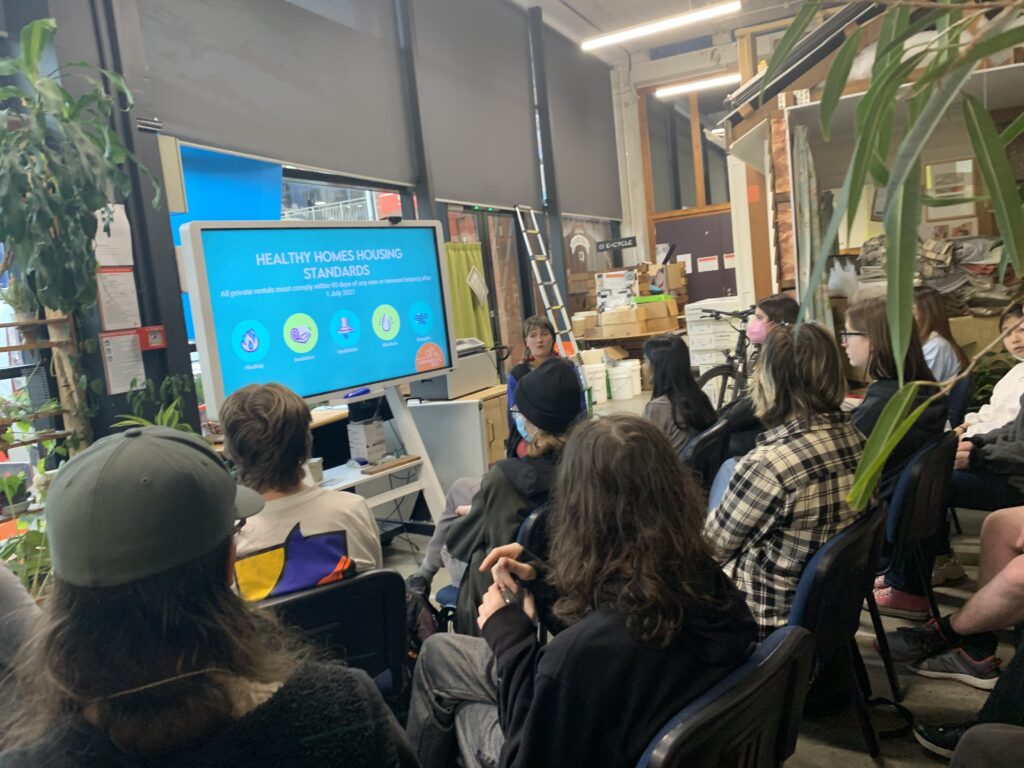 ---
NZCT Chamber Music Contest Regionals Wellington
Three WHS music students have made it into the regional chamber music contest and will be playing on Saturday 2 July in the Adam Concert Room, Vic Uni, Wellington
Francesca Rotolo- piano

Alex Buyck- clarinet

Issy Ross- piano
We wish them all the very best.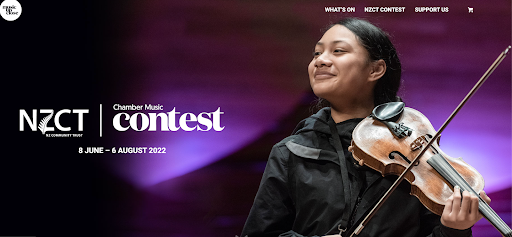 ---
Rockquest 2022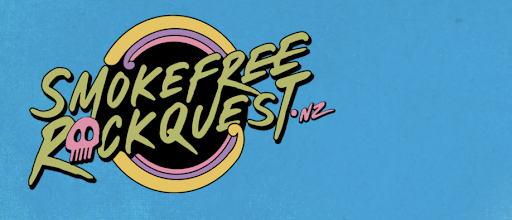 Rockquest heats are coming up and we have students playing in quite a few bands!
In the first session at 1pm we have Fuzzdrive, and in the second session from 3.30 – 6.00pm we have Antiphonal Riot, Riversnake, Mel Stevenson, Disconnect, The Nauticals, and Bleeding Star.
This will be a fun afternoon of original music that you are most welcome to come along and support at Sacred Heart Performing Arts Centre (Lower Hutt).
---
Joseph K Year 13 Drama Production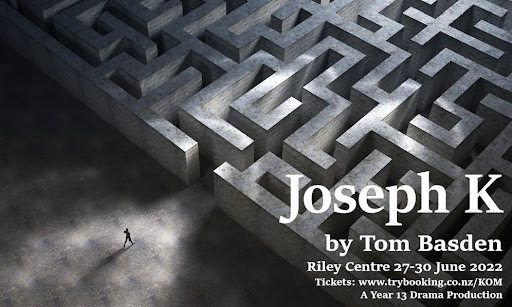 Tickets are now available for the Year 13 Drama production, Joseph K. It's an "everyman" story about an individual versus society – based on The Trial by Franz Kafka, a dark story of a single person's quest for freedom. Tickets are available for purchase here.
---
La Traviata 
We are delighted that our WHS students have been invited to the Dress Rehearsal of La Traviata on the 7th July, 7.30pm, at the St James Theatre. No Charge. Anyone welcome!
Ms Bates, Ms Hercock and Ms Hodge have details. Please book at the link below by 1 July.

---
Blank Canvas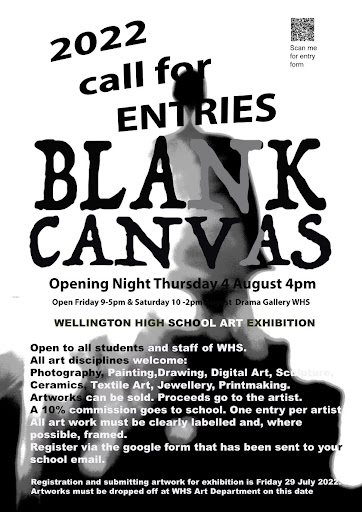 A reminder that a Google Form has been sent to all school emails regarding submissions/registration for the 2022 Blank Canvas Art Exhibition. The closing date for these submissions is the 29 July, so get in quick!
---
Achievements Sport
NFFD Youth Competition 2022
Congratulations to Atom Gush who was a finalist for two of his stories in the Fingers Comma Toes National Flash Fiction Day writing competition! Both of his pieces Gone with the Mist and What They Told Me were shortlisted in the competition.
---
Children's General Assembly Forum 
Last year, Jasper Barkett-Greenberg was selected to participate in the first Children's General Assembly in Denmark which, miraculously, he was able to attend during the pandemic. Recently, Jasper has been selected to be a member of the newly formed Children's General Assembly Forum. He is one of 12 children from around the world to be selected. The organisers, Capital of Children-Denmark, have invited him to participate in person at the next Assembly in Denmark in September. What an awesome opportunity – congratulations Jasper!
---
Sport
U17 Capital Football Tournament
The WHS-Wellington Utd team played in the U17 Capital Football Tournament last Sunday. They had a 2-2 draw vs Wainuiomata. Congratulations to the team!