Wellington High again took out many of the senior prizes at the NIWA Science Fair.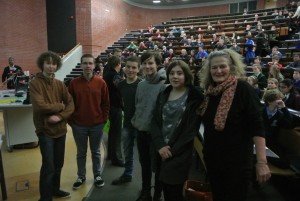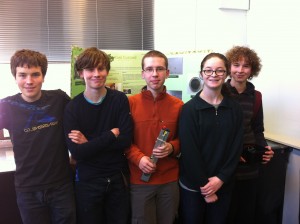 On the Technology side
Daisy Abraham
and
Ruby Medlicott
won prizes for their Kiwi Custard – a lactose-free custard designed for the Asian market.
Callum Davidson and James Matheson won prizes for their 'Renewable Energy from Recycled Parts'  – a project which will be able to generate clean water and power using solar energy, based around a Fresnel lens from an old TV and a high-tech solar tracking system.
Shakked Noy won prizes for his presentation of 'Circle of Light', an investigation of the reflection of laser light from a wire, winning Highly Commended and a prize of explaining a principle of physics from Victoria University.
Tess Breitenmoser's project 'Solar Scorcher'  investigated the chances that a bottle of water could set fire to
something, when it focuses the suns rays. (Don't leave bottles where they can focus on newspaper!) She won third in class 5 (Years 11-13) and a prize for the quality of her Powerpoint presentation.
Jack Tregidga
, fresh from captaining the NZ physics team in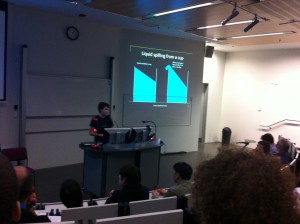 Thailand (and yes, we do sometimes call him Captain Jack!), won first prize in class 5 for his 'Clumsy Coffee Cup' presentation. Jack investigated the causes of spilled coffee and how the shape of the cup and speed of walking affects the change of coffee spilling. The judges were quick to point out that Jack's solution is not just scientifically interesting – it has very practical importance in the catering industry where spilled hot drinks are a serious issue. Jack also won a $4000 Victoria University Wellington scholarship and a week long, all-expenses paid trip to the "Otago Hands-on Science" week.