Ka tangi te Titi, Ka tangi te Kaka, Ka tangi hoki ahau, Tihei Mauri Ora
This has been a really difficult term for staff and students. The lockdown experience reminded us of the strange 'new normal' that we live in now. It came at a time when staff and students were trying to deal with the loss of one of our teachers, Michael Neville. So many here are all still trying to process our grief in relation to Mike.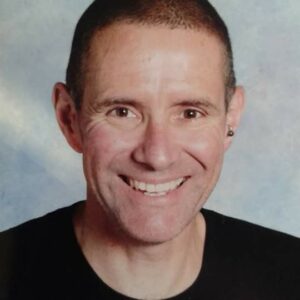 Mike came to High in 2007. He arrived at the same time as our current Head of Mathematics and Assistant Principal, Caroline Lewis. He had always wanted to work at Wellington High School, an opportunity arose and he jumped at the chance. He built a strong working relationship with Caroline and the rest of the mathematics faculty and he quickly established himself in the school. His quick wit, his deep care for the students he taught and his willingness to support a wide  range of activities at High moved him into that very special category of teacher. And he was funny – just ask the students and the teachers. Mike seemed to have a joke about everything. Some of the students captured a couple on the windows in the foyer:
"Hey this is my stepladder, I never met my real ladder!"

"Wait mister! 78kgs, why does everyone keep asking?"
At the end of the first day of year 9 Mike would remind his students that "… you have finished the first day, only 5 years to go" with his trademark chuckle.
Mathematics classes were full of Stuff quizzes, peanut slabs on student birthdays, dad jokes, talk of motorbikes, mathematics and Education Perfect, or as Mike would call it, "education pretty damn good" or "edumacation perfect". He made his class fun and so he made his subject fun. So many students remember Mike as the reason they liked maths. We all want to inspire our students in our respective areas and Mike did that so easily.
He built connections with all of the staff and led a cryptic crossword group (which we tried to call 'Brian' but it didn't stick) at break times. Alison Hodge, our Head of Drama, was a member and told me that "…anyone who made the mistake of sitting with us or showing the remotest crumb of interest in the crossword was in immediate danger of a lesson in clue solving from Michael and a copy in your pigeonhole for later". 
He was one of the foundation members of the staff dragon boating team and had been an integral member for the last nine years, not only because his technique was outstanding, but also because he made it fun for everyone else. 
He was a keen cyclist, often telling me of his rides the day before which sounded more like 'Tour de France' stages to me. He frequently rode to Wainuiomata and back (to the city) on a weekend because that's where his mother and father lived. He loved to go out to Wainui to take care of them in their last few years. His father passed away in 2017 and his mother in 2019. 
Mike shared his love of mountain biking with our students, running a mountain biking club for 8 years from 2013 to 2020. This normally ran on a Friday afternoon when many of us like to contemplate a quick transition to the weekend. Not Mike.
Mike also loved his motorbikes. He wore the scars of this love like a badge of honour with his boney outcrop on his lower left leg. Mike loved nothing more than to take his bike up over to the Wairarapa and test its power. His 'TWIST' tattoo on the space between thumb and right forefinger was everything you needed to know about his love of bikes. 
Mike had that ability to light up a room just with his presence and a joke was always lurking. In our staff room, jokes became 'Mike Neville' jokes as in someone would make a joke, to be met with "Ah, Mike Neville'. I used to get a little irritated by this and I put it to Mike that he didn't 'own' jokes – he met my comment with his usual, trademark chuckle.
I started this message mentioning the difficult time this has been since Mike's passing. I am so thankful to our staff for the support they have shown towards each other and our students. It was also really nice to feel the support from other schools who obviously appreciate the loss we have felt. They allowed us to 'borrow' their guidance counsellors and provided morning teas for staff, allowing us to keep the connections between ourselves strong.
I also appreciate all the care and love that staff and students showed towards Mike during his time here. There were so many people constantly looking out for him and talking to me or to others about him with great care. Losing someone leaves a void and we have to learn to live with the loss. It's painful and at lots of times in our lives, we will think of Mike and our thoughts will be both happy and sad. Happy because he brought so much joy to us all, sad because we have to deal with our loss, our colleagues' loss, and the loss for his family and friends.
There will be a memorial for Mike, I am not sure when. Mike's family have told me that they are waiting until family from Auckland can attend and we are all happy to wait.
E hoki ki ō maunga, ki ō awa, kia purea ai koe i ngā hauora ō Tāwhirimātea
Dominic Killalea
Principal