Senior Boys First XI Football
Tournament week saw us extend our three-month long undefeated streak to seventeen games (with fourteen wins), which unfortunately ended in the quarter-finals. We finished a creditable sixth in a twenty-four team competition, the highest finish for WHS in a number of years. It was a positive end to a wonderfully successful season, which was especially meaningful as it was the final year of representing the school to the ten Year 13s in the team.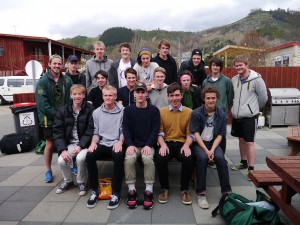 Senior Girls First XI Football
The WHS Girls' 1st XI Football team competed in the NZSS Grant Jarvis Football tournament held at Wakefield Park during winter tournament week. The young team included a number of new players for tournament and they steadily improved throughout the week. After a relatively slow start they really started to gel, winning their last four games to take out 9th place. Staying and playing together for a full week was a fantastic team experience and the girls are feeling inspired to continue training together in the off-season. Congratulations to coach Carlos Junca for all his work with the team, and to Maggie Blackburn who was nominated by opposition teams as Wellington High's tournament MVP.
Senior A Netball
Senior A Girls went to Hawkes Bay for their winter tournament. The squad was depleted with sickness and injury, finishing with only one substitute. They played with great sportsmanship and were awesome representatives of WHS. The results did not go their way, but they are a young, developing squad who will benefit greatly from this experience. The coaches Kendra and Toni did a fantastic job with the girls and everyone enjoyed the week.