Important Dates
Thursday 5 August: Teacher Only-Day

— school will be closed. 

This is a Wellington-wide day to help teachers prepare for NCEA changes that will begin to be implemented in 2022.

Monday 9 August: Junior Parent-Teacher interviews

begin at 2.30pm. 

Lesson times will be adjusted, no rōpū, and students will be dismissed at 1.30pm. Cafeteria will be open.

Monday 9 August: Board meeting (6pm)
Monday 16 August: Future Focus Evening (3.45 – 6pm) & Careers Expo (afternoon)
Friday 20 August: Mid-term break:

School will be closed

Monday 23 – Friday 27 August: Senior Derived Grade Exams
Wednesday 22 September:

Friday timetable replaces Wednesday timetable. No late start; school starts 8.45am.

Friday 24 September: Learning Conversations (all years).
Friday 1 October:

End of Term 3
---
Important Information
Senior Derived Grade Exams
Students in Year 11—13 will be sitting derived grade examinations in some of their subjects between Monday 23 August — Friday 27 August 2021.
The timetable, student instructions and a revision advice booklet can be found via the main link on the Student Hub > Senior Derived Grade Exams 2021. Hard copies of timetables have also been provided.
An email has gone home this week outlining the key information related to the exams. You can access it online here.
---
What's happening?
In Blind Faith 
Musical written and directed by Year 13 student Cadence Chung (2-6 August)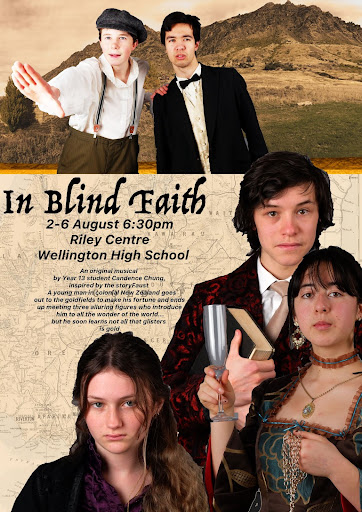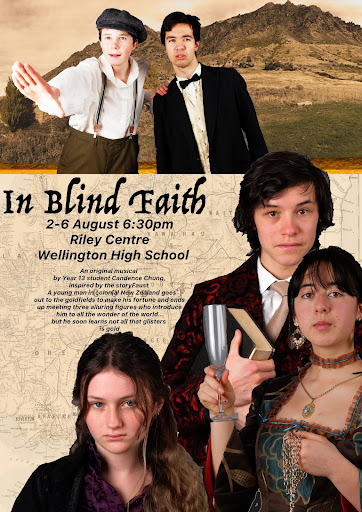 The show runs from Monday 2nd to Friday 6th August; tickets $5 for students and $10 for adults (through student services). The musical is based on Goethe's Faust and set in colonial New Zealand, featuring a cast and crew of over 30 students. This is an extraordinary achievement, and a piece of WHS history in the making – congrats to Cadence and her crew for making this happen! (KNM)
---
Blank Canvas
Our annual community art extravaganza, Blank Canvas, opens this week in the Drama Gallery.
Opening times: Saturday 31 July: 10pm-2pm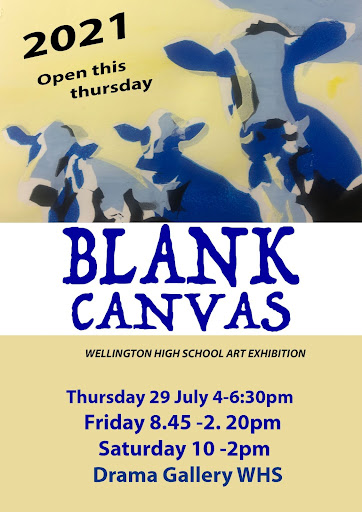 All work for sale can  be purchased through Student Services. 
---
Year 9 Student Voice Survey
Year 9 students have been asked to share their experience of connection and belonging in their Herengatahi. A survey will be sent to their school email in week 3. We encourage whānau to support their students to fill this in at home. RDM
---
Award Winning film director visits 10 Royal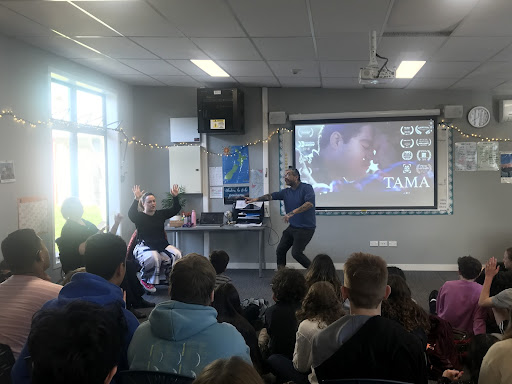 Jared Flitcroft (Ngāti Maniapoto), an award winning film director came in to speak to the 10 Royal Whānau at the end of last term. This was an especially enriching presentation as Jared is Deaf and therefore gave his speech in NZSL, with an interpreter being his voice. His short film 'Tama' has won many awards, both nationally and internationally. Jared spoke captivatingly about how he wrote the story of 'Tama' when he was just 16! He also spoke about how he got into film directing, took himself through film school as a Deaf person, without interpreters unless funded by himself. His story was inspirational.
---
Predator Free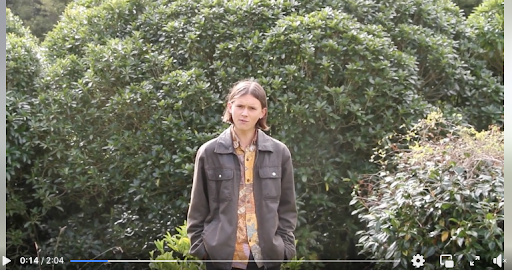 Praise came from Predator Free New Zealand this week for Harry Lentell (Year 12) for leading the trapping efforts at Wellington High School with his video encouraging others to get involved:
Harry said "the aim of the video is to be attention grabbing and not too serious. Often we get shown videos in form class that are extremely boring and way too long, so I tried to make mine the opposite.
---
He Kākano
Our students are enjoying classes after their term break. The juniors are studying the New Zealand Government system to produce a presentation to their social studies class. We are also teaching literacy to seniors. Sculpture and painting in art is a fantastic way to creatively express our personalities.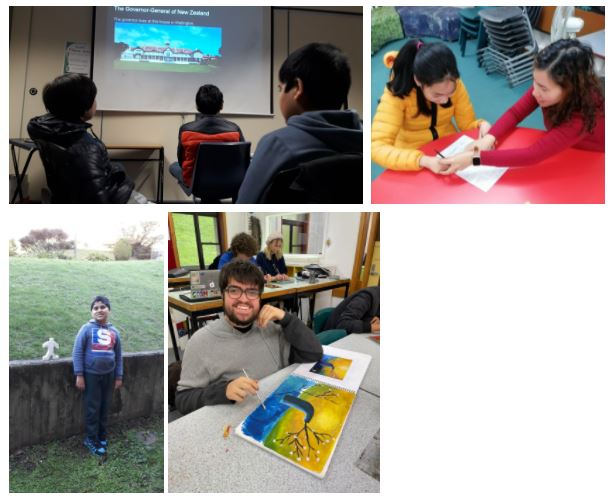 He Kākano Teacher Aide in training for  Special Olympics
Rebecca Heath, long-serving He Kākano Teacher Aide is in training for the Special Olympics later this year. A keen sportswoman, Rebecca has recently challenged herself to take up Golf as she prepares to compete in her sixth Special Olympics. You can read more about Rebecca and her incredible achievements in this NZ Herald article. It goes without saying that we will be following her in competition this December and wishing her well!
---
Sports
Olympics
We celebrate the participation of alumni Anton Down-Jenkins (Diving) and Josh Junior (Sailing) in the Olympics this week.
You might enjoy this great article profiling Anton:
https://www.stuff.co.nz/sport/olympics/nz-olympic-team/300318085/diver-anton-downjenkins-proud-to-fly-rainbow-flag-at-olympics
---
Futsal Nationals
The NZ futsal nationals took place in the holidays and WHS had two representatives: Seth Mitchell-Webster and Caleb Ling. Seth's team (Capital u19s) ended up winning the u19 tournament, beating Canterbury in the final. Seth won the golden gloves award. Caleb Ling (year 9) was also representing Wellington for the u14 boys. They placed 2nd and he won the MVP award out of all the u14 boys.