Important Dates
2-4 December:

Year 10 Camp

2-4 December: Year 9 short courses and tramp
3 December:

NCEA exams end

5 December:

Year 9 Picnic & Year 10 Options Day (9.40am late start for Year 10)

6 December:

 Junior Prizegiving (see below)

6 December:

 End of Term 4
To see our Term Dates for 2020, please visit : http://www.whs.school.nz/term-dates/.  
---
Important Information
Final week of term
The timetable for the final week of term is altered as we celebrate the year and students try out new opportunities. Emails have also been sent to Year 9 and 10 whānau.
Monday 2nd — Wednesday 4th December:

Year 9 short courses and Year 10 Camp

Thursday 5th December:

Year 9 Picnic and Year Options Day — altered timetable for Year 10 below

9.40am start with rōpū

10.00 – 11.00 / 11.20 — 12.20: Option 81B

12.20 – 1.20 / 2.20 — 3.20: Option 82B

Friday 6th December: Last day of term

8.45am – Students go to rōpū rooms for final admin and farewell from their rōpū teachers.

10.00am – Junior Prize Giving, in the hall

12pm – End of school for 2019.
---
Whānau Survey 2019
Below you will find a link to our Whānau survey 2019. This survey is geared towards helping us evaluate how well we have worked with you in 2019 and will help identify areas that we can seek to strengthen as we move into 2020 and beyond. 
The survey focuses on our WERO values: (Whānau, Excellence, Respect and Ora) and the questions we have asked reflect these values while also linking to our strategic plan. 
You can access the survey here: https://forms.gle/zHfANKAGepC2B8pn6
Thank you for taking the time to provide feedback.
---
What's happening?
Blessing our new waka 
Last Sunday (17 November), staff, students, and whānau gathered on the beach at Petone to bless our kura's new waka .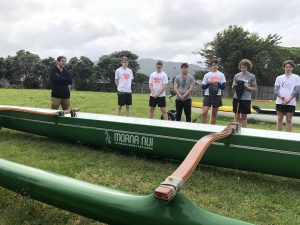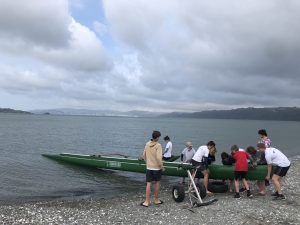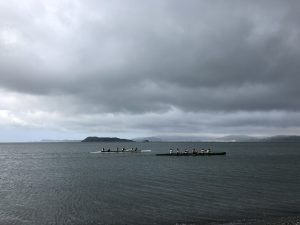 ---
Year 10 students on RadioActive 
Some of the tāonga produced for the 'Navigating our Past' project have caught the ear of a RadioActive D.J. On Saturday 22nd November, the Caffeine and Aspirin show featured a podcast dealing with the arrival of Cook and Tupaia, created by Ike Hayes, Levi Oliver, Hugo Randerson, Flynn Arnold, and Ethan Johnston. Ike, Levi and Hugo were then interviewed, talking about the podcast and the overall 'Navigating our Past' project. Congratulations to these students, who spoke extremely well.
Listen to the podcast and interview here
---
Year 10 Students visit their Tuia 250 Exhibition
WHS Year 10 students visited the Tuia 250 Exhibition today to see many of their own art works exhibited for the nation to see in the Queen Elizabeth II Pukeahu Education Centre. Educator Dr. Emma Kelly praised the students' work and thanked them for sharing it with the city and the region at this important time of commemoration and reconciliation. Congratulations again to all students involved in this project.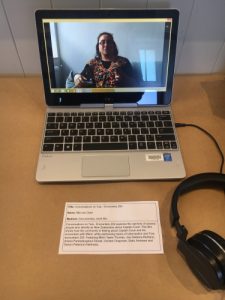 ---
Year 10 Industrial Art at work
We are used to seeing the results of the Year 10 sculpture projects but this week we saw their work in progress. Pictured are Year 10 students in the final stages of constructing their semester sculpture: a giant roller skate. Be sure to keep an eye out for this one when it hits the campus in early 2020.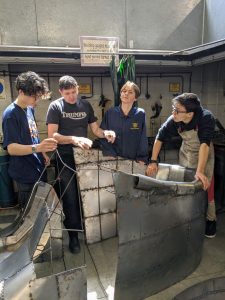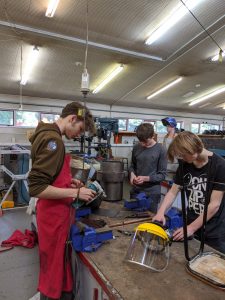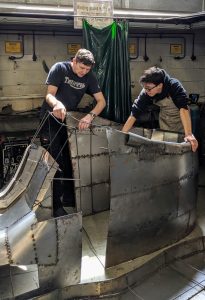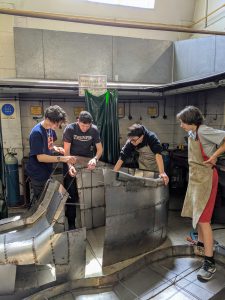 ---
Heated propagation for Horticulture
In preparation for the new year, heated propagation benches have been constructed in the greenhouse and the first plants are already benefiting from them.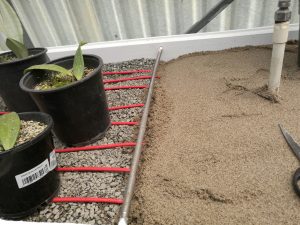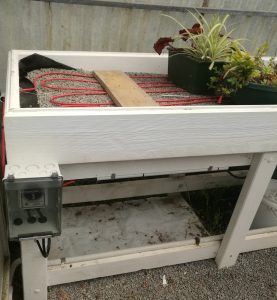 ---
Achievements
Maths competitions 2019
The following students performed superbly in the Maths competitions that have been held throughout the year:
Otago University Junior Mathematics Competition
Atom Gush

Top 200 out of 2531 year 10 entrants

Mila Van Stokkum

Top 15%
Kiwi Mathematics Competition
Atom Gush

Top 3%

Mila Van Stokkum

Top 3%
Australian Mathematics Competition
Sky Gobbi

Top 3%

Corwin Heath-Cameron

Top 7%

Atom Gush

Top 10%
---
Sports
Rowing regatta
WHS Rowers had a great regatta last weekend. Students arrived at 6.30am, rigged their boats and got on the water for the first race. The regatta finished at 2pm, so it was a long day for all concerned. The students did an amazing job, and all had sore blistered hands by the end of it. They were back at 6:30am on Monday morning training, so kudos to them for their stamina and resilience!
Over the school holidays, these students will continue to train 4-5 days a week. The upcoming events are as follows. If you are close to any of these areas come and watch:
7th December – Jury Cup – Whanganui
12-17th December – KR1 – Cambridge
21st-27th January – KR2 – Cambridge
1st February – McLachland Shield – Wellington