Important Dates
Monday 21st – Friday 25th September:

Mental Health Awareness Week 

Friday 25th September:

End of Term 3

Monday 12th October:

Start of Term 4
---
Important Information 
Wellington Trades Academy 2021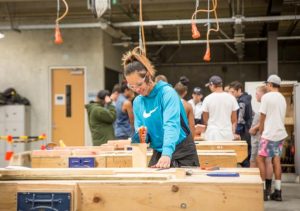 This programme offers a mix of in-school subjects and practical training off-site. It is for students studying for their NCEA L2 or L3 next year.
Subjects include: Conservation/Sustainability, Intro to Animal Care, Health Science. Intro to Creative Technology, Barista/Café Service, Engines (Mechanic), Mixed Trades (Construction, Electrical,Plumbing, Painting) and more…offering different credits.

The Trades Academy programme is most suited to students who have some idea about the practical and hands on career they wish to pursue when they leave school

They need to have a good attitude, attendance, be punctual and reliable.

Students must also commit to be motivated to learn, keep up with all school work to making the most of the opportunities that this programme offers.

It can be 1 or 2 days a week (depending on the programme you choose)

Venues include: Wellington City, Petone (Weltec) or Whitireia (Porirua); 

Snapper Cards are provided by WTA
If you/your students are interested in any of these programmes, please do not hesitate to contact me and students can collect an Expression of Interest Form from CHUNI BHIKHA (Careers Teacher/Trades Academy Coordinator) / bac@whs.school.nz 04 3859 911  Extn: 827.
---
Achievements
WHS takes out the Wellington Regional Debating Grand Finals
This week was a very exciting week for Wellington High School debating with two of our teams being in the Wellington Regional Grand Finals.
The Junior Prem team had their final on Wednesday 16 September at St Catherine's College. In front of a good sized audience, a panel of three adjudicators, and up against Tawa College, Wellington High School successfully defended the moot: 'that social issues should be decided by referenda (rather than Parliament)'. This is only the third time Wellington High School have won the 'W.G.T Wiggs Trophy' since it began life in 1974, which is a fantastic achievement for the team. We last won this trophy in 2017. Wellington High School's Junior Prem team is Sky Gobbi, Fergus Martin-Edgar, Liv Calder and Tom Bonert. Thank you very much to Kelly Jean-Louis, our Wellington High School teacher who has coached and mentored these students this year.

The Senior Prem B team had their final at the Wellington High School Library on Tuesday 15 September.  They were defending the moot ' that the United States should stop selling arms to Saudi Arabia'.  After a very close debate, our team narrowly lost to Wellington College. Our Wellington High School Senior Prem B team is Julia Randerson, Alex Buyck, Rata Petherick, and Corwin Heath-Cameron. Thank you to their coaches Xandi Gobbi and Roman Barlow for their support this year.
Congratulations to both teams on a very successful year.  We are very proud of you.
---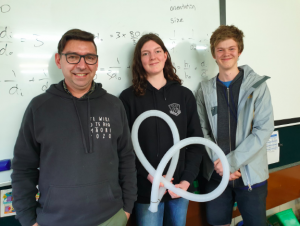 Winners at NIWA Science Fair!
Yet again WHS took out the prizes at the Science Fair. Ryan Bright's 'Bottle airflow investigation' won Second in Class 5, a VUW Faculty of Education prize the Victoria University of Wellington School of Mathematics and Statistics prize.  Lydia Acton won the Victoria University of Wellington Faculty of Science Innovation Prize , First in Class 5, and won the NIWA Prize for best overall exhibit!
Lydia and Ryan are pictured left with teacher/mentor, Murray Chisholm. Lydia is holding one of her Swinging sound tubes.
---
What's happening?
Te Wiki o Te Reo Māori!
This year Te Kura Tuarua o Taraika ki Pukeahu has celebrated Te Wiki o Te Reo Māori in style, with our own hoodies and tee-shirts celebrating Taraika, a lunchtime Ki o Rahi staff vs students game, a Te Wiki themed lunch of rewana lamb burgers provided by the amazing hospitality students, and a range of speakers and other activities ia rā, ia rā! Our wānanga have included guests such as Te Kahu Rolleston (spoken word poet), Andrew Little (Minister of Treaty Negotiations), Tamatha Paul (Wellington City Council), Troy Kingi (musician and actor), Joe Daymond (Comedian), Arihia Latham (Rongoā Māori practitioner) and Safari Hynes. Mauri ora Taraika! 

---
Ergonomic design
Level 1 Design and Visual Communication ( DVC)  students have been working on making sure their chair designs are ergonomically viable. They have been transferring the profile of their designs to our new ergonomic testing chair. The chair has movable poles which allows the students to explore different angles and make alterations to their designs based on comfort, aesthetical considerations and also thinking about the intended purpose and context. We can't wait to see their finished products!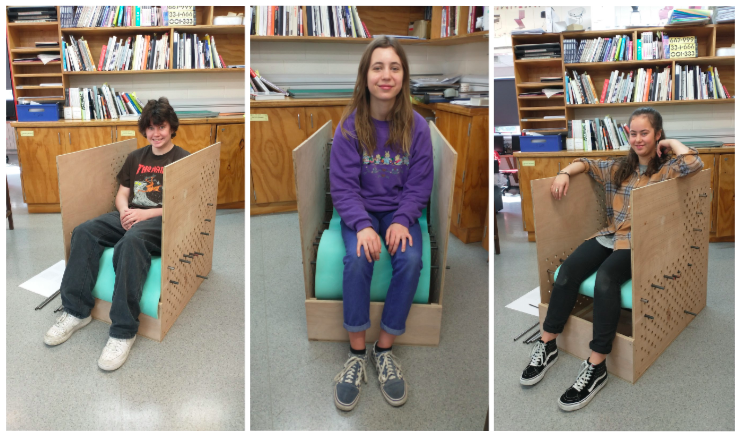 ---
Hospitality news
Level 3 Hospitality have been busy preparing 'Pan Bagnat' a delicious french baguette filled with everything. If you don't know what a Pan Bagnat is, It's like a nicoise salad stuffed in a baguette, wrapped and squashed over night for extra yumminess.Today was delivery day to our staff at WHS! What a treat!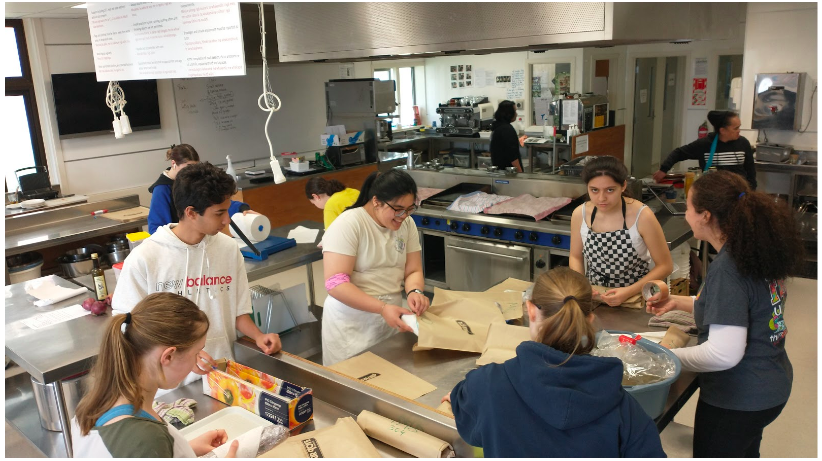 ---
Science for English Language Learners
These students are studying the impacts people have on the environment and on Tuesday the weather gave us a treat as we took a walk in the beautiful sun at Zealandia.  The tuatara were basking in the sun too!
---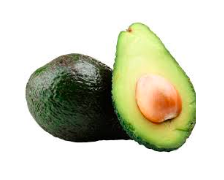 Fresh Avocado Term 3 edition
Latest edition of 'Fresh Avocado' out now — this is the termly journal published by the English Faculty featuring prose and poetry by WHS students.
This edition features writing from Alex Quinn, Abby Scott, Friday Meulengracht-Madsen, Joyia Raymond, and Millie Crowe.  Thanks to these students. A $20 book voucher will find its way to you shortly!
---
He Kākano
We were busy out and about around Wellington last week including a visit to the Botanical Gardens. This week our students are back in class learning cooking safety skills, measurement and cutting accuracy in fashion technology and collage in art.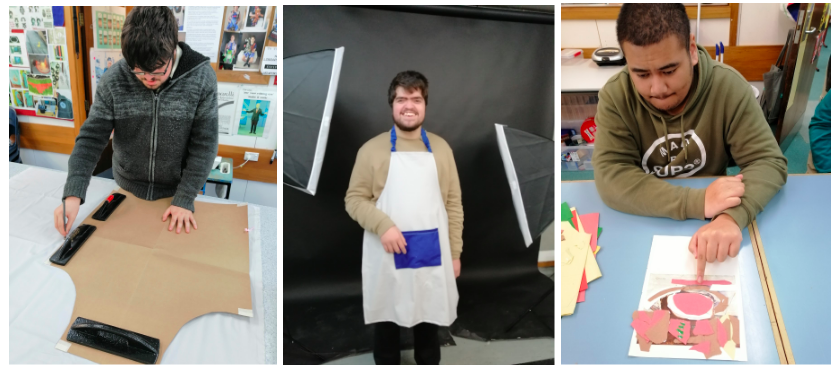 ---
Mental Health Awareness Week!
 Next week is Mental Health Awareness Week! The guidance counselling team has liaised with other students and staff across the school to put on some activities at WHS to mark this important week. On Monday, come to the foyer to learn more and:
see the display of what wellbeing means to us at WHS

pick up a pamphlet to learn more about mental health and wellbeing

take part in the creative slogan/logo competition
Also in the week, there will be the opportunity to take part in a Student Wellbeing Quiz, 'Just Dance' and blow away your troubles! The Mental Health Foundation have also organised some activities you might be interested in:
On Facebook, Instagram or Twitter? Get involved in the

Wellbeing Photo Challenge

.

Want to do something that connects Te Wiki o Te Reo Māori and Mental Health Awareness Week?

Tuputupu

is a three part workbook that looks at wellbeing in terms of our unique indigenous culture, our overall health using Te Whare Tapa Whā and the growth mindset.

Looking for a great way to relax and unwind? Try printing off the mindful colouring templates

here

.
---
Wheeler's Luck — Year 11 Drama Production
The Year 11 drama class are performed Wheeler's Luck this week. 
It's a VERY broad comedy set in the small town of Bell End, which is itself stuck in the middle of the 1980s. Students have worked incredibly hard to pull this production off. Well done to the students and Ms Hodge (drama teacher).

---
Sports
Boys' Football 1st XI
This team finished top of Division 1 season, played on Saturday 12th semi final versus Upper Hutt winning in penalty shootout. Now they are playing Scott College this Saturday 19th for the final at Wellington HS, kick off 10,45
Junior Boys' football
Our junior boys' football won their last game very convincingly 8-3 with Mongkol getting a trifecta in the first half. A great end to a great season and wonderfully coached by our wonderful Ben Roth-Shank. This was their special Principal's pose.