Important Dates
29 April : Start of Term 2
2 May: Senior Parent-Teacher Conversations, 2pm – 5.30pm
6 May: Junior Parent-Teacher Conversations, 2pm – 5.30pm
31 May:  Wellington Loop Day (Teacher only day)
3 June: Queen's birthday holiday
5 July: End of Term 2
---
Principal's Message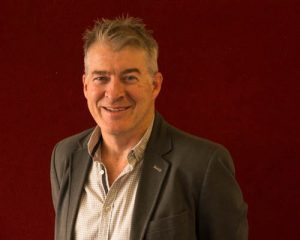 I write at the end of term 1, a term when we are getting down to business for the current year but where we also reflect on what happened last year. In our analysis of results I have been interested in the link between achievement at NCEA and connectedness. In our strategic plan part of our vision statement is that our young people "will be confident, connected, actively involved, and lifelong learners."
Connectedness reflects that students want to be at school and this is shown firstly through their attendance but also through their involvement in the wider opportunities that school affords them.
In the table below I have compared students who were involved in at least one activity (sporting, cultural, club, society, etc) with their level of NCEA achievement. The first 2 rows indicate the number of students in each senior year involved in at least one activity, then expressed as a percentage of the whole of that cohort. In the following rows, I have calculated the average number of activities that students were involved in compared with their level of endorsement. For example, at year 13 last year, students who achieved NCEA level 3 with Excellence endorsement were also, on average, doing 4 other activities (sporting, cultural, etc) at school. This data shows a clear link between higher NCEA achievement and involvement in wider school activities.
| | | | | | |
| --- | --- | --- | --- | --- | --- |
| | Year 11 | | Year 12 | | Year 13 |
| Number of students in 1 or more group* | 160 | | 154 | | 178 |
| Percentage in 1 or more group* | 54.8% | | 52% | | 58.6% |
| Ave number of groups – students with Excellence endorsement (E) | 2 | | 3 | | 4 |
| Ave number of groups – students with Merit endorsement (M) | 1.7 | | 1.5 | | 1.8 |
| Ave number of groups – students who Achieved (A) | 1.3 | | 1.1 | | 1.5 |
| Ave number of groups – students who did Not Achieve (N) | 0.5 | | 0.3 | | 0.7 |
| Total number of  students | 292 | | 296 | | 304 |
*group = sporting, cultural, club, society, etc
None of this is a surprise and the data below further reiterates this link. For example, at year 11 last year, 74.4% of the students who attained excellence endorsement were involved in at least 1 group (group = sporting or cultural activity), whilst only 29.2% of those students who did not achieve the qualification were involved in at least 1 group.
| | | | | | |
| --- | --- | --- | --- | --- | --- |
| Percentage of E (Excellence) students in 1 or more group | 74.4% | | 85% | | 91.7% |
| Percentage of M (Merit) students in 1 or more group | 73.8% | | 76.5% | | 80.9% |
| Percentage of A (Achieved) students in 1 or more group | 61.2% | | 58.3% | | 73.8% |
| Percentage of N (Not Achieved) students in 1 or more group | 29.2% | | 22.9% | | 41.7% |
So what can we learn from the data above? I started by mentioning connectedness. One of the greatest experiences of schooling is the opportunity to be able to try a wide range of activities – sporting, cultural, clubs, etc. Students who are involved in activities perform better academically, and the more activities they are involved in, the better they perform. This creates for them an environment that they want to be in, that they feel connected to and this sets them on the pathway to success. This is also where the other aspects I mentioned earlier in this piece fit in: connectedness helps with being 'confident', it is an integral part of being 'actively involved' and it creates 'lifelong learners'. This is also the pathway to healthy identity and wellbeing.
If your young person is not currently involved in anything other than the academic side of school, encourage them to find something that interests them and give it a go. A quick look at the daily notices any day of the week will give you a range of possibilities for their involvement in the wider school life. There should be something for everyone and if your student has a particular interest that is not being met by what's on offer, talk to us about this and we will endeavour to provide appropriate opportunities.
Finally, I hope you are able to spend some valuable, quality time with your young person over the Easter break and perhaps during the accompanying school holidays. They will really value that time that you are able to spend with them and their connection to home and to you is even more important than their connection to school.
Ngā mihi nui
Dominic Killalea
---
Important Information
Term 1 wraps up
It has been a busy (and long!) first term for students and staff. New students have started their journey with us while others have moved to new pathways; we held Aroha Day and Athletics day, our new Year 9 experienced their Noho Marae and WHS hosted the Newlands Exchange. Most memorable is the way that the school community showed unity, solidarity and enormous compassion in the wake of the Christchurch terror attacks. It has been a truly memorable term.
We wish all your students and families a restful and safe Easter break, and look forward to seeing everyone back for Term 2 on Monday 29 April.
A thought to share with your students as we head into the break:
He aroha whakatō, he aroha puta mai — If kindness is sown, then kindness you shall receive.
---
Parent-Teacher Conversations: 2 May and 6 May
Parent -Teacher conversations take place on 2 May (Years 11-13) from 2.00-5.30pm and 6 May (Years 9-10) from 2.00-5.30pm.
This is an opportunity for you and your student to meet with subject teachers and briefly discuss progress. You can access the Term 1 report via the Parent Portal > Reports. If an interview is requested, it will be on the report.
HOW TO MAKE A BOOKING
Each booking lasts five minutes. Bookings with teachers can be made at https://www.schoolinterviews.co.nz/ by entering the correct code:
Juniors Year 9-10 code: kkrn7
Seniors Year 11-13 code: z7aa9
Search by subject, then by teacher.
Book a time slot. Leave 5 minutes between each appointment if possible.
---
Self-Defence workshop for Gender Diverse Youth
Further to requests from parents of gender diverse youth, a self-defence course is being run over the holidays. Being run by Bex Fraser, who is an accredited self-defence teacher who, along with providing training in schools, works with the Women's Self-defence Network / Wāhine toa
The course is free of charge and takes place on 16th April from 12.00-6.00pm at Newtown Community Centre, Riddiford Street. Afternoon tea will be provided and participants are welcome to bring along a non-trans friend or ally with them (or a sibling if they would like).
To register email bex@wsdn.org.nz and also use the same email to contact Bex if you have any questions.
---
Update to the WHS App
The WHS App was upgraded to SchoolAppsNZ on Monday 8th April. If you use our app, you will receive a message to begin the update and download a new version. Please follow the instructions to keep up to date with our app.
---
What's happening
Fresh Avocado – Edition #1 for 2019
Fresh Avocado is the online home for creative writing from Wellington High students. The first edition for this year features prose, poetry, and polemic, with writing from across the year levels. Congratulations to Reza Zareian-Jahromi, Lily Parkin, Cadence Chung, Hana Kilford and Jelle Keizer. Check it out with this link (you can also access it using the avocado icon on the WHS loginhub): https://www.freshavocado.whs.school.nz/
---
Relay for Life
Over 50 students and 20 staff took part in the 2019 Relay for Life. Raising money for the Cancer Society, the annual relay is an inspirational event for people of all ages and fitness levels to remember those lost to cancer, those fighting the disease and those who have beaten it.
This year marked the first year that Relay for Life took place at the Westpac Stadium. The cold concrete canyons were warmed by lights, balloons and the shouts and songs from the thousands who aimed to run through the night. Unfortunately, due to dropping temperatures and torrential rain which flooded the relay track, the event was cancelled at 3am. Nevertheless, students and staff had contributed to a memorable event. Thanks to Ivy Austin and Ruby Hudson for their work organising the student participants and to Megan Southwell for overseeing staff supervision.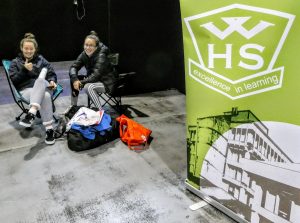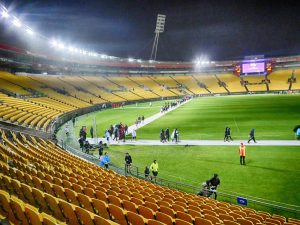 ---
Taiko Drumming Workshop 
On Wednesday after school students learning Japanese had the opportunity to participate in a taiko drumming workshop with expert drum maker, performer and instructor, Gen Maehara, from Japan and Wellington based performer and instructor, Jessie Gibbs of Narukami Taiko. Students learned about the different kinds of drums, their sound and how they are played before learning and  a team performance. It was a great experience and loads of fun!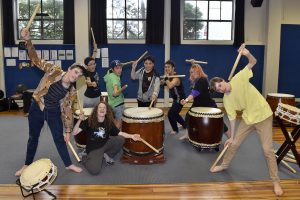 ---
WHS to support Massey University study
WHS will be inviting Year 13 students to contribute to a Massey University study which will explore young New Zealanders' interactions with internet pornography.
Given the increased accessibility of internet pornography, researcher Siobhan Healy-Cullen recognises that there is a call for research that will explore how to support young people to make sense of this material should they come across it, as well as how to assist parents/guardians and educators in teaching about these issues. This project focuses on 'porn literacy education', which suggests young people should be taught and equipped with skills to critically analyse the messages and behaviours internet pornography portrays.
A key objective of this research is to assess key stakeholders' perspectives (educators, parents/guardians, young people) towards porn literacy education. The project will involve a survey (Phase 1) followed by interviews and/or focus group discussions (Phase 2). Parents of students in Year 13 will receive a letter inviting their students to participate in the study next week.
---
Riley tackles the Scottish Play
Year 10 Riley gave stand out performances in Macbeth (aka the Scottish play). They rehearsed in class last week and performed in the final periods of Friday. A cast of 55 students played all the roles to great acclaim. Special mention from our drama reviewer: for a chilling Lady Macbeth (Kate Briscoe); a complex troubled Macbeth (Leon Baddeley); a sibilant scary witch (Daniel Minto) and for the makeup and special effects of the spectral Banquo (Lili Hutchinson). Huge thanks to Elli Yates (Producer and English Teacher) and Henry Hollis (Image Maker).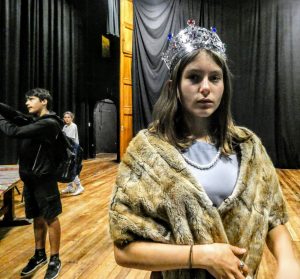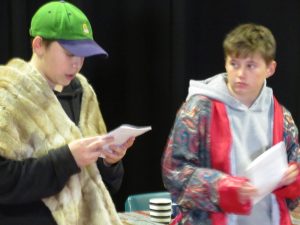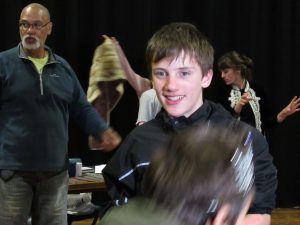 ---
Win the opportunity to interview Dr Jane Goodall 
Roots and shoots are very excited that Dr Jane Goodall is coming to Wellington to speak this May. There is an opportunity for any young reporter to interview Dr Jane Goodall here in Wellington. Follow this link: Apply to interview Dr Jane Goodall
---
City Art Gallery visit
Year 10 took an art trip to The City Art Gallery on Tuesday. The pictures show Xsavier Van Der Meel immersing himself  into the work of international artist Eva Rothchild.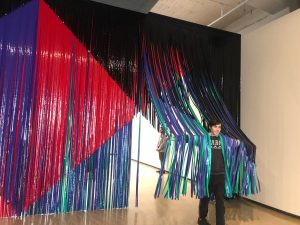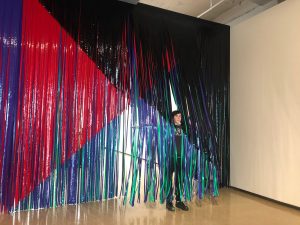 ---
Waiopehu Tramp 
This picture shows our group of die hard trampers who tramped up to the Waiopehu hut from Levin last weekend. Despite the five hour uphill and some cold, torrential rain at the end of their first day's hiking, a good time was had by all.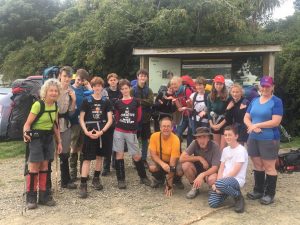 ---
Sports
Sports Exchange with Newlands
As predicted the exchange with Newlands College was very fiercely fought out, each school had 2 wins and 2 draws each. It came down to the last game of the day and Wellington High School took out that game, winning the exchange 3 games to 2.  Well done to all the students, staff and coaches. I would also like to thank our two community referees who took the time out of their day to help us out. The final results were: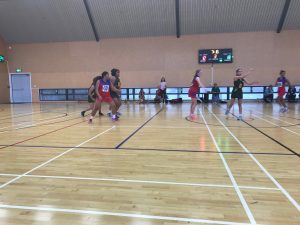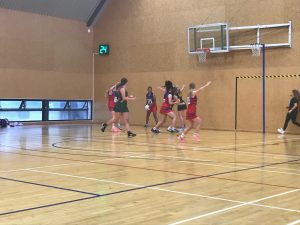 Netball – WHS win

Football Girls – WHS win

Football Boys – Draw

Basketball Girls – Newlands win

Basketball Boys – WHS win

Badminton Boys and Girls – Draw

Hockey Boys – Newlands win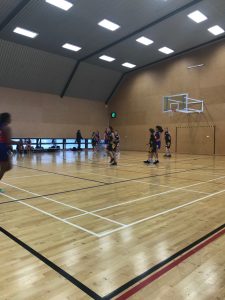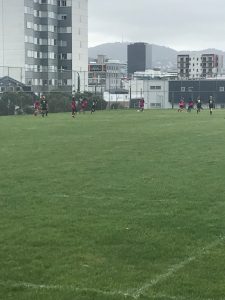 Athletics
Congratulations to Frankie Coup who attend the NISS Athletics Champs last weekend and came away with a Silver medal in the Junior Girls Javelin with a distance thrown on her last throw of 30.34m.  Fantastic effort for a student who threw the Javelin for the very first time at our school athletics day last month.
Sports Uniform and Fees
Wellington High School Sports Tops and Socks can be purchased from Student Services Tops are $40 and Socks are $15.  Can students please make sure that they have the correct uniform before they have their first game. All Sports Fees need to be paid before the start of competition.
Summer Sports
Now that all the Summer Sports have been completed, can all playing uniforms please be returned to the Sports Office before the end of the term in a named bag.  Volleyball, Futsal, Tennis, Lawn Bowls
Sports Coaches and Managers needed
We are looking for some help in the Coaching and Managing areas for some sports, if you are able to provided some help in these areas can you please contact our Sports Coordinator Wendy McIntyre at sport@whs.school.nz to let her know.  The sports we needing some help in are Football Boys and Basketball both Boys and Girls
---
Careers
Aviation careers for girls
On Thursday 23rd May 2019 the Wellington Branch of the Royal Aeronautical Society is running an evening event comprising short presentations and a panel style question and answer session, titled 'Career Opportunities for Women in Aviation'.
To find out more and register for a place at the event, click here.
---
University Scholarships for Year 13 students
MoneyHub, a consumer finance website, has published a guide to hundreds of scholarships for any student planning to start university in 2020. The comprehensive list includes scholarships offered by every university as well as those specifically available to local students. A list of privately-funded, Maori, Pacific and International university scholarships completes the list. Applications close throughout the year, with tens of millions of dollars available. MoneyHub has also published a list of tips for scholarship success.
For more details and to find suitable scholarships, visit the MoneyHub Scholarship page