Important Dates
Term 1
8 April – Phone & Internet outage 11.00-12.30

12 April – End of Term 1
Term 2
29 April – Start of Term 2

2 May – Senior Parents' Evening, 2pm – 5.30pm

6 May – Junior Parents' Evening, 2pm – 5.30pm

31 May – Wellington Loop Day (Teacher only day)

3 June – Queen's birthday holiday

5 July – End of Term 2
---
Important Information
Phone & Internet outage – Monday 8 April
Due to an essential upgrade being carried out by N4L, WHS's phones and internet will be unavailable between 11.00-12.30 on Monday 8 April. There is no alternative to this time which has been specified by N4L, and we apologise for any inconvenience this may cause.
It will not be possible to pay by Eftpos at Student Services and the Cafeteria during the outage. Please bring cash.
---
Update to the WHS App
The WHS App will be upgraded to SchoolAppsNZ on Monday 8 April. If you use our app, you will receive a message to begin the update and download a new version. Please follow the instructions to keep up to date with our app.
---
Relay for Life
A WHS team of 55 students supported by 20 staff will be taking part in the Relay for Life at the Westpac Stadium this weekend. From 4pm Saturday until 7.30am Sunday teams will be circuiting the stadium to raise money for the Cancer Society of New Zealand. It's an incredible feat, even more so as they will all have to keep going an hour extra due to the end of Daylight Savings.
Information for those taking part can be found here. In next week's Wrap-Up we will report back on our team's Relay for Life experience, in the meantime we wish them well and hope that their stamina and endurance result in a successful and rewarding night.
---
What's happening?
Roots and Shoots – Sustainability and Consumer Awareness Week
Climate Change Minister James Shaw visits WHS
Roots and Shoots annual Sustainability and Consumer Awareness week ran from 1-4 April. The week started with a bang when Climate Change Minister James Shaw spoke at assembly on Monday. He inspired students to hold adults accountable for their actions and assured them that their voices had been heard when they went on strike for climate action on 15 March.
DIY Sustainable Cosmetics workshop
Also on Monday Kim from Sustainability Trust joined us for a DIY sustainable cosmetics workshop. Students made their own natural and sustainable face masks, toners, deodorants and more.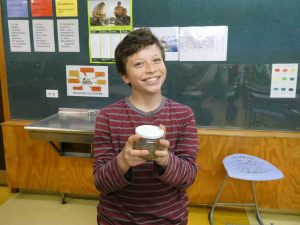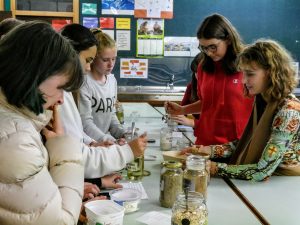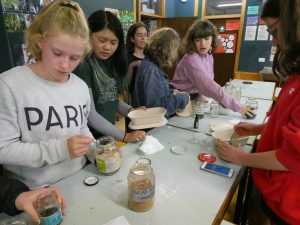 Speakers from Greenpeace, Climate Challenge and Generation Zero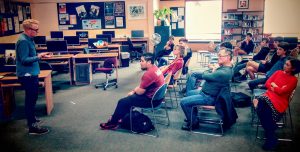 Chloe Bishop from Greenpeace spoke about the dangers of using synethetic nitrogen fertiliser in our waterways and environment. Spea
kers from Climate Challenge and Generation Zero advertised youth activism opportunities and the Zero Carbon bill.
On Wednesday we were joined by Councillor David Lee and Greenpeace's board member David Tong. They discussed issues surrounding the response to Climate Change both locally and globally.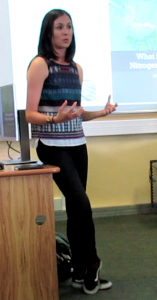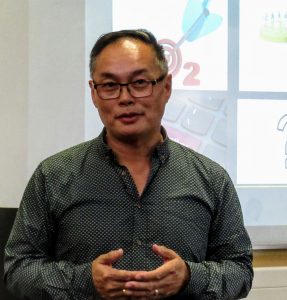 Bakesale and Wā cups fundraiser
Our week ended with Roots and Shoots holding a bake sale to raise money for future projects. We invited Wā Cups to fundraise alongside us, encouraging people to experience their menstrual cycle in the most sustainable way possible along. This represents huge potential for waste and cost reduction associated with menstrual products.
Overall Sustainability and Consumer awareness week 2019 has been a roaring success. Congratulations to all Roots and Shoots members for their passion in organising such an incredible range of speakers and activities and to the WHS students and staff who engaged with the events and workshops on offer.
---
Notes from the Music Department
String Ensemble. We know have a cellist from the Wellington Orchestra taking our small string group. They meet on Wednesday at 8.45 am new players welcome.

Choir.   Our choir meets on Thursdays at lunchtime. Come and join the fun !
---
Space Place visit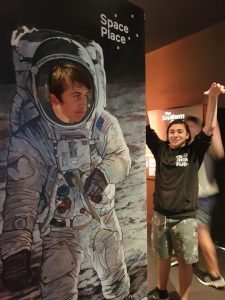 On Tuesday 2nd April, Earth and Space Science students had a fine afternoon at Space Place, learning about stellar evolution,  the hunt for extra-terrestrial life and our place in the Universe.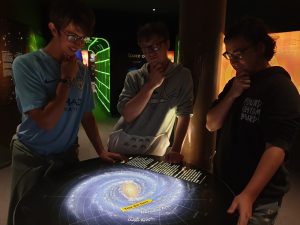 ---
From the Garden
AgHort students have been fantastically busy in the garden this week. In addition to harvesting pumpkin and zucchini, they have been cleaning, grading, naming and packaging seeds for winter storage.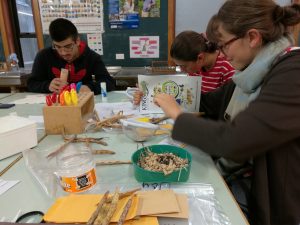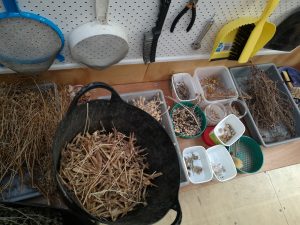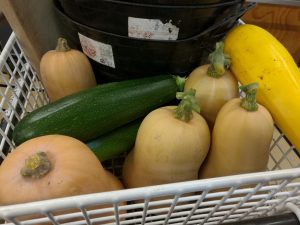 ---
Achievements
CEC staff receives national award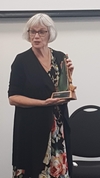 Community Learning through Secondary Schools (CLASS) is the national organisation for Adult and Community Education in New Zealand. Last week CLASS honoured the Deputy Director of WHS Community Education Centre, Robyn Hambleton, by awarding her the prestigious bi-annual Charlie Herbert Award for her contribution to the Adult Community Educator sector, both locally and nationally.
Have you thought about your own learning as an adult? Why don't you join us at the Community Education Centre for a course – www.cecwellington.ac.nz
---
University of Otago awards WHS student 'On Campus Experience' scholarship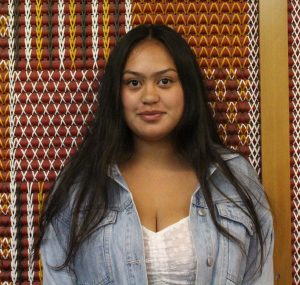 Congratulations to Year 13 student Drea Parai-Tupene who has been awarded a fully-funded University of Otago 'On Campus Experience' scholarship.
The scholarship, which is available to students of Māori descent, will enable Drea to experience life on campus in Dunedin and will meet with the Māori Centre staff who provide support for Māori students studying at the university. Drea's scholarship will enable her to spend a week at the university in Term 2.
---
Reza Zareian-Jahromi's poetry published in 'More of us' anthology
Reza, a talented poet who daylights as a Year 13 student at Wellington High, can now officially refer to himself as a published poet.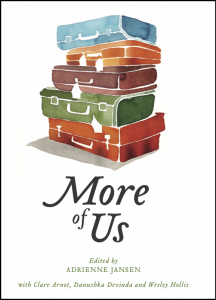 His poem 'What we be' has just been published in 'More of us', an anthology of poetry featuring 46 writers from 29 countries. Congratulations, Reza.
More information here: https://landingpress.wordpress.com/ 
---
Sports
Summer Tournament week 
The following teams competed at venues around the North Island last week:
Ultimate Frisbee – Taupo

Waka Ama – Rotorua

Mountain Biking – Wellington

Floorball – Wellington

Futsal – Wellington
Everybody had a great time and competed extremely well.  Our U15 Girls Floorball team came away winners of their division, one of our Waka Ama boats made the A Finals and our Junior Boys Futsal team were in the Bowl Final.  Thanks goes to all the coaches and parents who helped get these teams to tournament.
Athletics
CSW held the Regional Athletic Championships on Thursday 14 March at Newtown Park.  Frankie Coup won the Junior Girls Javelin with a throw of 24.79m. Congratulations Frankie, she will now be attend the NISS Athletic Champs on 6/7 April in Tauranga .
Winter Tournament
All of the trials for our Winter Sports teams have now been completed.  It's great to see so many of our students engaged and passionate about playing sport.  We have teams in Underwater Hockey, Netball, Rugby, Hockey, Badminton, Table Tennis, Football and Basketball.  Most of these sports will start in Week 1 of Term 2, so it will be a very busy start to the term.
Sports Exchange
On Friday 5 April we have our annual Sports Exchange with Newlands College, this is a good preseason starter for all the teams that are taking part.  We definitely had the typical Wellington weather, but the students all had a fantastic time. Sports that are involved are Netball, Basketball, Football, Hockey and Badminton
Sports Uniform and Fees
Wellington High School Sports Tops and Socks can be purchased from Student Services Tops are $40 and Socks are $15.  Can students please make sure that they have the correct uniform before they have their first game. All Sports Fees need to be paid before the start of competition.
Summer Sports
Now that all the Summer Sports have been completed, can all playing uniforms please be returned to the Sports Office before the end of the term in a named bag.  Volleyball, Futsal, Tennis, Lawn Bowls
---
Careers
Interested in Food Technology? Massey University at Palmerston North, is hosting a Chemical and Food Engineering day during the term break. Students who have an interest in this area can find out more here and register at massey.ac.nz/chemfoodday/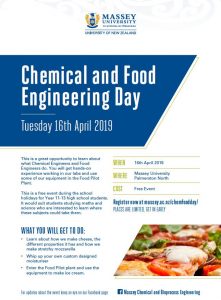 Food Tech is an area of interest to many WHS students and is one where one WHS alumna is making her mark as a career. Alumna Morgan Christy-Jones (pictured) was awarded Massey University's Edna Waddell scholarship in 2013, before completing her degree in 2016. Since then she has joined the Fonterra Graduate Technical Programme and is currently working on Fonterra sites in the South Island whilst continuing to study towards a Masters in Dairy Science and Technology.