NCEA SCHOLARSHIP RESULTS
Wellington High School students attained 30 scholarships including 3 Outstanding Scholarships at last year's NCEA exams. 20 students received the awards across 14 different subjects. Each scholarship award is worth $500 towards study in New Zealand and 3 of our students attained 3 scholarships which entitle them to $2000 a year for three years towards study in New Zealand.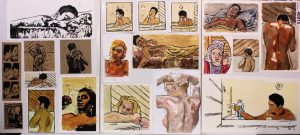 Sam Mitchell, one the recipients of an Outstanding Scholarship, received the award for her painting portfolio (pictured).
IMPORTANT DATES
| | |
| --- | --- |
| 13 February | Board of Trustees Meeting |
| 20 February | Te Whanau a Taraika hui |
| 20 – 24 February | Year 9 Noho Marae (first group) |
| 2 March | Athletics Day |
| 4 April | Learning Conversations |
| 6 March | Year 9 Noho Marae (second group) |
| 14 March | Junior Girls Netball Trials |
| 15  & 17 March | Senior Girls Netball Trials |
| 13 April | Last Day of Term 1 |