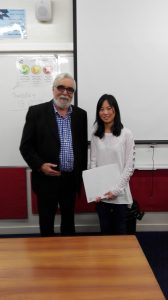 Kia ora whanau
This edition of the Weekly Wrap Up is being sent out on my last school day before I move into retirement. I want to take this opportunity to thank our school community for the support they give their young people and the support the give the school.  Wellington High School is a wonderfully unique school, and it has been both an honour and a privilege to occupy the Principal's Office for the last five years.
The last few years has seen significant changes in the school and in its place in Wellington's educational landscape. The Board, staff students, and families have all contributed to this and again I thank you for your input.
 Let us celebrate together some of the things that have developed:
We have continued to innovate and be creative, and as subtle changes have been made, we have over time assumed a different place in people's perceptions which has led to the exceptional roll growth we are experiencing.
Recent work to profile Te Ao Maori in the school has had an amazing effect on student achievement and on the culture of the school. The wonderful decoration of Taraika, the development of Te Whanau a Taraika and the adoption of the Maori name for the school tells everyone that we value our Maori community and are working effectively in a bi-cultural context.
The introduction of the WERO framework has also had an important impact on the culture of the school. Having WERO has allowed us to focus on key values and develop a common language about the school culture. Being able to model these values from the Principal's office and talk about family values, respectful relationships and wellbeing, all contributing to overall excellence, has made the school a responsive and very inclusive place.
Thank you again for enriching our community and contributing to our on-going success.
Nga mihi nui,  Nigel Hanton
Important Dates
| | |
| --- | --- |
| 13 April | Last Day of Term 1 |
| 1 May | First day of Term 2 |
| 3 May | Junior Parent Teacher Interviews |
| 8 May | Senior Parent Teacher Interviews |
| 15 – 19 May | Shakespeare Society Production |
| 15 May | Board of Trustees Meeting |
| 2 June | Teacher Only Day |
| 12 June | Open Evening |
Parent/Teacher Report Evening
The first reports for students for 2017 are now live on the parent portal. You can find it on the Reports Tab on the main menu. This report links to the parent/teacher evening that is coming up.
We are running two evenings.  Please note these dates.
Juniors (Year 9 & 10) are on Wednesday 3 May
Seniors (Year 11 – 13) are on Monday 8 May 2017.
Go to www.schoolinterviews.co.nz and use the code a4pjr to select times to meet teachers.
Frequently asked questions (and answers!) can be found at http://www.whs.school.nz/temp/faq-report-evening/ ‎