Important Dates
Meri Kirihimete!
We wish all our families and whānau a relaxing summer and a peaceful holiday.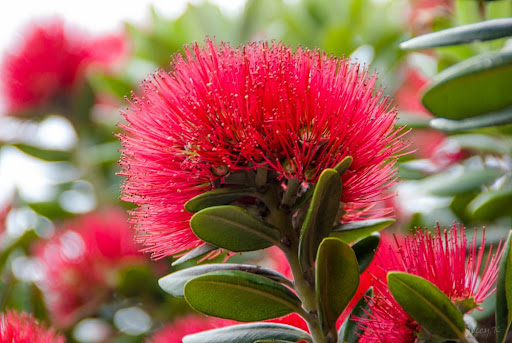 ---
Important Information
Next Week
The Year 9 and 10 Deans will be emailing today with the arrangements for the students about what the plans for next week are, so please keep an eye on your emails!
---
Junior Prizegiving
This year, we will award prizes on the last day in Herengatahi whānau groups. We know it is not the same as having whānau there as well but we have adapted our usual approach due to COVID-19. Names will be published online once confirmed.
---
Sport and Cultural Photos available for download
If your student was involved in a sport or co-curricular activity this year, then you may wish to download their group photos. Click on the link here, browse the gallery then enter your email address and the PIN 3647 to download images. The gallery will be available until the end of December.
---
Stationery orders for 2022
If you are already planning for 2022 for your student, you might want to order their stationery early. Go here to order. Supplier Office Max recommends placing orders before 14 January to ensure delivery before school starts.
---
Reminder: Te Kura Summer School
Te Kura Summer School can support your students who need additional credits to attain NCEA or University Entrance this year.
State or state-integrated schools, you can register you students free: Te Kura Summer School information and registrations.
Te Kura Summer School is run over the summer break to support students who require up to 12 NCEA credits to progress to further study, training or employment. A range of subjects are offered, including English, maths and science and are delivered online with support from registered teachers.
Te Kura Summer School runs from 20 December 2021 to 11 February 2022. Registrations open from 8 November 2021 and close on 2 February 2022.
---
Recording of 'In Blind Faith: The Musical'
We are delighted to finally be able to bring you the recording of the 'In Blind Faith:The Musical', performed earlier this year, written by Cadence Chung.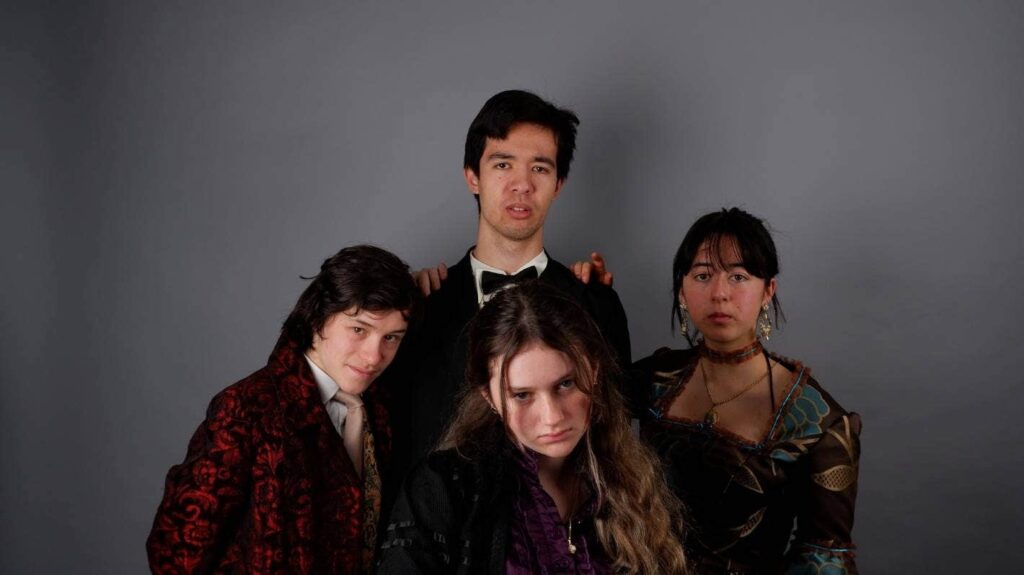 ---
What's happening?
Year 9 visit to Robinson Research Institute
On Friday November 26th Mr. Chisholm, Ms. Monds and Ms. Ren took 28 students to the Gracefield (Callaghan Innovation) and Petone sites of Robinson Research Institute. The focus of their work is applications of High Temperature Superconductors. The project that was most interesting was the use of HTS to produce the magnetic field needed for a practical electrical thruster. They also saw researchers investigating miniaturised MRI scanners and frictionless bearings using superconductor technology.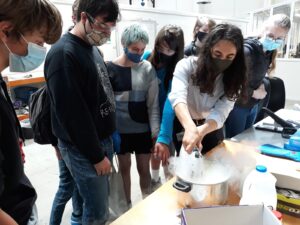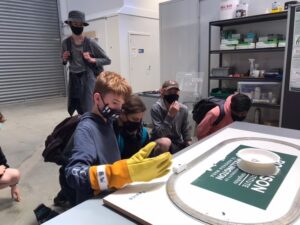 ---
Farewell to our international students
It has been yet another challenging year for our international students where most of them have now been away from home and family for nearly two years. The international whanau farewelled our leavers recently at a relaxed lunch which was a fitting way to end the year. We have been privileged that these students chose WHS to begin their journey to becoming global citizens. Special thanks to David Wang and Vasilisa Rybkina for their lovely farewell speeches as gifts. Thanks as always to the WHS staff who support our international rangitahi and we wish them so much aroha as they continue their journey beyond our kura.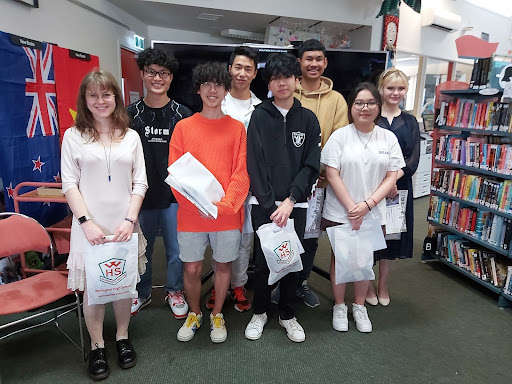 ---
Design and Visual Communication
The Level 3 DVC students are currently exhibiting their spatial design work in the foyer. ​​The high quality 3D models within the presentations demonstrate the engagement and depth of thought within the design programme. The two NCEA scholarship submissions, also exhibited, convey an outstanding awareness of design by the leading students in the class. The work shown here is by Ursula Palmer Steeds, and Jay Philip.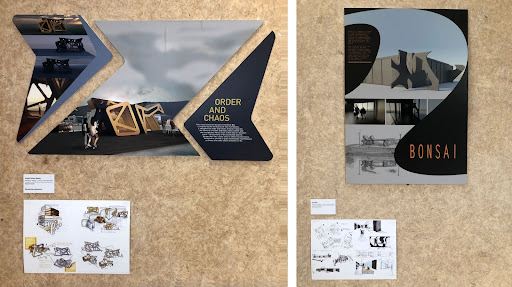 The Level 2 DVC students have worked really hard this year to produce some incredible spatial and product design. They should be really proud of their achievements, they have set a new standard for future students to aspire to! Below is the work of Chloe Bowman, with a product design for kayaking.

---
Community News – Bike Network
Wellington City Council is working on the draft Bike Network Plan. As part of the draft Bike Network Plan, they are installing two interim bike routes from Newtown to the city and Botanic Garden ki Paekākā in 2022. These bike routes will be a safe place for people on bikes, scooters, and skateboarders to travel.
For Newtown to the city, the route will start at Mein Street, travel along Riddiford St, Adelaide Road, through the Basin Reserve, down Cambridge Terrace and connect to the waterfront. The interim route will be installed early to mid-2022. Information about the project can be found at Newtown to city  |  Projects – WCC Transport Projects.
For Botanic Garden ki Paekākā to the city, the route will start at Glenmore Street, travel along and down Bowen Street, down Whitmore Street and connect to the waterfront. The interim route will be installed early to mid-2022. Information about this project can be found here.
The draft Bike Network Plan, Paneke Pōneke, outlines all of the proposed routes for the city and is currently out for consultation until December 14. For more information, visit Bike network plan  |  Projects – WCC Transport Projects. To view the plan itself, visit Proposed network  |  Bike network plan – WCC Transport Projects and scroll down to the interactive map.
---
He Kākano
The last 2 weeks of term have been a great opportunity for our students to spend time outside school attending learning workshops. We visited Space Place to learn about the Matariki constellation followed by a Botanical Garden walk and a seed planting session in the education centre. A highlight was our visit to the City Gallery to see the Hilma af Klint exhibition and learn her painting techniques in the art studio on site. We also visited the Museum of City and Sea and walked along the Wellington waterfront.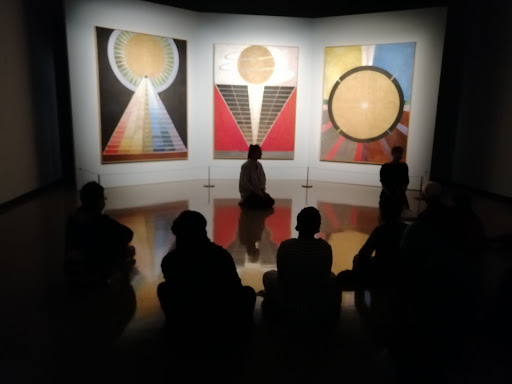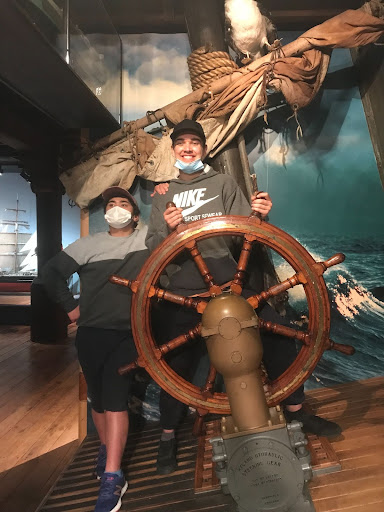 ---
Achievements
Lias Morris – National Spelling Bee Success
Lias Morris came second equal in the National Spelling Bee on Saturday and won $1000. The word that stumped him was 'corsair' but he could have spelt the other final round words 'silhouette' and 'gossamer'.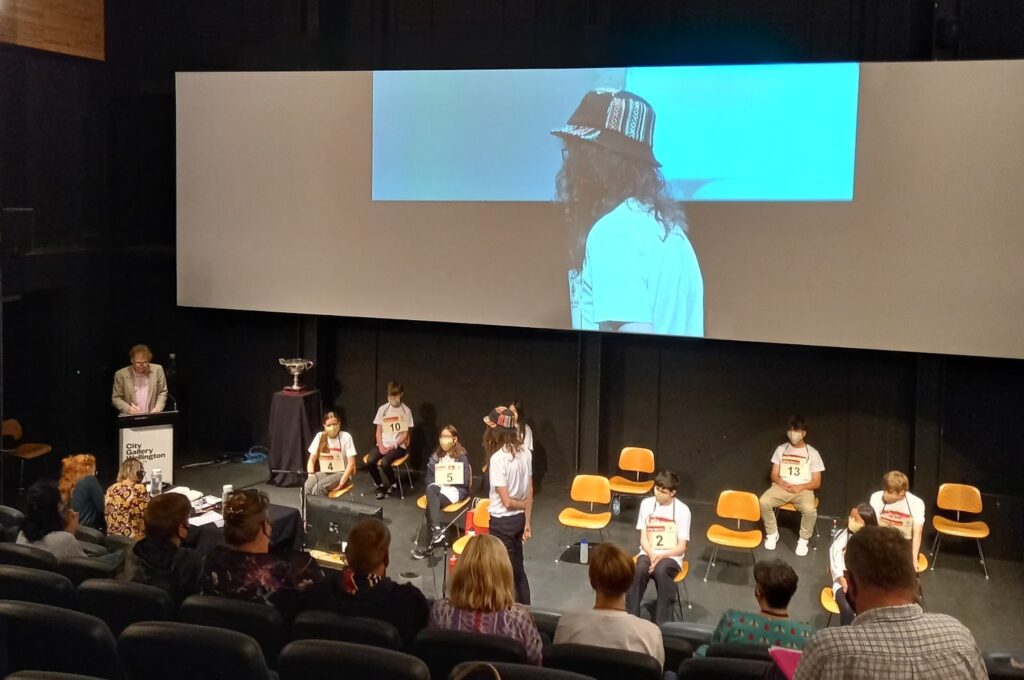 ---
Antarctic Scientists visit WHS
Aiden Scott entered the Wellington Science Fair with her experimental work on the effects of salt on ice. Aiden won the Antarctic prize which included Natalie Robinson and Jamey Stutz speaking to the class about their work on the Antarctic. Natalie and Jamey are scientists from NIWA and their work is using rocks and ice cores. Charlie Chen, (also a Wellington Science Fair winner), Aiden and Natalie are wearing the clothing needed to do scientific work on the ice.