Important Dates
Monday 22 November: NCEA Exams begin
Wednesday 1 December: Teacher-Only Day across Wellington secondary schools to prepared for NCEA changes — school closed
Term ends 15 December
---
Important Information
Final magazine orders
The 2021 magazine is heading to the printers!
If you haven't done so yet, t's not too late to order your copy ($20 each). Please email Student Services before the end of the day on Monday 22 November.
---
What's happening?
Whakanuia & Senior Prizegiving 2021
Over the last two weeks, we have celebrated the community, sporting, service and academic achievements of our amazing Year 11-13 students. Click on the links below to view the photo galleries from these events.
https://www.whs.school.nz/newsnotices/senior-prizegiving-2021/
---
Music Evening
Music Evening was held on Tuesday this week but sadly it was under a very different format due to covid and the restrictions on crowd numbers. There were no invited guests, friends or family  and only NCEA students performing. This meant no Choir, no String Ensemble, no Big Band and no junior performances. This was Fritz Wollner and the Year 13 students grande finale of their school music careers. The evening was treated like every other Music Evening with the sound and lighting tech crew in residence.  A big thanks to them for making the evening run so smoothly. There were fabulous performances by many groups all showing off their amazing musical talents. A surprise entry at the end of the show was with all Music students on stage farewelling and showing their gratitude to Fritz and his teaching by performing the classic Mr Wollner special "Three Little Birds". Thanks Fritz for many years of making fantastic evenings like this brilliant, even under restricted circumstances.
Visit the gallery of photos from Music Evening here.
---
Japanese
During the year we have been meeting via Zoom with students from Kushiro Meiki High School in Hokkaido.  Students have talked for half the time in Japanese, and half the time in English, allowing each student to practise the language they are studying.  Topics have ranged from introducing each area to talking about COVID-19 reponses in each community to discussing popular food items.  We even sent and received a range of snacks, which our students definitely enjoyed eating.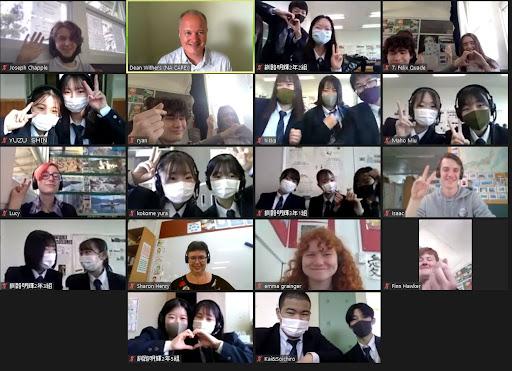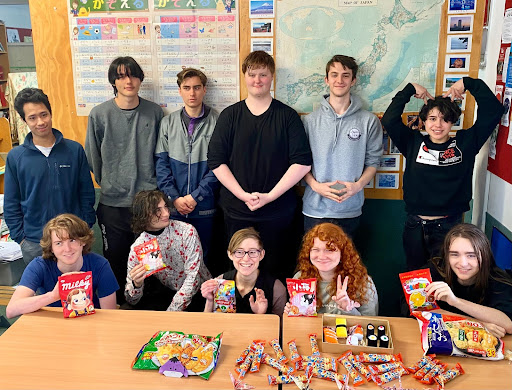 ---
He Kākano
Our students have had a busy week in classes. From digital literacy and design, to the STEPS web programme and performing a speech in front of peers, the end of the year is near and everyone is really engaged.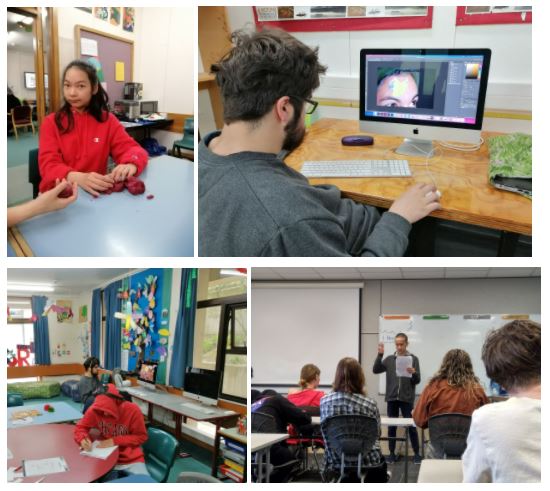 ---
Collaboration with NZME
Some students in 10 Kelly 2 were invited to visit the NZME studios (home of Radio NZB and others) to record their podcasts. They produced some outstanding work and got to take a glimpse behind the scenes of the radio industry. NZB gave a shout out to these students on air – you can check it out here: https://www.newstalkzb.co.nz/shoutout
---
Visual Arts
Students have submitted their portfolios! Here they are in their final few days prior to submission last week.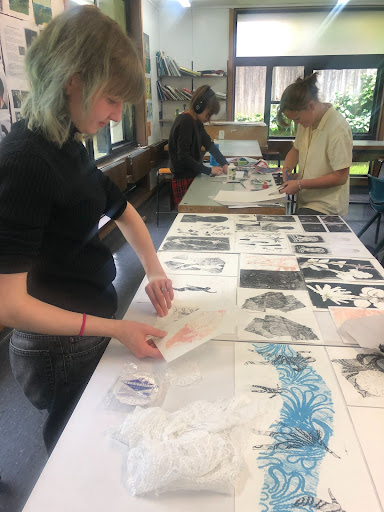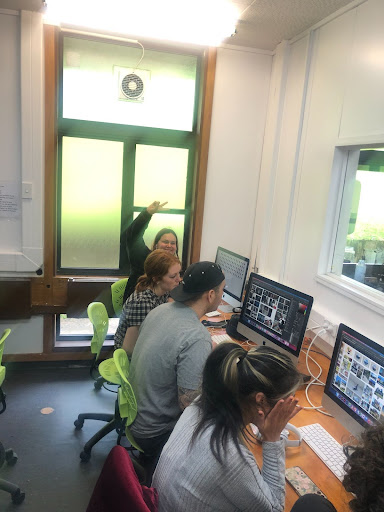 ---
Dia de los muertos
At the start of November, students studying Spanish celebrated Dia de los muertos. This year, the traditional Mexican festival when it is believed the souls of the dead return to visit their living family members, fell on November 2nd.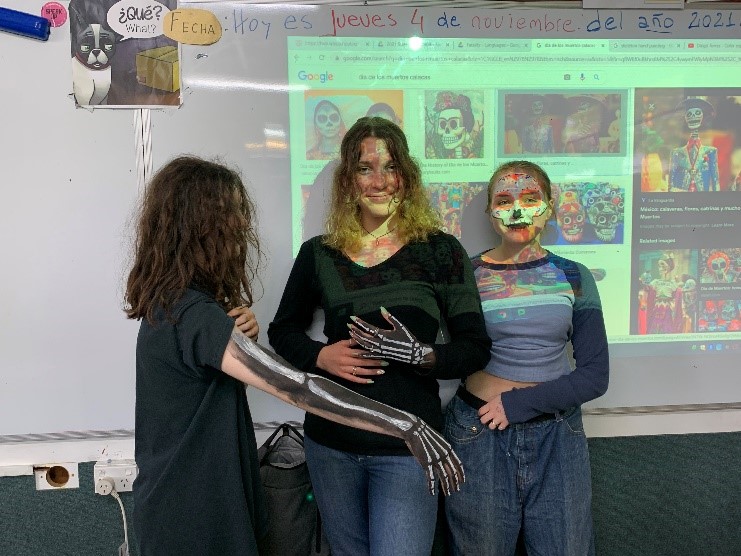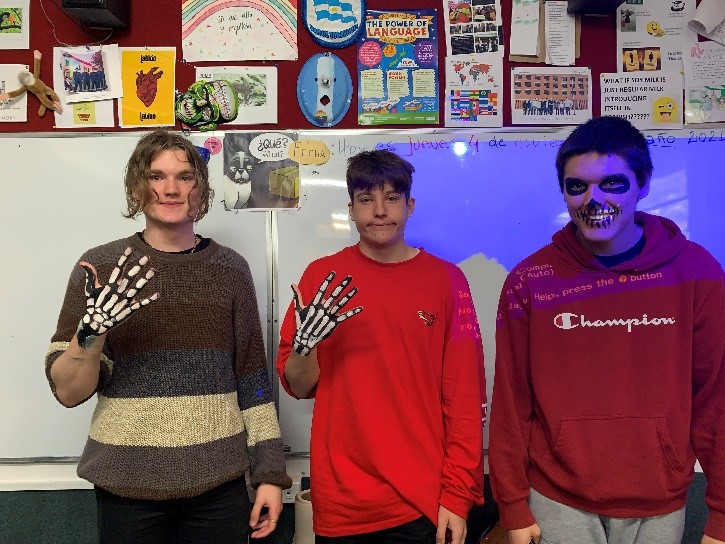 ---
Roots and Shoots
At the end of October WHS Roots and Shoots Environmental Group ran a thrift market where students bought second-hand clothing donated by students and the Salvation Army. Even with covid restrictions in place, this event was massively popular and we were able to raise over $500 to be donated to Fashion Revolution, an organization that tackles fast fashion through campaigns for cultural change, policy change, and industry change.
On Wednesday 3 November WHS Roots and Shoots Environmental Group ran a DIY Sustainable Cosmetics Workshop with Sustainability Trust. Students who attended this workshop were able to make their own facial toner, scrub, cleanser, toothpaste, and deodorant.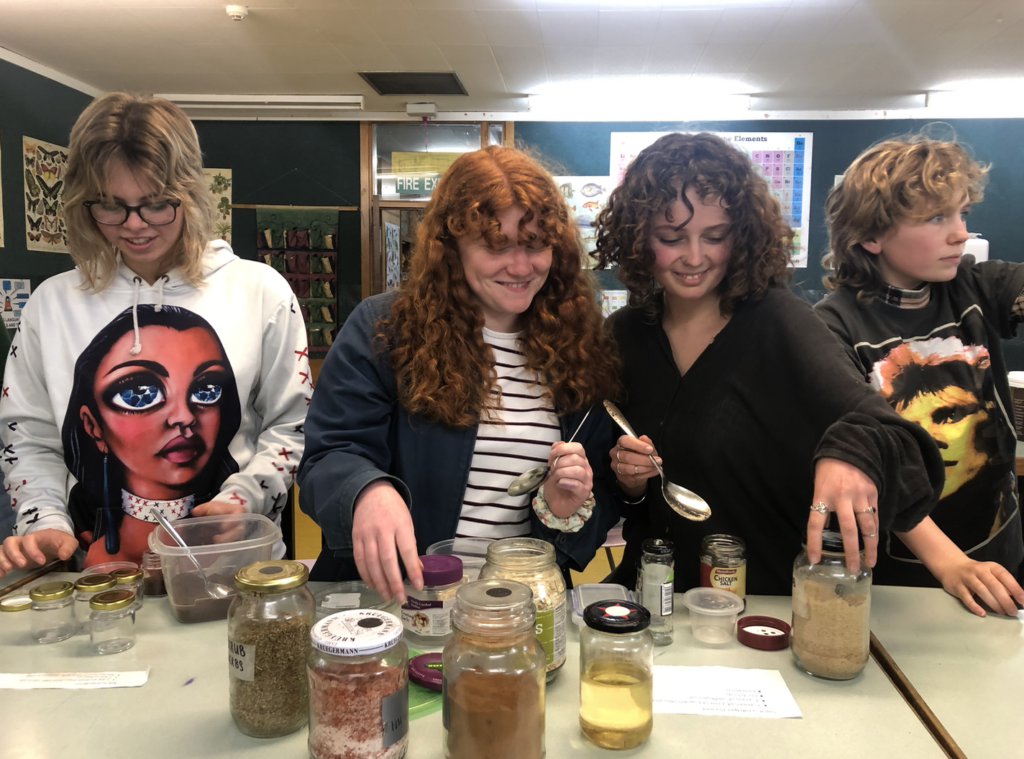 ---
Achievements
Katherine Mansfield short story competition
Monty O'Rielly (Year 12) and Cadence Chung (Year 13) were both shortlisted for the annual Katherine Mansfield short story award. The award was judged, via Zoom, by Stella Beautrais (the winner of the 2021 Ockham Book Awards). 
WHS was the only school with two finalists, and once again a WHS student won the overall award. Congratulations to Cadence – the 2021 Katherine Mansfield Writing Award winner!!! Read their stories here:  https://www.katherinemansfield.com/creative-corner/km-short-story-competition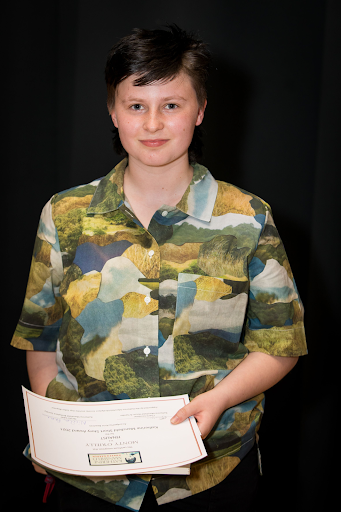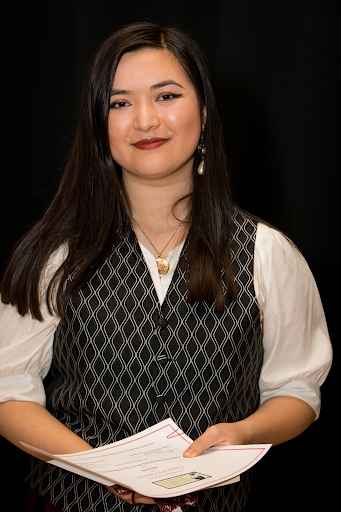 ---
Report from Children's General Assembly
In October, Year 10 Jasper Barkett-Greenberg travelled to Denmark to participate in the first Children's General assembly. Here, Jasper shares his unique experience:
"I travelled to Denmark to attend the first Children's General Assembly, which was organized by Capital of Children. The event took place in Billund, where Lego was first made and has its headquarters. I was one of 20 children from a dozen countries chosen to represent our groups (out of an initial 80 children) and go to Billund. My group's co-representative was Aryan Chaudhary from India.
It was great to meet the representatives from across the world after spending months working together over our computer screens. We got to see and experience Billund, including Lego House, Legoland, and meet the mayor of the municipality, Ib Kristensen. We also spent a lot of time preparing for the big day of the Children's General Assembly.
At the Assembly, we delivered our joint Manifesto to world leaders via live-stream, which was moderated by the former president of the United Nations General Assembly, Mr. Mogens Lyketoft. Then we all presented our group speeches. Aryan and I presented our group's speech on equity and equality.
After the programme, I got to see more of Denmark, and especially loved Copenhagen. We were lucky to be able to experience the country freely because the Danish Government had lifted all COVID-19 restrictions just before we arrived.  I also got the unique experience that you can only get from travelling during the pandemic of staying in a Managed Isolation Facility for two weeks.
I hope that the Children's General Assembly will have a positive impact on the future and let more young people's voices be heard."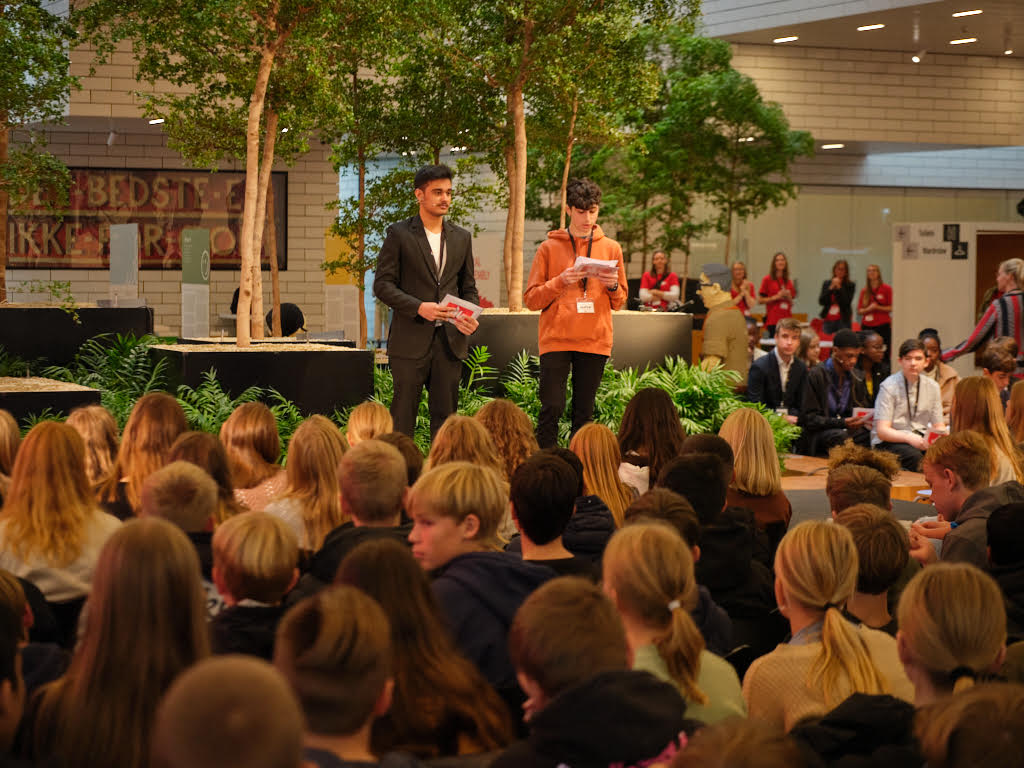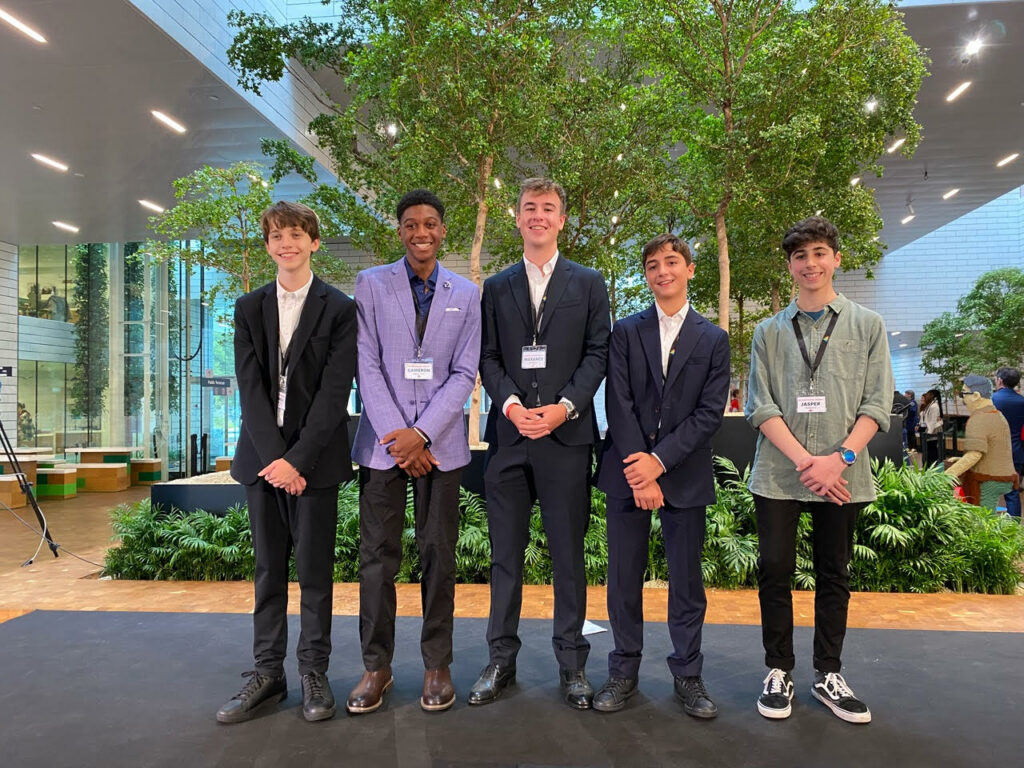 ---
Sports
Wellington United sports person of the year
Wellington United's sports person of the year for 2021 is none other than our incredibly talented footballer and Spanish teacher Carlos Junca. Congratulations Carlos!
---
Swedish floorball success
Former student Eli Martin as experienced great Floorball success in Sweden, his love of the sport being profiled in the online news site Värmlands Folkblad. Ka pai Eli!