Important Dates
Monday 5 September – Friday 9 September – OutLoud
Monday 12 September – Friday 16 September

– Te Wiki o Te Reo Māori

Monday 19 September

– Board meeting 6pm

Monday 19 September – Friday 23 September

– Senior Exam Week

Monday 26 September – Friday 30 September

– Mental Health Awareness Week

Friday 30 September – End of Term 3
---
Important Information
Mask Policy
Wellington High school has undertaken a risk assessment and will be continuing with its policy for staff, students and visitors to the school, to wear masks indoors in response to public health advice and sustained student and staff absences. This policy is effective Tuesday 23 August to Monday 19 September at which point it will be reviewed by the Board. to determine if it needs to continue, be modified, or cease to apply. This policy is in addition to requirements for mask wearing at Orange under the government's COVID Protection Framework.
A full description of this policy was emailed to all caregivers earlier in the week.
---
Learning Services: Volunteer Reader Writers needed 
During Senior derived grade exams we provide Reader Writers for students who are approved for Special Assessment Condition (SAC) Reader/Writer support.
We have large numbers of students requiring this during this exam time and we would appreciate some extra help from any parents who can volunteer their time to be a reader and scribe for a 2- 3 hour exam during Week 9: 19 – 23 September.
If you can help out and for more information, please contact Louise Hannagan.
---
What's Happening?
New Counsellor
This term the WHS Counselling Department is very pleased to announce that the team of three had become four when we welcomed on board the addition of DeNeen Baker Underhill to join us. This will provide three full-time counsellors for our counselling and guidance role at Wellington High School.

---
He
Kākano
One of our senior students is learning how to cultivate log mushrooms as part of Papa Taiao. This course gives our students valuable skills and experience working in sustainability and earth care. Both junior and senior students have established learning goals in Communication Class. We have a large display in the classroom so that students can engage with their goals on a daily basis.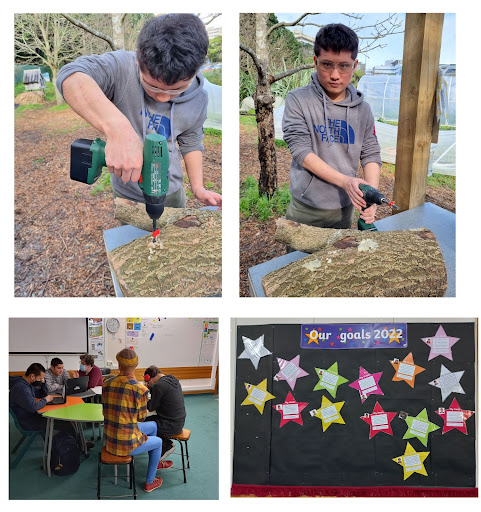 ---
Library
'Finding Hope: seeking refuge in New Zealand' an exhibition from the Holocaust Centre of New Zealand has been on display in the Library. The exhibition explains New Zealand's response to the Holocaust and the significance of this event on our history.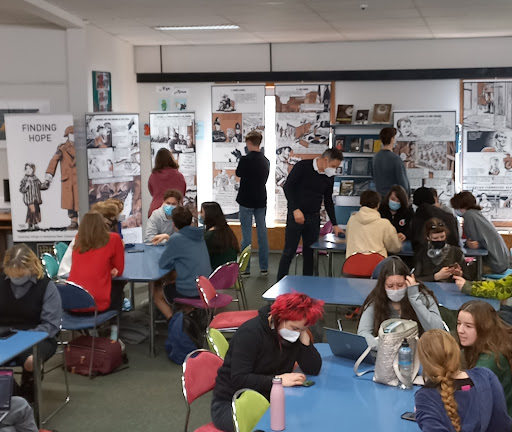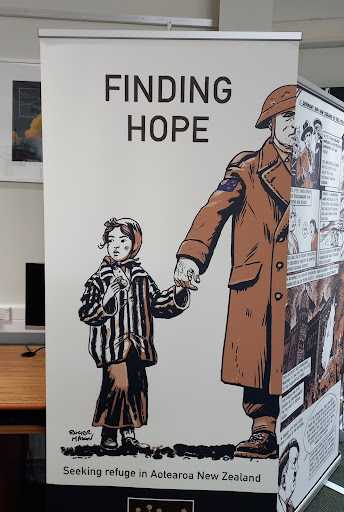 ---
Engineering Wonder Week trip to Calibre
On Monday 12 students visited the Wellington office of Calibre to learn about a career as a professional engineer.  The day began at Calibre's office, where students were talked through day-to-day engineering, were shown examples of Calibre's engineering work and learned how designs are produced. We then headed over to a project site to see how the buildings and infrastructure around us are constructed.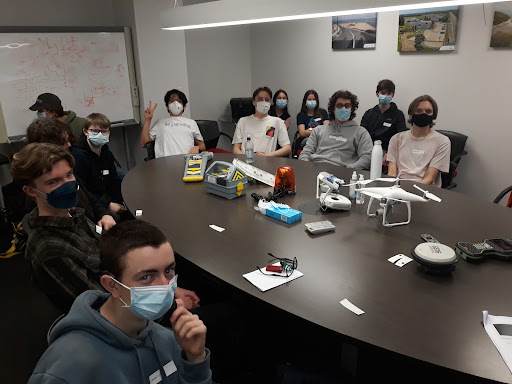 ---
Achievements 
Japanese Speech Contest
Congratulations to Nathan McPherson for taking out first place in the Year 10 division of this year's Wellington Regional Japanese Speech Contest. Nathan gave a polished and engaging presentation on a day spent in isolation, gaining laughs from the audience on the way. Not an easy thing to achieve in a second language!
たいへん よくできました!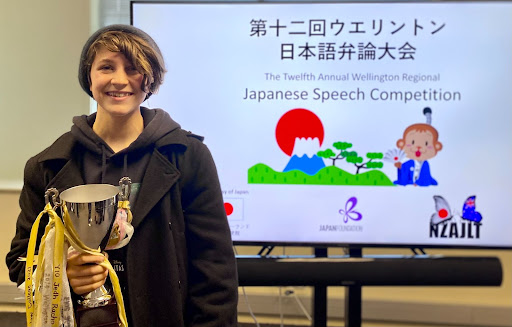 ---
Mathswell competitions
This week we've had some of our top mathematicians attend the three Mathswell competitions around the region.
Year 11 team
Rune Nicholson, Charlie Chen, Marissa Burnette, Archer Page and Lias Morris went to the Year 11 Mathswell competition at St Patrick's Silverstream on Tuesday night and despite being a team of 5 rather than 6, they won the competition coming first overall!! They beat 16 other schools and were blitzing the competition the whole way through. One round they even finished the questions 2 minutes early!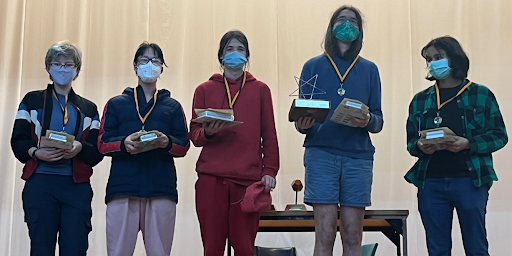 Year 10
Theo Keith, Max Clarke, Ben Graham, Michael McCarthy, Anna Briscoe and Kris Langrish went to the Year 10 Mathswell competition at Queen Margaret College on Wednesday night and came second overall!! Theo was amazing in the multiple choice section.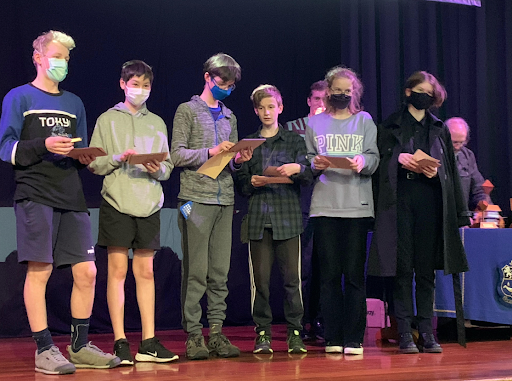 Year 9
Joshua Chen, Elijah Michel, Allegra Cooling, Samuel Young, Leo Kennedy and Heidi Smale went to the Year 9 Mathswell competition at Onslow College on Thursday night and came 6th out of 20 teams. It was a close competition with our team on top a few times during the multichoice section! Lots of fun all round.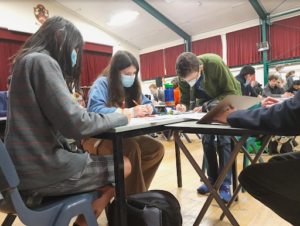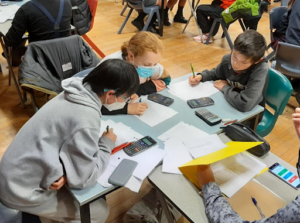 ---
Girlboss Awards
Applications are now open for the 2022 Girlboss Awards.
The GirlBoss Awards are a nationwide search for trailblazing young women (aged 11–18) who are defying stereotypes and creating change in their communities. We are after inspiring young leaders, artists, activists, role models, and innovators, and over $10,000 in cash prizes is up for grabs!
There is a Category for every outstanding young woman:
Sport
STEM (Science, Technology, Engineering, and Mathematics)
Volunteering
Community
Arts & Culture
Emerging Leader
Trailblazer
Inclusion
Activator
Wellbeing
Enterprise
If you know an inspiring young woman aged 11–18, nominate them for a GirlBoss Award (or they can nominate themselves)! Nominate yourself or someone you know, and help us find the changemakers of tomorrow at www.girlbossawards.com. Applications close on August 31st.
---
Sport
Underwater Hockey Finals
Senior Open and Senior Girls finals of the College Sport Wellington Premier competition were held on Tuesday night. Our Senior Open team were top seeds after a very successful season, and emerged as champions after a very tense final against Wellington College A (2-1 thanks to a "Golden Goal" from Finlay Necklen). This win was significant in that we have not beaten Wellington College A before. Five years of hard work from Henry Murdoch and Carlos Relph were rewarded. Wins at the end of the season go to the team who has improved the most during the year, and credit to the team's improvement this year must go to coaches Finn Hollingworth and Clark Samuel. Now that the team has nobody left to beat in Wellington, their next target is Glendowie College in next week's Nationals. The Senior Girls team finished in 5th place after a dominant win over HVHS.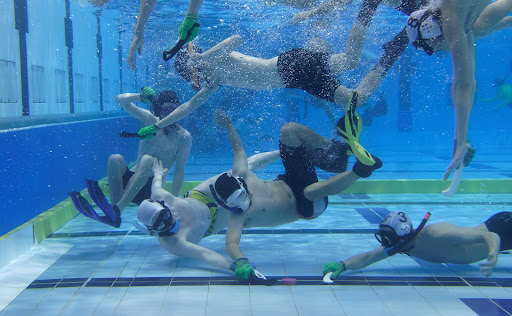 ---
Floorball
Frankie and Kristina have arrived safely to a warm and sunny Switzerland today, together with the New Zealand U19 Womens Floorball team. The team will spend a week in Switzerland to get over the jet lag and do some final preparation for the U19 Floorball World Cup which will be played in Katowice, Poland 31st August to 4th September.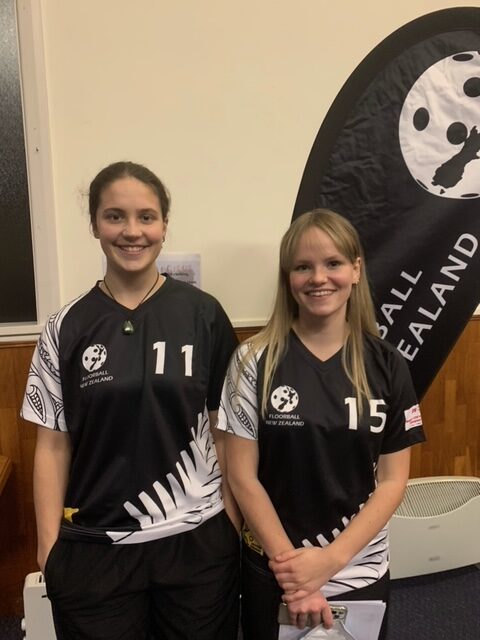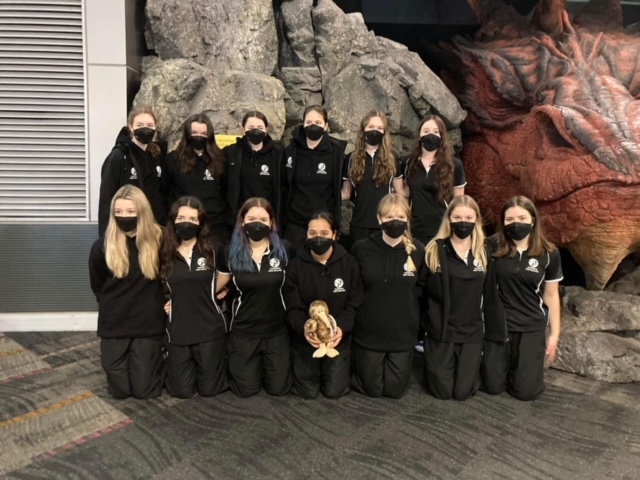 ---