On Friday 6 December in our final event for 2019, we celebrated our Junior Prizegiving.
To see the full list of Award Winners, click here.
To see a gallery of photographs from the occasion, click here.
In addition to recognising our prizewinners, former student Eva McGauley was inducted into our Wall of Fame. The citation for Eva is included below:
"Eva McGauley started as a Year 9 student at Wellington High in 2014. She always wanted to make a difference and was just 13 when she joined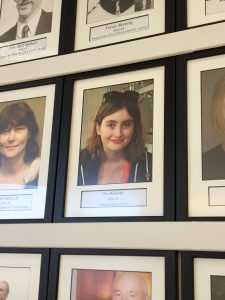 Wellington Rape Crisis. Two years later, she was diagnosed with nasopharyngeal cancer, a rare form of cancer that affects the upper part of the throat. After discovering her illness was terminal, Eva's wish was to help survivors of sexual violence. So she launched her own charity, EvasWish in 2016, with the aim of raising $50,000 for HELP: Auckland, Support for Sexual Abuse Survivors – she ended up raising more than $70,000. But she didn't stop there, coming up with an idea for an online messaging service for young people affected by sexual violence in Aotearoa New Zealand. 
That service, Safe to Talk, Kōrero mai, ka ora, was launched by Hon Carmel Sepuloni, Minister for Social Development, nationwide in June 2018. Eva's determination to see the helpline launched will ensure that women across New Zealand have access to confidential, free support 24/7.
Eva and her work received wide recognition, including a KiwiBank New Zealander of the Year Local Hero Award 2016, Changemaker at the New Zealand Youth Awards 2017, the Youth Spirit Award at the Attitude Awards 2017, and as a finalist in the Wellingtonian of the Year Awards for 2018. She was also profiled in 200 Women (alongside Jane Goodall and Margaret Atwood), a book about inspiring women from around the world."