Important Dates
Monday 5 November

– Senior Prizegiving and Senior Art Folio Exhibition,

Thursday 15 to Friday 16 November

– Junior Exams

Wednesday 7 November

– NZQA Exams begin

Thursday 15 —Friday 16 November: Year 9 and 10 assessment days
Monday 26 November

– BoT meeting, 6pm

Monday 10 to Wednesday 12 December

– Short Courses

Thursday 13 Decembe

r – Year 9 Picnic Day and Year 10 Rōpū Day

Friday 14 December

– Junior Prizegiving, 10am, Final day of term. School closes at 12 noon
There is a detailed list of Term 4 events on our website and you can access the school calendar on our website: http://www.whs.school.nz/whs-calendar
Farewells and celebrations
This week has been hugely busy — wrapping up courses, bidding farewell to our senior students and celebrating success. Last night saw our Whakanuia celebration of Māori achievement in Taraika which has become a wonderful awards night for our Māori whānau. Year 13 held their farewell assembly and BBQ today and next week we will hold our Senior Prizegiving on Monday evening. We wish all our students the best of luck in their exams which begin on 7 November.
Important Information
Maths/Pāngarau
NCEA revision workshops
Bring your notes, revision booklets, past exams and questions you have.  Come to Level 3, there will be a sign on the level 3 door on the day to tell you which class the revision will be in.
Level 1 | 1.3 tables, graphs, equations | 1.6 Geometric reasoning | 1.12 Chance and data
Wed 14 Nov 10am -12pm

Mon 19 Nov 10am-12pm
Level 2: 2.6 Algebra | 2.7 Calculus | 2.12 Probability
Fri 9 Nov 1:20pm-3:20pm

Tues 13 1:20pm-3:20pm
Level 3 Calc.: 3.5 Complex numbers | 3.6 Differentiation | 3.7 Integration
Fri 9 Nov 10am-11am

Mon 12 Nov 10am-12pm
Level 3 Stats: 3.12 Statistics reports | 3.13 Probability concepts | 3.14 Probability distributions
What's happening?
Best Wellington High Ball Ever
Wellington High School Seniors rocked the night away at the 2018 Senior Ball last week. The music, food and fashion were amazing. Huge thanks to all the organisation committee, Jono and the IT team, and Kathryn Hutchinson, Year 13 Dean…and to all the staff who stayed until midnight!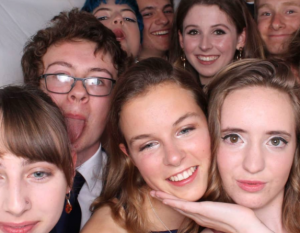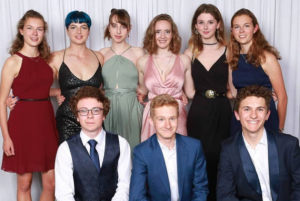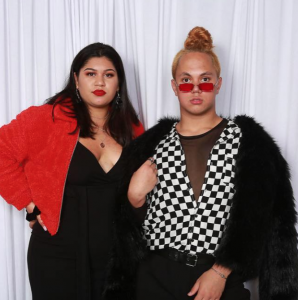 Music Evening – Rocking The Riley Centre

The best in NZ music was heard, seen and rocked on Friday 26th October 2018. Huge thanks to the students, staff, teachers, lighting, mixing and stage crew.  We have also received thanks from ReliefAid for whom we raised money at Music Evening last term.
Halloween on High
October 31st is the traditional day for spooks, ghosts and zombies to fill the labs and corridors of Wellington High. This year we saw the rise of the killer tomatoes, Zombie TAs and return of the Adams family in all their many guises. Dracula dropped in, Furbies popped out, Undead and Reanimated students abounded…Just another hallowed day at High filled with creativity, imagination and great dollops of monster makeup skills.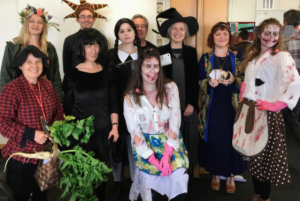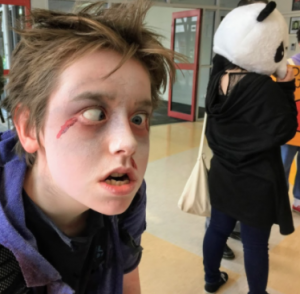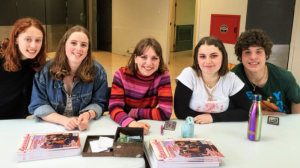 The Flannel 2018 – Hot off the press!
Well done to the Year 13 Journalism class for publishing this years 'Flannel' magazine. With a rich variety of articles, there is something for everyone.  There are some fantastic pieces of writing, including Y13 student Arie Faber's Investigative/opinion piece —"Not-so-squeaky clean: Why wellness culture is a scam" — which was also published in The Spinoff.
Roxy 5 Awards lead to Weta / PRPP remakes for High students
For the 2nd year running, our students got to remake their Roxy5 film with Park Road Post Productions (PRPP) and WETA staff, an amazing opportunity. Our team was Team Cassius and their film was 'Nightlight'. Now you can watch their first effort and compare it to the final remade version. Each film is only about 5 minutes long. Enjoy! 

Budding film director and producer, Finn Culver and Grace Medlicott, took their movie magic further this week and were asked to meet Meghan Markle and Prince Harry to share and celebrate their achievements in filmmaking."

Art Faculty: 
Portfolio Exhibition
Level 1, 2  and 3 Art student exhibit their fabulous finished folios. 
This will be on Monday 5th November from 8.45am until 5.45pm (Prizegiving Night), and all day Tuesday 6th November until 4pm. All are welcome to D block level 2.
Science Enrichment – BioEthics at VUW
A group of Year 10 students lead by science teacher Murray Chisholm took part in the Bioethics forum on Wednesday 24th October 2018 at Victoria University, as part of WHS's science enrichment programme. The forum was run by staff from the School of Biological Sciences and their Masters students.  Being able to participate in these discussions was a great way for our students to learn about the ethical issues inherent in the new biotechnologies e.g.Human-animal chimeras, Euthanasia, Drug testing in school sport, Sugar Taxes, Direct to Consumer (DTC) Genetic Testing, Posthumous Reproduction,
Horticulture Report – State of the Plants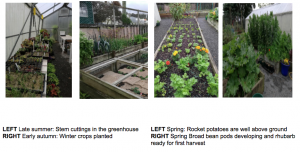 Horticulture students have had an industrious and productive year. Well over 2000 plants of many varieties have been produced using numerous plant propagation methods. Many of the plants propagated will be grown on for the school gardens or for the fledgling school revegetation project.
Students have taken home many of their favourite plants. Various plant management techniques were compared.
Sports news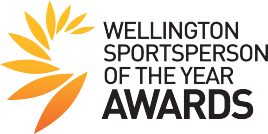 CONGRATULATIONS to the following students who have been nominated for the CSW Sportsperson of the Year awards: Cristo Matheson Floorball, Josh Campbell Floorball, Isabelle Earley Floorball, Marie Sundin Floorball, Liberty McIntyre-Reet Diving, Abi Liddell Ultimate Frisbee, Hazel Broadley Ultimate Frisbee, Sophie Mance Ultimate Frisbee and Amelia Mance Ultimate Frisbee.
The following students have been selected as Finalists for the Sportsperson of the Year awards to be held as Te Rauparaha Area on Sunday 4 November Sophie Mance, Amelia Mance, Abi Liddell and Marie Sundin. Good Luck to all the students.
WHS Sport Awards 2018
Congratulations to all the students who received awards in their sporting codes at our Sport Awards last week:
Sport Captains 2018
CONGRATULATIONS to Maia Grace-Paul and Rebecca Poi who have selected as our 2019 Sports Captain
From the Careers Desk
Eleven tips for an awesome job interview
You've got a job interview coming up? Congratulations! You've impressed the recruiter with your professional CV and cover letter and now they want to meet you. Find out more