Important Dates
Tuesday 26 September
7pm Music evening
Wednesday 27 September
Senior Progress Reports will be available on the portal
Friday 29 September
Last day of term 3
Monday 16 October
First day of term 4
Monday 30 October
Board of Trustees meeting
Tuesday 31 October
Sports prizegiving
Thursday 2 November
Whakanuia Friday
3 November
Last day for year 11-13 students
Monday 6 November
Senior Prizegiving
SAC Volunteers
A big thank you to all the volunteers who came in to be reader / writers for our recent senior school exams. Your help with our students in improving their ability to access assessment is greatly appreciated. We had volunteers from the following organisations:
2 from NZCER,
5 from Holmes,
1 from BNZ,
as well as 4 parent volunteers.
Student Achievement
Junior Prem Debating
The Junior Prem team had their final at Parliament on Wednesday 20 September in the Theatrette where the Prime Minister holds press conferences. In front of a good sized audience, a panel of three adjudicators, and up against Kapiti College, Wellington High School successfully negated the moot: 'that we should raise the age for superannuation entitlement'. This is the second time Wellington High School have won the 'W.G.T Wiggs Trophy' since it began life in 1974 which is a fantastic achievement. Wellington High School's team is Ben Watkins, Xandi Gobbi, Harrison Scott and Josh Bluck. A special congratulations goes to Ben Watkins who was voted Best Speaker and thank you to Denis Wright and Mike Kingston, our Wellington High School teachers who have coached and mentored these students this year.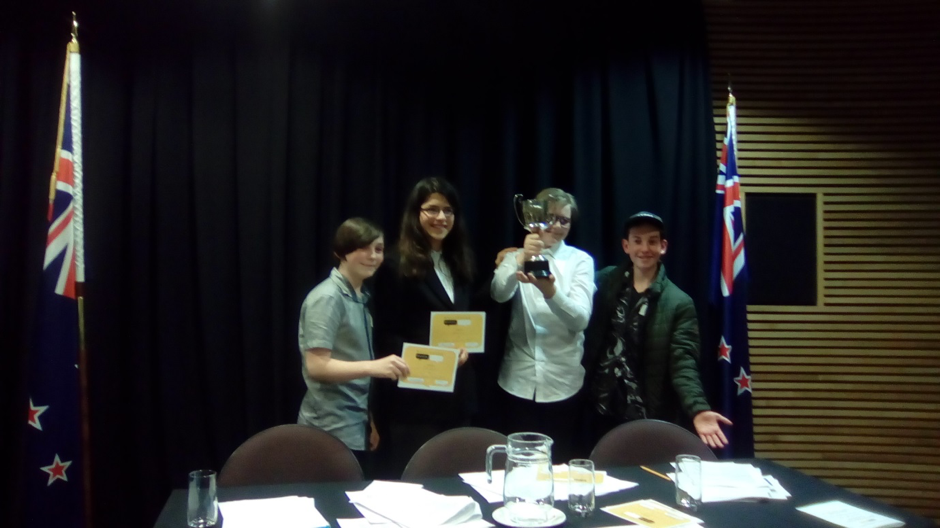 Josh Wikaira – Equestrian success
A well kept secret, so far, is that we have an excellent equestrian competitor in our ranks. Josh Wikaira recently competed in an Interschool dressage competition and placed 2nd in the Senior Individual Rider section. There were around 20 schools and approximately 100 riders competing from as far afield as Hawkes Bay and Whanganui. It is a great result for Josh and Wellington High and he was competing against senior riders from the Nga Tawa and Solway College Equestrian Academy. Josh will be heading to the Hawkes Bay A&P show in mid October hoping to qualify for the Horse of the Year 2018. We wish him the best of luck!
Robocup Junior National Competition
This is described as a "hands on, project-based, educational robotics competition" and it was held in Dunedin recently. Wellington High School sent two teams accompanied by our teacher Fadzliza Jaafar. Both teams, Team Ellana (John Shea and Samson Bodkin) and Team Toby (Tess Burgoyne, Nina Anderson, Daniel Loader and Seb Boyes) performed well and displayed excellent collaborative skills and enjoyed the day. Team Ellanta were singled out by one of the external judges for the code they had written.
Science Fair
Ensai August, Ryan Bright and Luke Roeven were the stars of Wellington High School's entries into this year's NIWA Science Fair. Ensai has won a total of $900 in prize money and a $5,000 scholarship to Victoria University as a result of his first in Class 5. He also received a Royal Society of NZ Wellington Branch Prize for the runner-up in best overall exhibit. Ryan and Luke both received Highly Commended for their respective contributions.
Eloise Daysh – WOW!
A wonderful tradition at Wellington High School is that many of our students over the years have created displays to coincide with the WOW event and these have been shown at various locations around town. One of our year 13 students, Eloise Daysh, is currently displaying her creation in the Te Papa store windows. Go along and have a look or read more about it here.
Luke Roeven Science success
Congratulations to Luke Roeven who has been selected to attend the Rotary Science and Technology Forum at Auckland University in January 2018. Luke will spend 10 days at the university taking part in labs, lectures and field trips over the wide range of science disciplines the university offers. Our thanks to Rotary for their sponsorship.
Board of Trustees Student Representatives elected
Following student elections on Wednesday 13 September,  Arie Faber and Maya Neupane have been elected as Student Representatives to the Board of Trustees for 2018.