This page is regularly updated with the latest news for families. 
We are actively following the information and advice being provided by the Ministry of Health and Ministry of Education with regard to the Coronavirus – COVID 19.
Update 27.3.2020
The Ministry of Education has been keeping us up to date with information in relation to COVID-19 and I have been passing this information on to you throughout. This new phase of New Zealand's response to COVID-19 is very different from anything most of us have ever experienced.  I wanted to reassure you that our school staff and Board of Trustees will continue to be available to support your student's learning and wellbeing after the holiday break. 
You will understand the importance of routine for your family. If your routine has been shaken up, like you're now working from home, it's good to structure your time. Routines are reassuring, and promote health and physical wellbeing. I refer you again to our remote learning plan – for lots of ideas on how to spend your time during this period. In addition, the Ministry of Education has suggested the following template for how a day could look. 
Daily Schedule
Before 9:00am

Wake up

Eat breakfast, make your bed, get dressed, put any dirty clothes in the laundry

9:00-10:00

Morning walk

Family walk with the dog, bike ride,

Yoga if it's raining

10:00-11:00

Learning at home

School-led learning or Sudoku, books, flash cards, study guide, journal etc

11:00-12:00

Creative time

Legos, magnatiles, drawing, crafting, play music, cook or bake etc.

12:00 pm

Lunch 🙂

12:30

Helping at home

# wipe all kitchen tables and chairs

# wipe all door handles, light switches and desk tops

# wipe both bathrooms – sinks and toilets

1:00-2:30

Quiet time

Reading, puzzles, nap, radio NZ stories

2:30-4:00

Learning at home

School-led learning or iPad games, Prodigy, Educational show

4:00-5:00

Afternoon fresh air

Bikes, walk the dog, play outside

5:00-6:00

Dinner 🙂

6:00-8:00

Free TV time

Kids shower time

8:00

Bedtime

All kids

9:00pm

Bedtime

All kids who follow the daily schedule & don't fight
Some good news to support you either working at home and/or studying at home – Spark, Vodafone, Vocus/Slingshot, 2Degrees and Trustpower have all advised they have removed their data caps and the possibility of any extra charges based on usage.
For our Pacific families, if you are not aware the Ministry for Pacific Peoples has been working to ensure useful information is available to Pacific peoples. A one-hour special will be aired on Tagata Pasifika's segment on Saturday 28 March at 9am, and on Sunday at 7.35am, Tagata Pasifika will share messages from community leaders. Please help reach out to all your family members, community groups, friends and group chats to ensure our Pacific community groups are watching the programming on both days.
A big thank you to all of you for taking the lockdown so seriously. As the Prime Minister has noted, staying at home will break the chain and save lives; breaking the rules could risk someone close to you and if the rules are not complied with, this could risk the lockdown period being extended or could risk the virus being spread to thousands
Please note the support information we have written at the bottom of the remote learning plan. Our counselors and other support agencies are still available in these challenging times.
---
 

Update 24.3.20

With yesterday's announcement by Government, we are implementing with urgency our plan to support your student's learning from home. We appreciate this is a sudden and significant change, and will be heavily disruptive to many people in our community.

Today and tomorrow we are taking care of children of essential workers. You may wish to check if you are considered an essential worker – https://covid19.govt.nz/government-actions/covid-19-alert-system/, however, those roles include doctors, nurses, ambulance drivers and police. 

For all other children, we will be supporting their learning from your home in the following ways:

This week, teachers will be reaching out to their classes and establishing connections with as many students as they can, reassuring them, and setting out the ways in which remote learning will work. The plans for remote learning will be in place for the rest of this week which is now the last week of term 1. The school holidays commence from this Saturday 28 March and continue until Tuesday 14 April. The first day of term 2 will be Wednesday 15 April, but no one will be physically attending school on that date. The remote learning plans will continue from then. This week will be a good chance to support your student's routines with remote learning. We have created guidelines for supporting your student with their school work during this period – http://www.whs.school.nz/wp-content/uploads/Learning-at-home-A-handy-guide-for-students.pdf. 

If you have questions about the learning, please direct these to your student's teacher in the first instance. If you have questions about pastoral issues, please direct these to your student's rōpū teacher or Dean in the first instance.

Please note that the NCEA assessment calendars are suspended for the period of the lockdown and we will give more advice in relation to this at a future date. This does not mean that there will be no assessment during this period, it just means that expectations in relation to assessment will be conveyed by teachers directly to students.

As I mentioned yesterday, your young person will be looking to you for guidance about this decision. Parents, caregivers, whānau and teachers will have a particularly important part to play in reassuring children at this time. If you haven't already done so, you may wish to read the information put together by the Ministry of Education to support your conversations with your children – Talking to children about COVID-19.

As noted by the Prime Minister these restrictions are our best chance to slow the virus in New Zealand and to save lives. We all have a clear role here to slow the spread of COVID-19.

I will continue to communicate with you as more information becomes available but this will probably be my last communication for this term. Thank you for your ongoing support of our school in unprecedented circumstances. Most of all, enjoy the time with your family over the coming period.

 Ngā mihi
---
Update 23.3.20
The Prime Minister has just announced that the COVID-19 alert level has been lifted to alert level 3 and alert level 4 in 48 hours. This means that for Tuesday and Wednesday our school will provide supervision to children of essential services workers only. From Thursday, all schools will be closed.
I am sending a form separately to this communication to collect details of students who will need to be supervised for the next two days. Essential services workers are those people working in such areas as health, emergency, utilities, and goods transport.
As the situation has escalated we have been able to plan for remote learning. I refer you to our online learning plan – http://www.whs.school.nz/newsnotices/remote-learning-plan/. Students will be able to access the work for each of their classes. At the moment our expectation is that students will follow the timetable of a normal school day and they will be able to access support from staff during the time that they would normally have that class. A detailed plan for remote learning will be sent to you tomorrow.
I want to say that the most important thing at the moment is that we look after each other and that we support each other through what are unprecedented times. I don't think anyone should become too obsessed with online and remote learning. We know that school is just a part of a young person's education and that good books, movies, games and music and the opportunity to spend time with family are vital to a child's growth. We must remember that we are all dealing with something that we have never dealt with before. This is where your parenting becomes even more important as you have the discussions that help your young person to comprehend what is happening, as you also start to comprehend this yourself. A lockdown situation means that students will be away from each other and this will be hard for them. They need your help to understand what this means and you will need to be creative in using your time together. A few years ago, we created a list of 'homework ideas' which are essentially activities that you could do at home that help in the education of your young person. I draw your attention to these – they are located on the Whānau section of our website under the heading Homework Ideas and they are grouped by faculty area. I notice, looking at them today, that some are out of date, and many aren't possible in the current situation, but there are plenty of ideas that will help when you need something new.
Please continue to stress the importance of good hygiene practices as I have stated in previous communications. I am sure there will be more information coming about the school closure situation and I will communicate again with you when I know more.
---
Update 22.3.2020
I am updating you on a Sunday evening because of the announcement yesterday that New Zealand has moved to Alert Level 2 – Reduce Contact for COVID-19, which means that people over 70 years of age and those with compromised immunity and certain existing medical conditions are asked to remain at home as much as they can from now on and avoid any non-essential travel.
This will no doubt affect some staff and students and I am asking you to follow this advice with your young person if they are 'at risk'. High-risk individuals include people with underlying medical conditions, such as:
a compromised immune system
liver disease
cancer
kidney disease
heart disease
diabetes mellitus
Further information is available at:
Please note that our instructions in relation to cough / cold symptoms have not changed and students should be kept at home if they are presenting with these symptoms.
Our senior leadership team has met today and we have decided that given the information we have about our staff, we are still able to run classes as normal tomorrow, although there will be some relief involved. We will obviously need to review this on a day to day basis.
Supporting learning at home
It is most likely that there are going to be a number of students at home and a number of students at school. Students who are well but staying at home will access learning remotely.
Lessons under these conditions will mean that a teacher needs to be available to students in the physical class during the allotted period but they will be accessible outside of class times if students have questions about their remote learning. Students will need to email or leave a message on Google Classroom and the teacher will aim to get back to them when they are available to do so. I draw your attention again to our remote learning plan on our website.
School transport
The school transport network has a number of school bus drivers over 70 years of age and the Ministry of Education is working with the bus companies to assess the impacts on school transport. We will know more about this in the coming days.
Updated COVID-19 graphic
I have included an updated version of what I sent to you on Friday with this email. There are a couple of changes based on increased data. I assume families will post this information in a prominent place at home.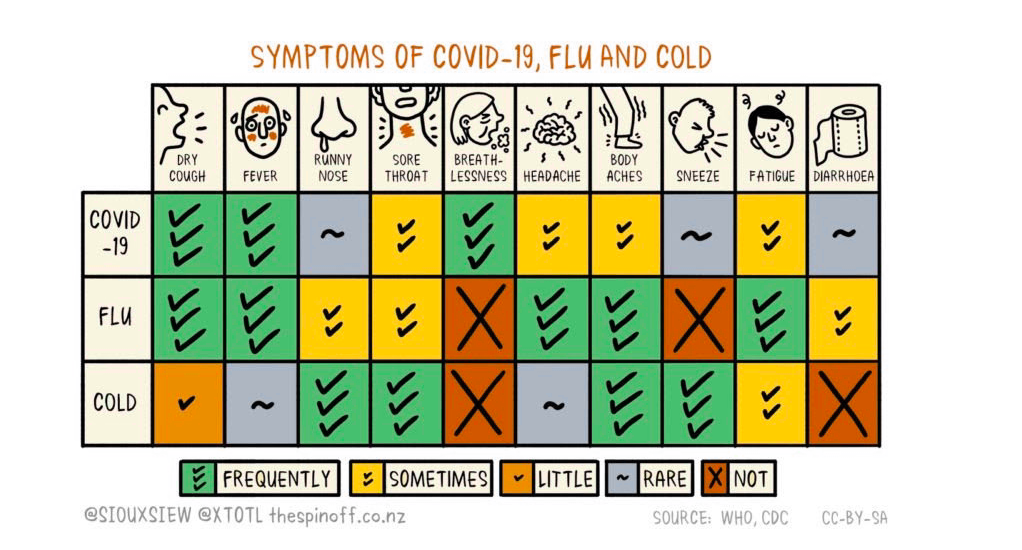 ---
Update 20.3.2020
With so much information and misinformation swirling around about COVID-19, I wanted to share with you what will happen if we were to have a case in our school community. We have been planning for this and are in a position to respond quickly.
As soon as a case is confirmed in our immediate school community (eg. a student, staff member, or member of their household), the Medical Officer of Health and Ministry of Education will inform me about this, and we will work together to get quick and clear messaging out to you.
If there was a case confirmed of someone in our school, we will likely be asked to close temporarily by the Medical Officer of Health. This will allow time for close contacts to be traced, appropriate testing to be undertaken, and a careful clean of the school to be undertaken.
If our school does need to close temporarily, we have a plan in place to support student's learning. See: http://www.whs.school.nz/newsnotices/remote-learning-plan/
We know COVID-19 feels scary and of course people are concerned for the wellbeing of our children. Please be assured that with no case confirmed in our school, your children are safe here.
Good hygiene is a priority at our school, and we are reinforcing this regularly with all students and staff. We know that practising good hygiene is still the best thing we can all do to prevent illness.
I recommend the following Government website to you as the most accurate up-to-date information related to COVID-19 – https://covid19.govt.nz/.
If you know of people for whom English is a second language, please inform them that the Ministry of Health has information available in other languages too.
I'd like to stress the importance of Physical Education at this time and we have been speaking to Physical Education New Zealand (PENZ) about our practices. Based on their advice we have made some changes, namely:
We will not share bibs, these won't be used in classes
We will avoid games that involve tagging/touching
Our Touch rugby unit is stopped and the related tournament won't happen
We will sterilize gear after lessons (where appropriate)
PE lessons will start with requiring students to wash their hands and finish with this.
Please feel assured that we are continuing to access the most up to date advice and guidance so that we can confidently make informed decisions about the safety and wellbeing of our school community.
---
Update: 19.3.2020
Learning Conversations cancelled
We have decided to cancel our learning conversations day scheduled for Friday 27 March.  This will now be a normal school day. Thursday 9 April remains a Teacher-Only Day, so the school will be closed for students then. 
Sports and Arts
College Sport Wellington has advised us that all summer sports in Term 1 have been suspended as of Wednesday, 19 March. This decision was made with the knowledge that in all likelihood, these competitions will not be resumed. Other activities where students gather across the city, such as debating, have also been suspended.
Assemblies and trips
We have decided to cancel assemblies until further notice and we are currently reviewing trips. The Whanganui river trip scheduled for next week and an International trip scheduled for week 10 will both not be going ahead. Alternative arrangements will be made for a later time.
Preparations for a school closure and online learning
At this stage, the Ministry has said that they are not expecting widespread school closures. There is planning for temporary closures, but as the World Health Organisation has confirmed, the risk to children remains low and parents should continue to send their children to schools and early learning centres. 
The Ministry of Education will make any decisions about school closures on a case by case basis. In the meantime, unless students are unwell themselves, then schools continue to be safe and the best place for our students to continue their learning.
Online learning
We have a plan for supporting learners in the event of a school closure. You can read about this here.
Hygiene and wellbeing
We would like to reiterate the advice from health authorities about the importance of good hygiene practices. I hope you are all focusing on prevention of spread including through:
Washing hands with soap and water for 20 seconds and drying thoroughly – before and after eating as well as after attending the toilet

Covering coughs and sneezes with clean tissues or with an elbow

Putting used tissues in the bin
Classrooms are being cleaned every day and the cleaning of the school has been stepped up.
Talking to Young People about COVID-19
This is a difficult and stressful time.  Events are moving quickly and there is a huge range of information available online, some of which is alarming.  If your student is finding this upsetting, please encourage them to make contact with our guidance counsellors, their Dean or rōpū teacher. You may find this advice useful: Talking to Children and Young People about COVID-19 (Coronavirus): Advice for Parents and Schools
If students are unwell
Students need to stay home if they are unwell in any way. If your student is at school presenting with cough / cold symptoms, their rōpū teacher may be in touch to suggest that you keep them home until they are well. Please understand that in this environment, students who present with coughs and colds can alarm other students at school and we have a responsibility to look after each other during these times.
Self-isolation requirements
There is now a 14 day self-isolation requirement for anyone arriving in New Zealand from other countries. In line with Ministry of Health advice, any member of our school community who returns to New Zealand from overseas, or has been in close contact with someone confirmed with COVID-19, is required to self-isolate, stay away from the Wellington High School for 14 days, and register using Healthline's dedicated COVID-19 number 0800 358 5453.  Where practicable we will provide work for students who are not able to be present in timetabled classes. We respectfully ask you to consider postponing these trips if at all possible.
NCEA Assessments
Under normal circumstances our internal assessment guidelines from NZQA dictate that if students are sick and cannot attend an NCEA assessment they must have a medical certificate. NZQA has asked us to show flexibility with these guidelines. Currently, we will accept a note from parents explaining student absence from NCEA assessments, if they are off school sick. 
International Students 
This is potentially a very distressing time for our international students, who in most cases, are away from their families. Our International Team is providing daily guidance and support to them and we are grateful for the excellent care which they are also receiving from their Wellington homestay families. It is important to note that anyone in New Zealand who is suspected of having an infectious disease or potentially in need of quarantine will be eligible for publicly funded health services in order to address the risks to other people. This applies regardless of their length of stay or immigration status.