This page is regularly updated with the latest news for families. These updates have been emailed to all whānau. 
We are actively following the information and advice being provided by the Ministry of Health and Ministry of Education with regard to the Coronavirus – COVID 19.
Update 9.6.2020
Kia ora koutou
I am sure you were as pleased as I was to hear the Prime Minister's announcement about moving to Alert Level 1 yesterday. This will bring some small changes to our daily operations but we are keen to continue with some of the good practices we have learned through these unprecedented times.
At level 1:
– Physical distancing is not a requirement but where possible or practicable is encouraged when you are around people you don't know.
– There are no specific public health requirements.
– There are no restrictions on personal movement so all students, children and staff continue to be safe to go to school / early learning, and all students must attend school.
– We are no longer required to keep a contact tracing register but we will continue with our usual practice of having a visitor register.
– There are no restrictions on numbers at gatherings or on physical activities including cultural and sporting activities, practices and events.
In terms of our school the implications of level 1 are:
– If people are sick, they should stay home and the advice is to phone Healthline / GP and get tested if there are cold or flu symptoms.
– We should all continue to regularly wash and dry hands, being careful to sneeze and cough into elbows.
– We will continue to regularly disinfect shared surfaces.
– We will support contact tracing efforts by displaying QR Code posters for the NZ COVID Tracer App at our entrances.
– We will revert to our normal school timetable from Monday 15 June.
– We can now look forward to inter-school and community sport, cultural events and performances and to welcoming all of our school community on site for these activities.
– We also look forward to running our usual array of field trips and other excursions.
– We look forward to running our annual Open evening on Monday 29 June and our first music evening on Tuesday 30 June.
I'm sure you have heard that we had four prefabricated classrooms delivered over the weekend (6-7 June). I have mentioned before that our school roll has grown more than any other Wellington city school since 2012 and the effect of this is that we are running out of classroom space. We have been working closely with the Ministry of Education who have given us these new classrooms as a first step in our planning towards a school with greater capacity. These will be in operation from the start of term 3.
This will hopefully be my last message to you in relation to COVID-19. I have realised that with my messages to students, parents and staff during this time I have written over 50 pages which is about half a John Steinbeck novella, albeit not as stimulating.
Mauri ora!
Dominic Killalea
Principal
Update 5.6.2020 – NZQA changes
Kia ora koutou,
You have probably heard of changes announced by NZQA in response to the COVID-19 pandemic. This communication is about those changes.
We know some of our students – and their whānau – are worried that they might not be able to attain NCEA or UE this year, because of the disruption caused by COVID-19.
To help address this and support students, the following changes are being made to NCEA and University Entrance (UE) requirements for this year:
Students working towards an NCEA can gain additional credits, based on the number of credits they achieve during the 2020 school year. These additional credits will be known as Learning Recognition credits. For every 5 credits a student achieves towards their NCEA either through internal or external assessment, they are entitled to an additional 1 credit. Students at NCEA Level 1 are eligible for up to a maximum of 10 additional credits while those at Levels 2 and 3 are eligible for up to a maximum of 8 additional credits.

Students will be awarded a certificate endorsement if they achieve 46 credits at Merit or Excellence level, rather than the usual 50. Students achieving 12 credits at Merit or Excellence level in a course – rather than 14 – will be awarded a course endorsement.

Current UE requirements have been reduced from 14 to 12 credits in three UE-approved subjects. Students still need to attain NCEA Level 3 and meet literacy and numeracy requirements to be awarded University Entrance.

External NCEA examinations and NZ Scholarship examinations will now take place from

16 November 2020 to 9 December 2020.

This will provide extra time for teaching, learning and assessment in Term 4.

The submission date for subjects which require students to submit a portfolio (for example, Design and Visual Communications) has been extended to 12 November 2020, to give students more time to complete their portfolios.
These changes have been designed to encourage students to continue working towards their NCEA and to ensure that the integrity of the NCEA qualification is maintained.
You can read a summary of the changes here. 
If you have any queries about these changes, please contact your student's rōpū teacher.
Mauri ora
Dominic Killalea, Principal
Update: 29.5.2020
Kia ora koutou
I hope you are able to enjoy some time away from work over this long weekend and enjoy the time you spend with your young person(s). Things at school have felt a lot more 'normal' this week and I have learned that teenagers find it very hard to observe social distancing, even when they are constantly reminded. I have found the adjustment to level 2 a little unsettling from a personal point of view. It's great to have all of the students back at school but I fear that we might return to what life was like before COVID-19 without heeding the warnings that a pandemic gave us in terms of our work-life balance, our relationships with our family and friends and how we interact with our wider environment.
Today's teacher only day has been about learning from the lockdowns and carrying those lessons forward into redesigning learning in the future. We're not entirely sure what that will look like yet but we have to take the best of these times and learn from them.
Attendance collection and tracking
We will be sending student attendance data to the Ministry of Education weekly, from 29 May. The purpose is to:
 report to the

National Crisis Monitoring Centre and

government

on levels of attendance

during the COVID-19 period

inform and support Ministry planning for students and schools returning to normal operation, and

evaluate and report on the effectiveness of initiatives implemented by the Ministry to respond and manage its response to COVID-19.
NZ COVID Tracer app
The NZ COVID Tracer App was launched last week and will assist with contact tracing in New Zealand. Please note we still need to maintain our contact tracing register (through our visitor register, timetabled classes and student contact registers) at this time. The App does not send data to the organisation that has generated the QR code and therefore cannot replace our visitor register and our other measures. Future versions may offer increased functionality, including linking with other apps that undertake a similar function, and we will update you should this situation change.
For your own knowledge, those who download the app will create a digital diary of the places they visit by scanning QR codes displayed at the entrances to business premises, other organisations and public buildings. People can also register their contact information through the app so that the National Close Contact Service can get in touch if they need to.
Hand sanitiser
I have never engaged in so much hand sanitising in my life. I'm sure our students are feeling the same way and I hope this has a really positive effect on lowering sickness levels this winter. If you are sending a student to school with their own hand sanitiser, please ensure it meets the requirements of over 70% alcohol.
Emergency contact information
We are extending the emergency contact information that we gather and asking all families to complete the form at: https://forms.gle/yenaWPnB4R73x7J49. If an emergency ever constitutes the need to evacuate and close the school, we will keep all Year 9 students with us until a known adult can come and collect them from the field. Families of older students can ask us to supervise their student in this situation too. Please provide three emergency contacts, in addition to those contacts already known to school, who could collect your student in the event of an emergency that closes school. 
Sport
The lifting of restrictions on numbers at gatherings from this afternoon means that school sports will be able to restart. I'm sure a lot of our students will be really pleased with this news. College Sport Wellington have been in touch to confirm the following timings for the restart of sport:
Hockey

– The Wellington Secondary Schools Hockey Competitions will commence on June 12 for P1/P2 grades and from June 15 for other grades,

Underwater Hockey

– The College Sport Wellington (CSW) Underwater Hockey competition will commence on June 16,

Basketball

– The Dynasty CSW Basketball competitions will commence on June 16 for Juniors and June 19 for Seniors,

Football

– The CSW Football Competitions will commence from June 16 for Girls and from June 19 for Boys,

Badminton

– The CSW Badminton competitions will commence from June 19,

Netball

– Netball competitions can commence from June 19 and each Netball Centre will confirm their exact start date shortly.  The Hutt Valley SS competitions will commence on June 20 and the College Sport Wellington RSSL will commence in Term 3,

Rugby

– The CSW Rugby Competitions will commence from June 20.
Finally, if you are reading this and your student hasn't yet joined us back at school, please feel assured that our school is a safe place for your child to be. Getting back to a normal routine is important for the health and wellbeing of all of our children, and being around their peers and teachers helps them feel in control and reassured. We would love to welcome them back to school and make it a positive experience for them and for you. Further, regularly attending school really matters when it comes to your child's learning and their future. We are here to help and will be happy to talk about any challenges you have in relation to this.
 Mauri ora!
Dominic Killalea, Principal
Update 14.5.2020
Kia ora koutou
This email is to provide a little more detail about some of the services at school under alert level 2 and some information about Queen's birthday weekend. A reminder that we are expecting to greet all of our year 9 and 10 students at 8.45am on Monday 18 May and all our year 11, 12 and 13 students at 9.30am on Monday 18 May.
Payments
Under alert level 2 we won't be handling cash payments anywhere at school. All payments should be either through the portal or by Paywave at student services.
Visitors to school
If you need to attend school for any reason, you must sign in at student services. Reception has moved to student services for the alert level 2 period.
Queen's birthday weekend arrangements
A lot of teachers and students have been working without much of a break since the start of lockdown. A number of parents have contacted me asking for a break for their student. We have decided that we will have a longer break over the Queen's birthday weekend – Friday 29 May will be a teacher only day and Tuesday 2 June will be a mid term break. This is in line with a number of other Wellington schools and will give students 5 days continuously away from school work and hopefully allow many of them to recharge for the remainder of the term. Please note that in our original scheduling for the year, we already had Friday 29 May marked as a teacher only day.
Extra hygiene processes
We have installed packets of paper towels as an additional drying mechanism in all toilets (in addition to electric hand dryers). We need students to look after these so that stocks are not depleted quicker than they need to be. Students should use 2 towels to dry their hands for roughly 10 seconds each, or use the hand dryer for approximately 45 seconds. We will be giving this message to students but your help in talking to your student about this would be appreciated.
Public transport
We have had difficulty getting information from Metlink but we have been told that there will definitely be no standing allowed on any school buses and they acknowledge this means some services may overfill. They are also looking at where they can put in additional services but cannot give any guarantees of when these might be in place. I suspect their capacity is limited in this regard and this will remain a problem under alert level 2. If you have alternative modes of transport for a student who would normally catch a bus or train, then this would be a good time to 'exercise' that option!
A reminder to please complete the public transport survey if you haven't done already. This can be found at: https://forms.gle/kjY4WiGJ1GTnYsNX6. We need this information for contact tracing to and from school.
Students displaying signs of cold, flu, COVID-19
If students are displaying symptoms of any of these, please keep them away from school. If students turn up to school displaying these symptoms, we will ask you to come and pick them up. If students are ill they will be able to continue with the remote learning plans that will continue under alert level 2.
Cafeteria
Our cafeteria will be operating a cashless system using the mykindo app or through www.mykindo.co.nz. Orders can be placed through the app or website and the service is click and collect. More details can be found here. On Monday, EFTPOS machines will also be available in the cafeteria.
In addition, the cafeteria is implementing the following extra practices based on MPI guidelines:
There will be a register which records who handled/packaged what food.

Hand sanitiser is available at the counter for student use once they have received their food.

Queuing for food will happen in the marked lanes. Entry is by the car park entrance, exit is by the foyer entrance. There will be no dining in this area under alert level 2, and all seating has been removed from this area.
Preparing to return to school under Alert Level 2
The Ministry of Education has compiled a list of resources to help prepare parents and students for alert level 2. These include:
A 'checklist' for preparing for the return to on-site learning

Translated versions of the information in te reo Māori and 10 Pacific languages (Note: we will be adding other language versions in the coming days).

Some helpful videos that may help with the situation
https://parents.education.govt.nz/essential-information/news-stories/covid-19-preparing-for-alert-level-2/  
Our Learning Plan under alert level 2
As I mentioned in my previous email, we will be continuing with our remote learning plan to enable some students to continue to work from home. Our expectation is that all students will return to school but we realise there will be some exceptions. Could you please ensure that your student has all the equipment they need for learning, including:
A charged device (and their charger)

Headphones to use with their device.
Our alert level 2 planning
You can view our COVID-19 alert level 2 planning here. This plan has been completed with close reference to Ministry of Education guidelines in Managing Health and Safety in Schools at Alert Level 2.
We are looking forward to welcoming all of our students back to school on Monday.
Mauri ora!
Dominic Killalea, Principal
Update 12.5.2020
Kia ora koutou
Yesterday, the Prime Minister announced that New Zealand will move into Alert Level 2 from Thursday 14 May. The Government will be reviewing this decision in two weeks time. In light of this announcement, our school will be reopening for all students from Monday 18 May and we will be making preparations for the return of students over the coming days. The key messages from the Prime Minister in relation to schools reopening at level 2 are below.
"Schools … are safe environments for children, young people and staff. Additional public health control measures are in place to prevent the spread of disease and to support contact tracing."
"If a school has a confirmed or probable case of COVID-19, they must close on an individual or group basis for 72 hours, to allow contact tracing, and then potentially for a further 14 days."
"The two key public health principles we're talking to the sector about are one: to reduce the risk of someone getting infected in the first place and two, to ensure we can identify and contact anyone who becomes infected."
"So keeping kids at home if they're sick, and good hygiene such as hand washing are so important."
"In schools, physical distancing means children, young people and staff maintaining enough distance so that they are not breathing on or touching each other. And maintaining good hygiene practices, and regular cleaning. As is regular cleaning of equipment."
Returning to school
If your student is in years 9 & 10, we will be expecting them to return to school at 8.45am on Monday 18 May when they will immediately go to their rōpū class. If your student is in years 11, 12 & 13, we will be expecting them at 9.30am on Monday 18 May when they will also immediately go to their rōpū class. In both cases, this will be an opportunity for students to reconnect with their peers, be briefed on health and safety procedures for level 2 and set up contact tracing registers for each student. 
As we have been doing at Alert Level 3, we will continue to focus on:
enabling good hygiene practices – regular washing and drying of hands and good cough and sneeze etiquette remain fundamental to preventing spread of illness such as colds, flu and COVID-19,

ensuring people with COVID-19 symptoms stay away from school,

maintaining physical distancing where practicable – in schools at Alert Level 2 this means young people and staff maintaining a physical distance so that they are not breathing on or touching each other,

keeping track of people who enter our school.
Additionally, at level 2, we will ask students to:
Use hand sanitiser upon entering class and clean surfaces at the end of each class,

Keep a contact register for break times and study periods,

Bring a bottle from home for water, as water fountains have been disabled except filling taps,

Not share class equipment eg books, pens, pencils, etc, at this time.
In light of the return to school, I have asked staff not to set any new work over the next 3 days – Wednesday to Friday. This will give students a bit of a breather or catch up time before returning to school full-time next week. Note that teachers will still be available in lesson times on Wednesday and Thursday. No staff will be available on Friday as they will be preparing onsite for the return of students on Monday.
Timetable changes
As you know, we have been struggling with space and overcrowding in more recent times. To mitigate against this we have decided to put junior students (years 9-10) and senior students (years 11-13) on different timetables for breaks during the school day. The altered timings are attached and will be in place for level 2 and be reviewed at the end of this period.
Monday, Tuesday, Thursday, Friday
Wednesday
Junior timetable (9-10)
Senior timetable (11-13)
Junior timetable (9-10)
Senior timetable (11-13)

8.45 – Period 1

8.45 – Period 1

Staff PD

Staff PD

9.40 – R

ōpū

9.40 – Interval

9.30 – Period 1

10.00 – Period 2

10.00 – Period 2

10.20 – Period 2

No period 1

11.00 – Interval

11.00 – R

ōpū

11.10 – Interval

10.40 – Period 2

11.20 – Period 3

11.20 – Period 3

11.30 – Period 3

11.30 – Period 3

12.20 – Period 4

12.20 – Lunch

12.20 – Period 4

12.20 – Lunch

1.20 – Lunch

1.20 – Period 4

1.20 – Lunch

1.20 – Period 4

2.20 – Period 5

2.20 – Period 5

2.20 – Period 5

2.20 – Period 5
School Learning Plans
Our remote learning plans during the level 4 and level 3 lockdowns have provided a level of flexibility that we would like to be able to maintain in our normal school routines. At level 2 we will continue with our remote plan, but teachers will obviously not be available for online meetings, as they will be physically in class. If a student needs to be at home, they will be able to follow the work using their google classroom as they have done over the past 5-7 weeks.
Our priority at this point is to look after all of our students and help them through the next period of transition. There will be students who are anxious about assessment and qualifications and we are currently working through planning to ensure there is no 'tsunami' of assessment upon their return. If you are concerned about the wellbeing of your student, do not hesitate to get in touch and use your student's rōpū teacher as the first point of contact. 
Your support
In addition, although students are coming to a safe place, this isn't business as usual and it is important that we continue to stress the need for good hygiene practices. To this end, could you help us by making sure your student brings the following from home:
Bottled water – these can be refilled at school but drinking taps have been disabled,

Equipment for classes – pens, pencils, books, devices – so there is no need to share others' equipment.
In addition, if your student is using public transport with a snapper card, getting the snapper registered will help with contact tracing, in the event of any further outbreak of COVID-19 in the wider community.
Cafeteria
The cafeteria at school will be available for students. They are currently working on plans for what the delivery of their service looks like under alert level 2. I will forward you more advice on this in coming days.
School transport survey
Please complete the accompanying survey so that we are able to help with any contact tracing, should it be required in the event of a further outbreak of COVID-19. The survey can be accessed at: https://forms.gle/kjY4WiGJ1GTnYsNX6
We are really looking forward to welcoming all of our students back to school. I know that these have been challenging circumstances for all of our community and I thank you for your efforts in supporting and guiding your young person through the particular challenges of remote learning and these quite surreal times.
Mauri ora!
Dominic Killalea, Principal
Update 8.5.2020
Kia ora koutou
Yesterday, the Prime Minister advised that in Alert Level 2 schools are safe environments for children, young people and staff and that additional public health control measures are in place to prevent the spread of disease and to support contact tracing. There will be a decision about moving between alert levels on Monday 11 May, based on public health information, in particular low or no community transmission. If the decision is made to move from level 3 to level 2 then, according to the Prime Minister, "… schools won't open midweek – whenever the decision is made – they will open at the beginning of the following week." This means that the earliest we would be reopening at level 2 would be from Monday 18 May.
The decision to reopen our site is an important one and the key Public Health approach is to minimise the risk that someone gets infected in the first place, and second to ensure we can identify and contact anyone who has been in close contact with a person, if someone in our school is infected.
As we have done in Alert Level 3, you can be assured that in Alert Level 2 we will know who is at school, who our staff and students have been in close contact with and take appropriate measures to keep everyone safe.
Physical distancing is a good precaution to prevent the spread of disease. However, we do know it is challenging in schools, so good hygiene practices and regular cleaning are even more important here. This includes staff and students coughing into their elbows, handwashing and drying and regular cleaning of commonly touched surfaces.
Under Alert Level 2, we advise any students and staff to stay at home if they are sick, and we will send anyone home immediately if they show any symptoms.
Our school has safe and sensible practices to maintain the health and safety of everyone on the school site. As described by Dr Payinda in his NZ Herald article, "Covid's not measles or chickenpox, it doesn't hang in the air for hours waiting to infect passers-by. It travels on invisible drops of spit. You don't have to cross the street to avoid anyone. Just avoid getting in their 'moist breath' zone". We all just need to remember to have some breathing space at Alert Level 2!
It's important however that not just at school but at home, safe hygiene habits are practised by everyone, as this is essential to minimise the risk that someone gets infected with Covid-19.
For more information about the public health measures at Alert Level 2, you can visit the covid19.govt.nz website: https://covid19.govt.nz/
We will be in touch again soon to update you on our plans.
 Mauri ora
Dominic Killalea, Principal
Update 24.4.2020
Kia ora koutou
I hope you and your family are faring well at this time. Thank you to our year 9 and 10 parents and caregivers to their responses to our surveying in relation to students who will need supervision under the level 3 lockdown. At this stage we have approximately 10 students who are going to need supervision at school. This email is to outline what is happening over the next few days and a little information about our Health and Safety procedures during the level 3 lockdown.
ANZAC day holiday – Monday 27 April
This is a public holiday and so there are no classes and no expectations of students to be working on this day. Teachers will obviously not be available.
Teacher only day – Tuesday 28 April
There will be no scheduled classes on this day either as teachers will be preparing the school for level 3 lockdown and also using the time to share teaching and learning stories in a less frenetic environment. The teacher only day will mostly be happening remotely.
These two days (Monday and Tuesday away from school) will provide an opportunity for students to recharge, and spend time away from their computers. Try and encourage them to do this as much as possible. We have heard stories of students using this time to 'game' very late at night. Please discourage this type of behaviour at those sorts of hours. Try and talk to your young person about how you maintain your work-life balance and the risks and harm associated with addiction.
Students coming to school from Wednesday 29 April
The PM's messaging has been very clear that under level 3 lockdown, as many people as possible should continue to work from home. This goes for schools as well and it is not possible for us to offer normal classes at the moment as teachers will be running their learning online. However, for essential services workers we can and will provide a level of supervision for students in years 9 and 10 so that those students can safely engage in their remote learning programmes.
As I mentioned above, we are expecting 10 students at school from Wednesday and it is important that we know who is onsite at all times for contact tracing. If you have not informed us that your student needs supervision, please email admin@whs.school.nz. If your situation changes and you will require your student to be supervised please let us know by contact through this email address.
When students are at school they will be placed in a 'bubble' of no more than 10 students initially although there is scope to grow the bubble to a maximum of 20 students when we feel that we have good health and safety procedures in place. Please note that the teachers supervising in the bubble will only be there in a supervising, not teaching capacity. 
These times are obviously unprecedented and there will no doubt be learnings in the early stages.
A few notes about Health and Safety when students are at school under level 3 lockdown
The notes below are based on our advice from the Ministry of Education. I will be in touch separately on Tuesday with those parents and caregivers whose students will be attending from next Wednesday in relation to these procedures.
If your student is not well they should be kept home. If a sick child comes to school, they will need to be sent home.

Hand sanitiser will be at entry to classrooms and in bathrooms (if soap and water is not available). We will continue to emphasise the importance of good hygiene practices.

Initially, the number of children must be limited to 10 in a school bubble, but this can be increased to 20 once all processes are running smoothly. There can be multiple school bubbles in a physical space but there must be distance between bubbles and strictly no mixing between school bubbles. Bubbles cannot mix during break times.

To support contact tracing students should sit in the same place each day, with at least 1m physical distance between all children, young people and staff inside buildings and 2 metre physical distancing outside.

Our preference is that parents will drop students to school and pick them up at the end of the day if they are not living within walking distance. Parents will need to remain in their car and will be able to use our car park for this purpose in the short term.

Students will use the same workspace each day, all day and they will be required to disinfect and clean their workspace daily. There is an exception here for break times and visits to the library. These exceptions will be strictly supervised by school staff.

Students will need to bring their own lunch and food for each day as the school cafeteria will not be available. Students will be eating their lunch in their workspace (washing hands before and after).

Contact tracing registers will be set up to identify which children are in each teaching space, recording when and who they have contact with during the day. 

There will be a register in student services recording any contractors or visitors to the site, including parents. However, parents and caregivers should not be visiting the site other than to perform drop offs and pick ups.

Personal Protective Equipment (PPE) is not required or recommended as necessary in any educational facility by the Public Health Service as long as other protocols are observed. However, if students want to wear face masks, we see that as a proactive step in trying to keep themselves and others safe. The school has a supply of PPE.

Toilets – students will be directed to the toilets they will use during this period. We will be emphasising that they continue with good hygiene practices, particularly during this period. 

If there is an emergency situation, students will follow normal school procedures.

Students will

not

have the normal freedoms associated with being at school and they will not be able to walk around the site as they might normally do. They will be confined to a small amount of spaces within the school to minimise contact.
School contact
Reception will be closed during this period and level 5 will be out of bounds for students. Any visitors to the school will need to go to student services on level 5 of main block. We already have in place a glass screen. A member of our senior leadership team will be supervising and answering enquiries from that point.

Phone calls to reception will be handled remotely.

If you need to contact the school about a general matter, please use the email address –

admin@whs.school.nz

. This address is being regularly monitored and we will respond when we can.
A slight change to our timetable
During the level 3 lockdown, we will move lunch to only a 40 minute break – from 1.20pm to 2pm. This means that period 5 will commence at 2pm. This applies to remote learning and at school learning. Please make note of this for lessons from next Wednesday. Our longer break normally facilitates sports practices and a range of other activities that aren't possible at the moment.

This means our hours of supervision are 8.45am to 3pm under level 3 lockdown. It is not expected that students will be on school grounds outside of these times. If you are an essential services worker and you need additional supervision / support please contact

admin@whs.school.nz

and we will work through a solution with you.

Please note that Wednesdays remain a later start day with classes commencing at 9.30am. This also applies next Wednesday 29 April.
Mauri ora
Dominic Killalea, Principal
Update 21.4.2020
Kia ora koutou
We hope that Term 2 and our remote learning programme has been a success for your student(s) so far. We know that this has been a challenging time for all but it has been heartening to hear a lot of positive feedback in relation to what we have been offering and we thank you for all your support.
Yesterday the Government decided that we will move into Alert Level 3 from midnight Tuesday 28 April.  That means we will be open to receive students from Wednesday 29 April. We will be starting to prepare our site this week.
The PM's announcement in relation to level 3 was very clear:
Stay home

. If you are not at work, school, exercising or getting essentials, then you must be at home, the same as at Level 4.

Work and learn from home if you can

. We still want the vast majority of people working from home, and children and young people learning from home. At-risk students and staff should also stay at home, and they will be supported to do so. Early learning centres and schools will physically be open for up to Year 10 for families that need them."
The key message for you is that if you can, you should keep your child at home. You should only physically send your child to school if you need to. If your child has a health condition that means they are at a greater risk of a severe illness you must keep them at home.  If your child is sick please also ensure you keep them at home.
In order for us to plan the next stage we need to know of your intentions with your student. Please fill in this Google form as soon as possible. On the basis of this information, we will be establishing a level 3 lockdown school roll and we will only accept students at school who are on this expected roll.
Students who are at school will be following the remote learning plan, the same as students who are at home. We will be providing supervision for groups of up to 10 students in one place, but in order to ensure the safety of those children and our staff who do come to school, we will be operating with strict enforcement of health and safety measures. We will provide more details of these measures in a further communication.
I want to assure you that we will continue to support your child's learning at home.
The Ministry of Education has advised that they are working closely with health to develop clear guidance that will support schools to safely re-open their premises to students and staff. This will help us work through the public health requirements that we all need to meet. As you will be doing, we want to be sure that what we do will keep our community as safe as possible.
 For now, we will continue to support your child's learning by distance while we progress our planning for what Alert Level 3 will mean for you and for our school. We will be in touch again soon with more information. As you have been doing, please keep connecting with your teachers with any questions you might have.
 Mauri ora
Dominic Killalea, Principal
Update 16.4.2020
Kia ora koutou
I am writing to you today with information in relation to four areas: 
the foreshadowing announcements for level 3 made today by our PM,

information to help students stay safer online from home,

if your child is unwell and unable to participate in online learning, and

some links to resources that may be useful that the ministry have asked me to share with you.
The level 3 foreshadowing announcement today
Our Prime Minister today outlined what level 3 will look like foreshadowing that students up to year 10 could be accommodated at school physically where needed. Before this announcement, Ministry of Education communications had already indicated that they have been looking at various scenarios based on health considerations and requirements under Level 3, particularly managing physical distancing. A hybrid model of both distance learning and on-site learning is very likely at least in the early stages of Level 3 and Public Health requirements will affect each school differently.
The ministry has assured us as a school that we will have some time to prepare for physically re-opening the school and welcoming back on site some of our staff and some, but not all, of our children/students.
Assuming the alert level does change, current planning assumptions are that staff will have Thursday 23 and Friday 24 April to fully access our site and undertake a property inspection and necessary maintenance and cleaning. Monday 27 April is a public holiday (ANZAC Day observed) and Tuesday 28 April will be a teacher-only day. We therefore anticipate Wednesday 29 April will be our first day with some of our students/children able to attend in person – at this stage that looks like being some students in year 9 and year 10. This information may change after the announcement today and I will write to you again when I know more about this.
Helping students stay safer online from home
As you know, children's online safety is important. At school, Network for Learning (N4L) helps keep your students safe from the bad side of the internet. During lockdown, the students' place of learning shifts to their home. So N4L has worked out a way to help parents keep their children safely connected at home.
N4L have set up a safety filter that parents can set up on their child's learning devices from home. Just go to switchonsafety.co.nz to find clear instructions on how to do this.
The free N4L safety filter (by global cyber-security leader, Akamai) blocks websites containing known cyber threats like phishing scams, malicious content and viruses, while also protecting children from content deemed the worst of the web (like adult sites).
It is an extension of one of the many safety and security services we have in place at schools and is a valuable layer of protection to help keep children safe online. Please remember that technology is not a silver bullet and the filter should be used in combination with Netsafe's online parent safety toolkit – https://www.netsafe.org.nz/parenttoolkit/.
Once a child's device is set up, all internet search requests will go through the safety filter which checks if the website they are trying to visit is safe before allowing access. If it's a website that's known to be unsafe, then it will be blocked. The safety filter is applied to the child's device, so parents' devices are not affected.
If your child is unwell and unable to participate in online learning
If your student is unable to participate in online learning because of illness, could you please let their rōpū teacher know. The easiest way to do this is by using their 3-letter cypher (which is on the parent portal in your student's timetable) and emailing them: eg abc@whs.school.nz
Resources to assist all students
The Ministry of Education has asked me to forward the following information to all families. Below is a TV schedule for the Home learning TV channel and some other links below this to resources that will be useful for all students but may be particularly useful for Pacific families and Pacific students.
 Home Learning TV: https://www.tvnz.co.nz/shows/home-learning-tv Here's a possible timetable for the new Home Learning TV channel that started Wednesday 15 April on TV2+1:
9:00 – 9:10 am

Parenting with Nathan Wallis 

Nathan is well known to many schools for neuroscience (brain development) presentations around the early & adolescent years of life.  You can check out his posts around Home School for Parents in his FB page or in YouTube search Nathan Wallis.

9:10 – 9:25 am

Early learning

9:25 – 9:40 am

Junior Health (ages 5 – 8)

9:40 – 9:55 am

Junior Literacy (ages 5 – 8)

9:55 – 10:05 am

Maia the Brave

10:05 – 10:30 am

Beginning Te Reo

10:30 – 10:50 am

Junior Science and Maths (ages 5 – 8)

10:50 – 11:00 am

Kai 5

11:00 – 11:15 am

Middle Literacy and Language (ages 9 – 11)

11:15am – 11:40 am

Middle Maths (ages 9 – 11)

11:40 am – 12:05 pm

Junior Project

12:05 – 12:30 pm

Animals

12:30 – 12:40 pm

Parenting with Nathan Wallis

12:40 – 1:00 pm

Aotearoa History

1:00 – 1:30 pm

Senior Literacy (ages 12 – 15)

1:30 – 1:55 pm

Born to Move (Teenagers)

1:55 – 2:25 pm

Advanced Te Reo

2:25 – 2:50 pm

Senior Project

2:50 – 3:00m

Daily Diary
Ngā mihi nui
Dominic Killalea, Principal
Update 9.4.2020
Kia ora koutou,
I realise that we are living in challenging and uncertain times and I hope you have been able to keep yourself and your family safe during this time. I apologise in advance for the length of this update but it is to clarify our expectations for students for the start of the new school term. Next Wednesday 15 April will be the official start of term 2 and our remote learning plan will again be actioned. Hopefully, the days before the holiday break would have been an opportunity for your student to start to get used to working in this way.
Firstly, our plan has involved students broadly sticking to a normal timetable. This has been a practical and structural support to keep students in routines as much as possible and allow students and teachers to be able to organise their day. However, we have a number of teachers who are also looking after their own children during this time and it is not possible for them to be online at all the times that they might want them to be. When this is the case, I have advised teachers to make it clear that they are unavailable by noting this in the Google Classroom or whatever organisational tool they may be using. Aside from this constraint, the timetable structure will continue.
Secondly, there needs to be flexibility in any planning for school. In many subjects, it will be enough for your student to make contact with their teacher once in the week, know what they are doing, and do what they can manage. Other subjects may need more contact time. Students will need to build their skills of self-management in this regard but they have teachers and you for support. We are not expecting students to be online for 8 hours a day – this is neither feasible nor healthy. We will continue to update the faculty plans each week.
Thirdly, teachers have already and will continue to keep an eye on engagement. This might be through interactions with resources and Google classroom, meetings, or weekly feedback to the teacher. We will be in touch if we have concerns in this regard and similarly, please contact us if you are concerned. The first point of contact should be a student's rōpū teacher who will then refer appropriately.
Fourthly, there are some practical-based subjects where it is difficult for students to continue as normal and an online environment does not necessarily cater for the needs of students in such subject areas. For example, our year 9 students all do taster courses in Art, Music, Drama, Food Technology, Fashion Technology, Design Technology, Design Visual Communication and Financial Literacy over a full year, two a term. Given that most of these courses emphasise a very practical approach, it is not worthwhile to try to sustain these subjects in the short term. We will make appropriate timetable arrangements to cater for all students when we return from a lockdown situation. This will also free up 4 hours a week for these students to have time away from screens and pursue other activities.
Fifthly, I am expecting that teachers will stay in touch with their rōpū class and aim to meet either individually or collectively at least once a week. This is a good chance for students to touch base with other students outside of their immediate peer group and I encourage all students to invest in and commit to these meeting times.
Finally, some of you may have concerns about NCEA assessment. My instructions to teachers at this point are that NCEA assessment won't proceed unless there is absolute certainty that it is going to be equitable. In making such decisions teachers need to consider students with special assessment conditions, students with device or connectivity needs that haven't been met, and students who are struggling to have the same level of engagement because of the technological barrier. The current policy in relation to suspension of the assessment calendar stays in place. When we do return to school this calendar will need to be recalibrated.
Emails home
I realise that several subject teachers emailing various expectations could get quite overwhelming for students and for you. I am asking teachers to refrain from email communication unless on a 1-1 basis and use scheduled meetings and Google Classroom as a communication point. 
Keeping safe online
The Ministry has forwarded the following advice to me and I am forwarding this to you. I am sure that many of you will have been navigating this area with your children but for others, the advice below may be helpful considerations. At this time I am encouraging you to discuss internet safety with your children and come to agreements about what they can do online including sites they can visit and appropriate behaviours including:
reviewing and approving games and apps before they are downloaded

reviewing privacy settings of sites and applications

checking children's profiles and what they are posting online

check the sites your child is accessing

reminding children that anything that is posted online will be permanently on the internet

taking the time to understand what sites they are visiting and who they are talking with and check in regularly

some social media sites have age restrictions to join, check these before letting your child use them or join them

monitoring a child's use of the internet and consider having them use it in an open, common area of the house

making sure your children know to report any activity they don't feel comfortable with to parents and caregivers straight away.

Netsafe

(

https://www.netsafe.org.nz/

) continues to be available to provide you and your parent and caregiver community with support for online safety. They have

information for parents and caregivers

and have pulled together their

top tips for online safety during the lockdown

.  To report an incident To Netsafe –

https://www.netsafe.org.nz/reportanincident/

If you think a child in your care is the victim of online exploitation or abuse, report it to Police – if you or a child are in danger or a crime is being committed, call 111 or visit

your nearest Police Station

immediately.
If we all work together to make sure children are safe online, we can make the internet a great tool for people of all ages.
Flutracking
This is a note from the Ministry of Health. Flutracking is an online survey which asks if you have had a fever or cough in the last week and which can help us track COVID-19.  Registering online will help our surveillance efforts by providing early detection of community spread of the flu and also of COVID-19 symptoms. We encourage people to register online at https://info.flutracking.net/ .This is a practical thing everyone can do to help us monitor flu and COVID-19 symptoms throughout NZ.
More providers offer childcare options for essential workers
Parents who are essential workers can get additional childcare support if needed during the lockdown. The Government has increased the range of national home-based providers, with some offering care for children aged 0-14, and others ages 5-14. The Ministry of Education website has more details and will be updated as new providers are identified – http://education.govt.nz/covid-19/home-based-care-options-for-children-aged-0-14-of-essential-workers/
---
Update 27.3.2020
The Ministry of Education has been keeping us up to date with information in relation to COVID-19 and I have been passing this information on to you throughout. This new phase of New Zealand's response to COVID-19 is very different from anything most of us have ever experienced.  I wanted to reassure you that our school staff and Board of Trustees will continue to be available to support your student's learning and wellbeing after the holiday break. 
You will understand the importance of routine for your family. If your routine has been shaken up, like you're now working from home, it's good to structure your time. Routines are reassuring, and promote health and physical wellbeing. I refer you again to our remote learning plan – for lots of ideas on how to spend your time during this period. In addition, the Ministry of Education has suggested the following template for how a day could look. 
Daily Schedule
Before 9:00am

Wake up

Eat breakfast, make your bed, get dressed, put any dirty clothes in the laundry

9:00-10:00

Morning walk

Family walk with the dog, bike ride,

Yoga if it's raining

10:00-11:00

Learning at home

School-led learning or Sudoku, books, flash cards, study guide, journal etc

11:00-12:00

Creative time

Legos, magnatiles, drawing, crafting, play music, cook or bake etc.

12:00 pm

Lunch 🙂

12:30

Helping at home

# wipe all kitchen tables and chairs

# wipe all door handles, light switches and desk tops

# wipe both bathrooms – sinks and toilets

1:00-2:30

Quiet time

Reading, puzzles, nap, radio NZ stories

2:30-4:00

Learning at home

School-led learning or iPad games, Prodigy, Educational show

4:00-5:00

Afternoon fresh air

Bikes, walk the dog, play outside

5:00-6:00

Dinner 🙂

6:00-8:00

Free TV time

Kids shower time

8:00

Bedtime

All kids

9:00pm

Bedtime

All kids who follow the daily schedule & don't fight
Some good news to support you either working at home and/or studying at home – Spark, Vodafone, Vocus/Slingshot, 2Degrees and Trustpower have all advised they have removed their data caps and the possibility of any extra charges based on usage.
For our Pacific families, if you are not aware the Ministry for Pacific Peoples has been working to ensure useful information is available to Pacific peoples. A one-hour special will be aired on Tagata Pasifika's segment on Saturday 28 March at 9am, and on Sunday at 7.35am, Tagata Pasifika will share messages from community leaders. Please help reach out to all your family members, community groups, friends and group chats to ensure our Pacific community groups are watching the programming on both days.
A big thank you to all of you for taking the lockdown so seriously. As the Prime Minister has noted, staying at home will break the chain and save lives; breaking the rules could risk someone close to you and if the rules are not complied with, this could risk the lockdown period being extended or could risk the virus being spread to thousands
Please note the support information we have written at the bottom of the remote learning plan. Our counselors and other support agencies are still available in these challenging times.
---
 

Update 24.3.20

With yesterday's announcement by Government, we are implementing with urgency our plan to support your student's learning from home. We appreciate this is a sudden and significant change, and will be heavily disruptive to many people in our community.

Today and tomorrow we are taking care of children of essential workers. You may wish to check if you are considered an essential worker – https://covid19.govt.nz/government-actions/covid-19-alert-system/, however, those roles include doctors, nurses, ambulance drivers and police. 

For all other children, we will be supporting their learning from your home in the following ways:

This week, teachers will be reaching out to their classes and establishing connections with as many students as they can, reassuring them, and setting out the ways in which remote learning will work. The plans for remote learning will be in place for the rest of this week which is now the last week of term 1. The school holidays commence from this Saturday 28 March and continue until Tuesday 14 April. The first day of term 2 will be Wednesday 15 April, but no one will be physically attending school on that date. The remote learning plans will continue from then. This week will be a good chance to support your student's routines with remote learning. We have created guidelines for supporting your student with their school work during this period – http://www.whs.school.nz/wp-content/uploads/Learning-at-home-A-handy-guide-for-students.pdf. 

If you have questions about the learning, please direct these to your student's teacher in the first instance. If you have questions about pastoral issues, please direct these to your student's rōpū teacher or Dean in the first instance.

Please note that the NCEA assessment calendars are suspended for the period of the lockdown and we will give more advice in relation to this at a future date. This does not mean that there will be no assessment during this period, it just means that expectations in relation to assessment will be conveyed by teachers directly to students.

As I mentioned yesterday, your young person will be looking to you for guidance about this decision. Parents, caregivers, whānau and teachers will have a particularly important part to play in reassuring children at this time. If you haven't already done so, you may wish to read the information put together by the Ministry of Education to support your conversations with your children – Talking to children about COVID-19.

As noted by the Prime Minister these restrictions are our best chance to slow the virus in New Zealand and to save lives. We all have a clear role here to slow the spread of COVID-19.

I will continue to communicate with you as more information becomes available but this will probably be my last communication for this term. Thank you for your ongoing support of our school in unprecedented circumstances. Most of all, enjoy the time with your family over the coming period.

 Ngā mihi
---
Update 23.3.20
The Prime Minister has just announced that the COVID-19 alert level has been lifted to alert level 3 and alert level 4 in 48 hours. This means that for Tuesday and Wednesday our school will provide supervision to children of essential services workers only. From Thursday, all schools will be closed.
I am sending a form separately to this communication to collect details of students who will need to be supervised for the next two days. Essential services workers are those people working in such areas as health, emergency, utilities, and goods transport.
As the situation has escalated we have been able to plan for remote learning. I refer you to our online learning plan – http://www.whs.school.nz/newsnotices/remote-learning-plan/. Students will be able to access the work for each of their classes. At the moment our expectation is that students will follow the timetable of a normal school day and they will be able to access support from staff during the time that they would normally have that class. A detailed plan for remote learning will be sent to you tomorrow.
I want to say that the most important thing at the moment is that we look after each other and that we support each other through what are unprecedented times. I don't think anyone should become too obsessed with online and remote learning. We know that school is just a part of a young person's education and that good books, movies, games and music and the opportunity to spend time with family are vital to a child's growth. We must remember that we are all dealing with something that we have never dealt with before. This is where your parenting becomes even more important as you have the discussions that help your young person to comprehend what is happening, as you also start to comprehend this yourself. A lockdown situation means that students will be away from each other and this will be hard for them. They need your help to understand what this means and you will need to be creative in using your time together. A few years ago, we created a list of 'homework ideas' which are essentially activities that you could do at home that help in the education of your young person. I draw your attention to these – they are located on the Whānau section of our website under the heading Homework Ideas and they are grouped by faculty area. I notice, looking at them today, that some are out of date, and many aren't possible in the current situation, but there are plenty of ideas that will help when you need something new.
Please continue to stress the importance of good hygiene practices as I have stated in previous communications. I am sure there will be more information coming about the school closure situation and I will communicate again with you when I know more.
---
Update 22.3.2020
I am updating you on a Sunday evening because of the announcement yesterday that New Zealand has moved to Alert Level 2 – Reduce Contact for COVID-19, which means that people over 70 years of age and those with compromised immunity and certain existing medical conditions are asked to remain at home as much as they can from now on and avoid any non-essential travel.
This will no doubt affect some staff and students and I am asking you to follow this advice with your young person if they are 'at risk'. High-risk individuals include people with underlying medical conditions, such as:
a compromised immune system
liver disease
cancer
kidney disease
heart disease
diabetes mellitus
Further information is available at:
Please note that our instructions in relation to cough / cold symptoms have not changed and students should be kept at home if they are presenting with these symptoms.
Our senior leadership team has met today and we have decided that given the information we have about our staff, we are still able to run classes as normal tomorrow, although there will be some relief involved. We will obviously need to review this on a day to day basis.
Supporting learning at home
It is most likely that there are going to be a number of students at home and a number of students at school. Students who are well but staying at home will access learning remotely.
Lessons under these conditions will mean that a teacher needs to be available to students in the physical class during the allotted period but they will be accessible outside of class times if students have questions about their remote learning. Students will need to email or leave a message on Google Classroom and the teacher will aim to get back to them when they are available to do so. I draw your attention again to our remote learning plan on our website.
School transport
The school transport network has a number of school bus drivers over 70 years of age and the Ministry of Education is working with the bus companies to assess the impacts on school transport. We will know more about this in the coming days.
Updated COVID-19 graphic
I have included an updated version of what I sent to you on Friday with this email. There are a couple of changes based on increased data. I assume families will post this information in a prominent place at home.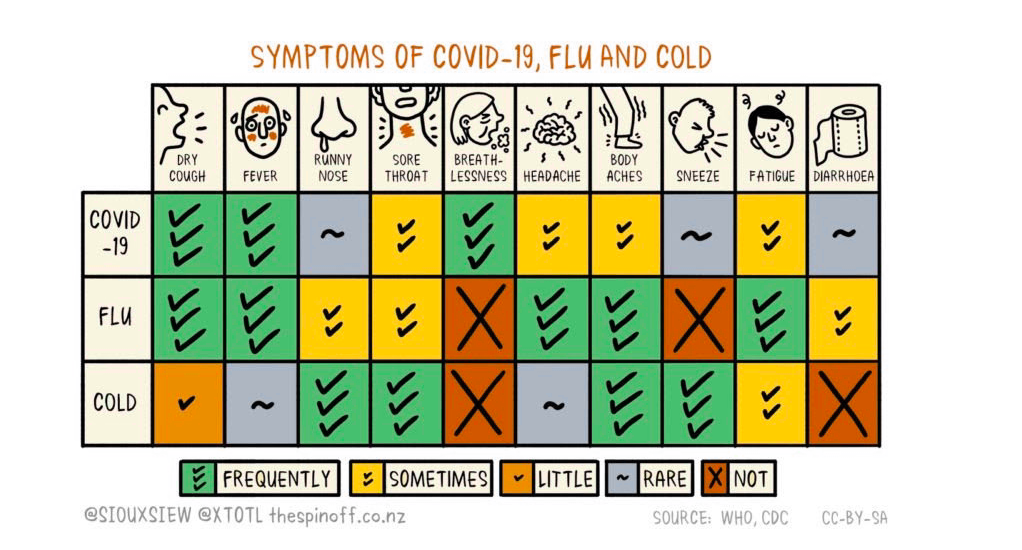 ---
Update 20.3.2020
With so much information and misinformation swirling around about COVID-19, I wanted to share with you what will happen if we were to have a case in our school community. We have been planning for this and are in a position to respond quickly.
As soon as a case is confirmed in our immediate school community (eg. a student, staff member, or member of their household), the Medical Officer of Health and Ministry of Education will inform me about this, and we will work together to get quick and clear messaging out to you.
If there was a case confirmed of someone in our school, we will likely be asked to close temporarily by the Medical Officer of Health. This will allow time for close contacts to be traced, appropriate testing to be undertaken, and a careful clean of the school to be undertaken.
If our school does need to close temporarily, we have a plan in place to support student's learning. See: http://www.whs.school.nz/newsnotices/remote-learning-plan/
We know COVID-19 feels scary and of course people are concerned for the wellbeing of our children. Please be assured that with no case confirmed in our school, your children are safe here.
Good hygiene is a priority at our school, and we are reinforcing this regularly with all students and staff. We know that practising good hygiene is still the best thing we can all do to prevent illness.
I recommend the following Government website to you as the most accurate up-to-date information related to COVID-19 – https://covid19.govt.nz/.
If you know of people for whom English is a second language, please inform them that the Ministry of Health has information available in other languages too.
I'd like to stress the importance of Physical Education at this time and we have been speaking to Physical Education New Zealand (PENZ) about our practices. Based on their advice we have made some changes, namely:
We will not share bibs, these won't be used in classes
We will avoid games that involve tagging/touching
Our Touch rugby unit is stopped and the related tournament won't happen
We will sterilize gear after lessons (where appropriate)
PE lessons will start with requiring students to wash their hands and finish with this.
Please feel assured that we are continuing to access the most up to date advice and guidance so that we can confidently make informed decisions about the safety and wellbeing of our school community.
---
Update: 19.3.2020
Learning Conversations cancelled
We have decided to cancel our learning conversations day scheduled for Friday 27 March.  This will now be a normal school day. Thursday 9 April remains a Teacher-Only Day, so the school will be closed for students then. 
Sports and Arts
College Sport Wellington has advised us that all summer sports in Term 1 have been suspended as of Wednesday, 19 March. This decision was made with the knowledge that in all likelihood, these competitions will not be resumed. Other activities where students gather across the city, such as debating, have also been suspended.
Assemblies and trips
We have decided to cancel assemblies until further notice and we are currently reviewing trips. The Whanganui river trip scheduled for next week and an International trip scheduled for week 10 will both not be going ahead. Alternative arrangements will be made for a later time.
Preparations for a school closure and online learning
At this stage, the Ministry has said that they are not expecting widespread school closures. There is planning for temporary closures, but as the World Health Organisation has confirmed, the risk to children remains low and parents should continue to send their children to schools and early learning centres. 
The Ministry of Education will make any decisions about school closures on a case by case basis. In the meantime, unless students are unwell themselves, then schools continue to be safe and the best place for our students to continue their learning.
Online learning
We have a plan for supporting learners in the event of a school closure. You can read about this here.
Hygiene and wellbeing
We would like to reiterate the advice from health authorities about the importance of good hygiene practices. I hope you are all focusing on prevention of spread including through:
Washing hands with soap and water for 20 seconds and drying thoroughly – before and after eating as well as after attending the toilet

Covering coughs and sneezes with clean tissues or with an elbow

Putting used tissues in the bin
Classrooms are being cleaned every day and the cleaning of the school has been stepped up.
Talking to Young People about COVID-19
This is a difficult and stressful time.  Events are moving quickly and there is a huge range of information available online, some of which is alarming.  If your student is finding this upsetting, please encourage them to make contact with our guidance counsellors, their Dean or rōpū teacher. You may find this advice useful: Talking to Children and Young People about COVID-19 (Coronavirus): Advice for Parents and Schools
If students are unwell
Students need to stay home if they are unwell in any way. If your student is at school presenting with cough / cold symptoms, their rōpū teacher may be in touch to suggest that you keep them home until they are well. Please understand that in this environment, students who present with coughs and colds can alarm other students at school and we have a responsibility to look after each other during these times.
Self-isolation requirements
There is now a 14 day self-isolation requirement for anyone arriving in New Zealand from other countries. In line with Ministry of Health advice, any member of our school community who returns to New Zealand from overseas, or has been in close contact with someone confirmed with COVID-19, is required to self-isolate, stay away from the Wellington High School for 14 days, and register using Healthline's dedicated COVID-19 number 0800 358 5453.  Where practicable we will provide work for students who are not able to be present in timetabled classes. We respectfully ask you to consider postponing these trips if at all possible.
NCEA Assessments
Under normal circumstances our internal assessment guidelines from NZQA dictate that if students are sick and cannot attend an NCEA assessment they must have a medical certificate. NZQA has asked us to show flexibility with these guidelines. Currently, we will accept a note from parents explaining student absence from NCEA assessments, if they are off school sick. 
International Students 
This is potentially a very distressing time for our international students, who in most cases, are away from their families. Our International Team is providing daily guidance and support to them and we are grateful for the excellent care which they are also receiving from their Wellington homestay families. It is important to note that anyone in New Zealand who is suspected of having an infectious disease or potentially in need of quarantine will be eligible for publicly funded health services in order to address the risks to other people. This applies regardless of their length of stay or immigration status.