The Crucible - Year 12 Drama
Year 12 Drama took to the stage to perform "The Crucible" to rave reviews by all who attended.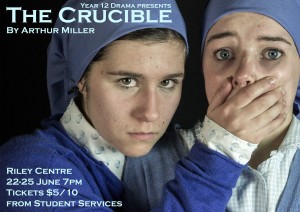 The Crucible is a 1953 play by the American playwright Arthur Miller and is a dramatised and partially fictionalised story of the Salem witch trials.  WHS set the play in the modern day with outstanding results.
One attendee emailed through the following  "Please pass on huge congratulations to the actors, crew and staff involved in The Crucible which we saw last night.  It was a high quality production with stunning performances."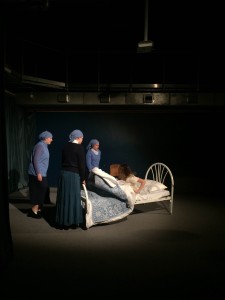 Congratulations to everyone involved.
Kapa haka & Maori TV Stars
A group of students went to Avalon studios to compete in a new Maori Television game show called Patapātai.  Matua Neitana and the students are sworn to secrecy so we don't know the results and the programme will screen later this year.  We will let you know when to watch!
The Kapa Haka trip to the Manawatū went well over the weekend for the Kapa Haka students despite the flooding in the area.  It was a great experience for our students.  This is all in the lead up to the Regional Kapa Haka competition that is happening very soon.
First Aid and Health & Safety
Over two days, 18 students completed First Aid training and another 14 students did Health & Safety.  These two courses attract credits and are hugely valuable.
Recreation Camp
In Week 7, the Wellington High Year 12 & 13 Recreation class went on camp to Wainuiomata (Camp Wainui).
Seventeen students attended the camp, including three from Base One and five ESOL. At the completion of the course, the students earned two unit standards.
They were put to the test with the high ropes course and adventure based learning  activities, where they completed team building, leadership activities and personal and social development.   The students thoroughly enjoyed themselves and learnt to push themselves beyond their limits.
One student, Irishman Conor Daniel, found the camp invaluable. "Before the camp I didn't really know or trust anyone, but when I came back we had all formed a strong bond. I also learnt a lot about responsibility and have become more mature because of the course".
The course was valuable for all students, and at the end of camp they were all extremely positive about their experiences, having learnt life-long lessons and knowledge to take with them into everyday life