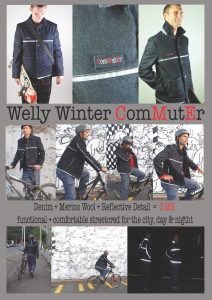 Kylie Merrick from WHS fashion department entered a competition, and now we need some votes. The most votes wins!
Here is the link to the Facebook voting for Kylie's jacket.
https://www.facebook.com/ProjectGlowWear/photos/a.468839876808457.1073741834.237396196619494/470142056678239/?type=3&theater
The jacket was entered into the Project Glow Wear competition that was being run by the Wgtn Greater City Council. The competition criteria was to select a category ( Kylie chose menswear, and streetwear, and commercial viability), have top notch construction of the garment, and have an element of hi vis about it, so it can been seen – glow at night.
The jacket is made from 100% organic cotton denim, and is fully lined with 100% merino wool in red. It has the grey high vis trim across some panel seams, such as down the two piece sleeve so if you are riding/walking/skating at night, people can see you. There are two inside breast pockets, two outside patch pockets, and two side pockets ( these two have a hint of high vis at the side seam. It is fully lined and has bound edges. Keeps you looking street cred cool, and yet warm, as generally denim jackets do not keep you warm in winter. It has been treated with some water repellant, but is not water proof but will protect from the winds and chills of Wellington. Kylie named it the Welly Commuter : C.ME ( CME letters from the word commuter).
Attached is a little poster that Kylie made to go with it for the competition too so you can see it in action.
Final day for likes and voting is 10 Sept