Wellington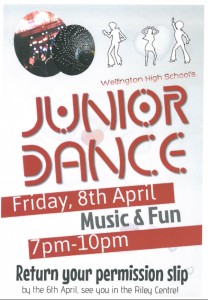 High School's Ball Committee is organising a Junior Dance to provide a social event for Year 9 and 10 students and to raise money for the senior ball this year.
The dance will be held on the Friday 8th April in the Riley Centre. Tickets are $8 and there will also be the opportunity to purchase some food and drink during the night. The dance starts at 7pm and will end at 10pm.
Please arrange to pick your student up from school no later than 10:15pm.  Year 9 students need to have a parent come to the hall to pick them up.
There will be Year 13 students chaperoning the dance as well as Senior staff and Junior School rōpū teachers present.
ALL school rules apply during this event and if these expectations are not met, parents will be called to come and take their young person home.  This dance is ONLY for Wellington High School students.
If you have any questions about this please email: iona.forsyth@whs.school.nz or contact Student Services.