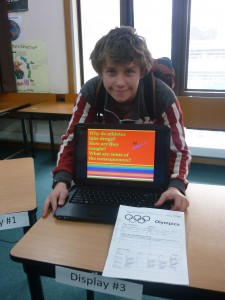 Digital technology is an integral tool for learning in Years 9 – 13 at Wellington High School. Students use tablets, netbooks or laptops as an electronic text book and exercise book, as an information portal, for software and application use, to collaborate with others and to develop critical internet literacy.
Students may access information using:
data bases
dictionaries/thesauruses
websites
Google images
YouTube
moodle
online archives
news websites
Students may complete classroom activities:
using Google docs
online lessons
by writing in a word document
Students may participate by:
using Google Docs to collaborate on a shared piece of writing
using a hypertext story telling program to write a non-linear fictional tale
emailing a student in another part of the school for some information they need
emailing a member of the community to arrange a time to meet
participating in an online community forum
establishing a Facebook site as part of a response to a social issue.
Students may use programs like:
GIS mapping software
Google Sketchup
Photostory/Movie Maker
Photoshop, Powerpoint, InDesign
Audacity to make a podcast
Mathletics
Excel to generate graphs
Concept Mapping software
Students may think about:
how a web page or other online media uses certain techniques and conventions to position its audience
how YouTube is changing the way people relate to each other (See Michael Wesch – "The Machine is Changing Us …", Kentucky University Cultural Anthropologist)
how the same news story is presented in a variety of different websites and online videos with different emphasis and criteria of significance
issues concerning Internet safety and cyber-bullying
how to identify purpose and intended audience of a website or specific online media as well as issues of attribution, usefulness and reliability.