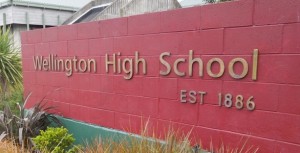 Wellington High School is a co-educational, non-uniform secondary school in Wellington City. Located close to the city centre it has a multi-ethnic student population of approximately 1000 students. The school has an enrolment scheme that includes all of Wellington City south of a line from Kaiwharawhara Drive to north of Makara.
The school is non-selective and seeks students with a wide range of skills and abilities. It provides inclusive education that uses modern learning technologies and a range of teaching strategies to develop the acquisition of life long, independent learning and research skills. The students are intelligent, creative and inquiring. Effective management systems promote individual responsibility and self-management. Student teacher relationships are mutually respectful and discipline is firm, friendly and fair.
The school tikanga gives guidelines about respect and the students feel safe. Equity is upheld and co-operative learning strategies are used. Students are seen as equal participants in their learning community and are empowered to make their views felt. A broad balanced curriculum at all levels which provides for multi-level study and multiple pathways are designed to make students socially literate. The school seeks academic excellence and has an established reputation in visual and performing arts supported by creative technologies
Tukutahi
In Year 9 and 10, all students are part of a Tukutahi group. In the 21st century being an effective learner is complicated. As a successful learner, you will be working with other young people and your teacher, while you will cooperate with them to discuss important ideas and develop new learning targets. You will be able to negotiate some of what you want to learn and select from a full range of learning tools to do the work. You will connect to the world through the internet in your classroom, gathering a wide range of information which you will analyse and organise to create your own knowledge.
Learn more about Tukutahi in Wellington High School here
History
Wellington High School has a long history starting in 1886 when the Wellington College of Design was established. It became the Wellington Technical School in 1891 and Wellington High School in 1964.
Read more about the history of Wellington High School here
Learning Services
Wellington High School is committed to the inclusion of all students in regular, mainstream classes where students' learning needs are identified and catered for. The Learning Services Faculty is responsible for identifying these needs and supporting the provision of resources and programmes so that each student is catered for appropriately.
Learn more about Learning Services here
Achievements
Each student is encouraged to develop the skills they bring to school; be they academic, social, physical or cultural. Each year notable achievements are recorded and displayed on the school website to celebrate and share their success.
Click here to view a full list of student achievements
Dress Code
Wellington High School is a non-uniform school but we have a dress code.  Please take note of the following:
We expect that students will, at all times, wear clean clothing that is sensible and appropriate for the learning activity in which they are involved.
Logos and graphics must be appropriate i.e. not offensive or promoting alcohol, smoking or illegal substances.
For safety reasons, some departments may specify particular clothing requirements.
Footwear should be worn at all times.
Uniforms are worn by sports teams and other groups.